Today in 1818 was a very special day for a certain family living in Thornton Parsonage near Bradford, for Patrick and Maria welcomed their fifth child, their fourth daughter, into the world. It's a special day for literature lovers as well of course, as that child grew into one of the greatest writers the world will ever know: Emily Brontë.
Emily Brontë was a woman who excelled at everything she did. She loved domestic duties and reputedly baked the best bread in Haworth, she was a fine markswoman, an excellent pianist and painter, she mastered languages with ease, and was an excellent poet and author of (in my opinion) the finest novel ever written.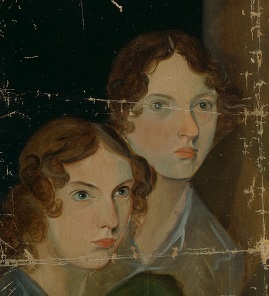 Ellen Nussey, the great friend of Charlotte Brontë who knew all the family well, said of her: 'I have at this time before me the history of a mighty and passionate soul, whom every adventure that makes for the sorrow or gladness of man would seem to have passed by with averted head. It is of Emily Brontë I speak, than whom the first 50 years of this century produced no woman of greater or more incontestable genius.'
In today's birthday tribute we're going to look at what Charlotte Brontë said of Emily Brontë. Charlotte was obviously in awe of her sister two years younger than her, as were all who met her. Alas, for Charlotte's tributes to Emily we have to look to the years after her untimely death. Let's start with the preface Charlotte wrote for Emily's Wuthering Heights when it was re-issued by Smith, Elder & Co: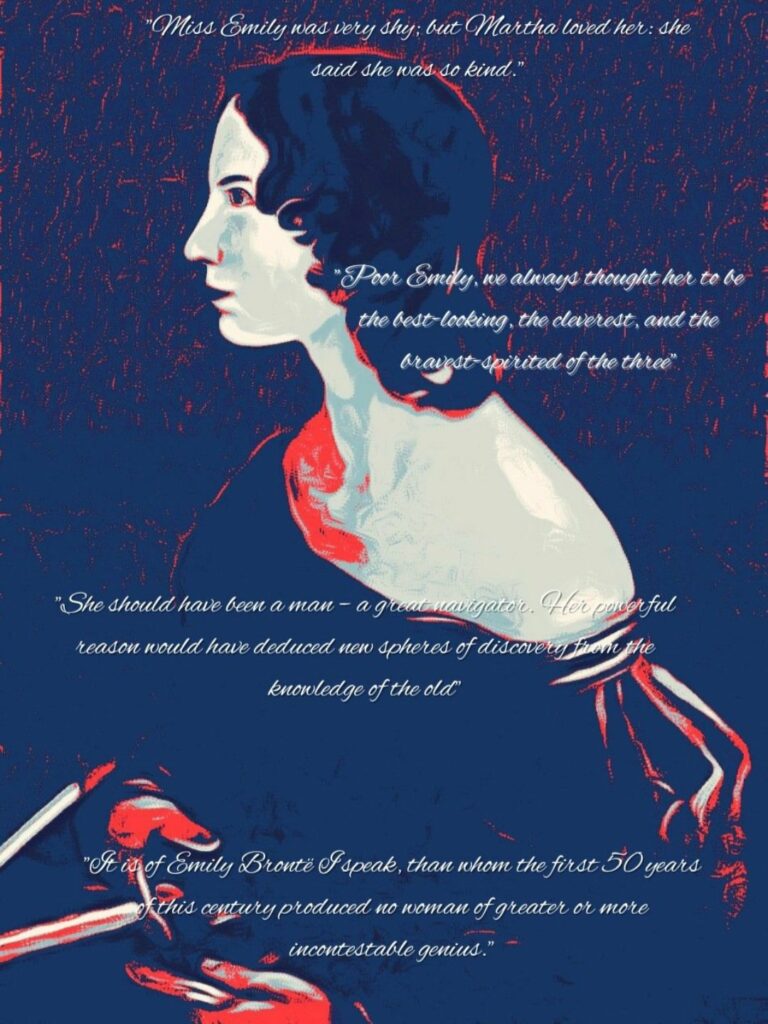 'With regard to the rusticity of "Wuthering Heights," I admit the charge, for I feel the quality. It is rustic all through. It is moorish, and wild, and knotty as a root of heath. Nor was it natural that it should be otherwise; the author being herself a native and nursling of the moors. Doubtless, had her lot been cast in a town, her writings, if she had written at all, would have possessed another character. Even had chance or taste led her to choose a similar subject, she would have treated it otherwise. Had Ellis Bell been a lady or a gentleman accustomed to what is called " the world," her view of a remote and unreclaimed region, as well as of the dwellers therein, would have differed greatly from that actually taken by the homebred country girl. Doubtless it would have been wider – more comprehensive: whether it would have been more original or more truthful is not so certain. As far as the scenery and locality are concerned, it could scarcely have been so sympathetic: Ellis Bell did not describe as one whose eye and taste alone found pleasure in the prospect; her native hills were far more to her than a spectacle; they were what she lived in, and by, as much as the wild birds, their tenants, or as the heather, their produce. Her descriptions, then, of natural scenery, are what they should be, and all they should be.
Where delineation of human character is concerned, the case is different. I am bound to avow that she had scarcely more practical knowledge of the peasantry amongst whom she lived, than a nun has of the country people who sometimes pass her convent gates. My sister's disposition was not naturally gregarious; circumstances favoured and fostered her tendency to seclusion; except to go to church or take a walk on the hills, she rarely crossed the threshold of home. Though her feeling for the people round was benevolent, intercourse with them she never sought; nor, with very few exceptions, ever experienced. And yet she knew them: knew their ways, their language, their family histories; she could hear of them with interest, and talk of them with detail, minute, graphic, and accurate; but with them, she rarely exchanged a word. Hence it ensued that what her mind had gathered of the real concerning them, was too exclusively confined to those tragic and terrible traits of which, in listening to the secret annals of every rude vicinage, the memory is sometimes compelled to receive the impress. Her imagination, which was a spirit more sombre than sunny, more powerful than sportive, found in such traits material whence it wrought creations like Heathcliff, like Earnshaw, like Catherine…
Wuthering Heights was hewn in a wild workshop, with simple tools, out of homely materials. The statuary found a granite block on a solitary moor; gazing thereon, he saw how from the crag might be elicited a head, savage, swart, sinister; a form moulded with at least one element of grandeur – power. He wrought with a rude chisel, and from no model but the vision of his meditations. With time and labour, the crag took human shape; and there it stands colossal, dark, and frowning, half statue, half rock: in the former sense, terrible and goblin-like; in the latter, almost beautiful, for its colouring is of mellow grey, and moorland moss clothes it; and heath, with its blooming bells and balmy fragrance, grows faithfully close to the giant's foot.'

We next come to Charlotte's 'Biographical Notice Of Ellis And Acton Bell', Emily and Anne Brontë as we now know them of course: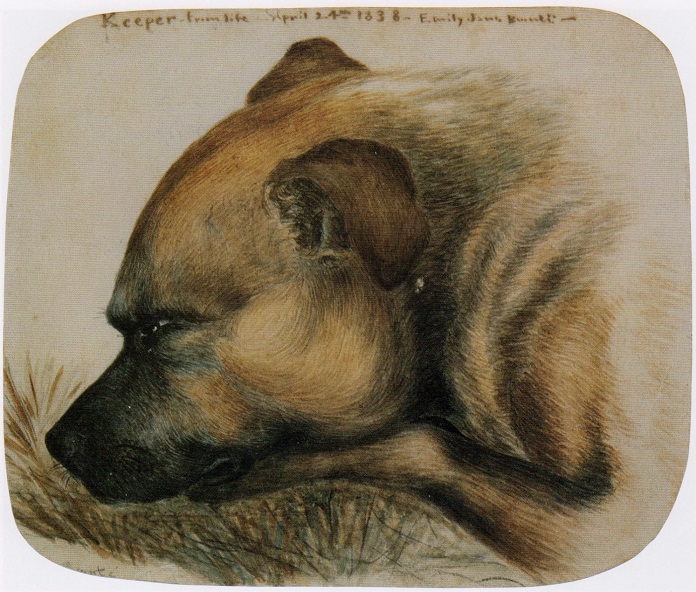 'My sister Emily was not a person of demonstrative character, nor one on the recesses of whose mind and feelings even those nearest and dearest to her could, with impunity, intrude unlicensed; it took hours to reconcile her to the discovery I had made, and days to persuade her that such poems merited publication. …
My sister Emily first declined. The details of her illness are deep-branded in my memory, but to dwell on them, either in thought or narrative, is not in my power. Never in all her life had she lingered over any task that lay before her, and she did not linger now. She sank rapidly. She made haste to leave us. Yet, while physically she perished, mentally she grew stronger than we had yet known her. Day by day, when I saw with what a front she met suffering, I looked on her with an anguish of wonder and love. I have seen nothing like it; but, indeed, I have never seen her parallel in anything. Stronger than a man, simpler than a child, her nature stood alone…
What more shall I say about them [Emily and Anne]? I cannot and need not say much more. In externals, they were two unobtrusive women; a perfectly secluded life gave them retiring manners and habits. In Emily's nature the extremes of vigour and simplicity seemed to meet. Under an unsophisticated culture, inartificial tastes, and an unpretending outside, lay a secret power and fire that might have informed the brain and kindled the veins of a hero; but she had no worldly wisdom; her powers were unadapted to the practical business of life; she would fail to defend her most manifest rights, to consult her most legitimate advantage. An interpreter ought always to have stood between her and the world. Her will was not very flexible, and it generally opposed her interest. Her temper was magnanimous, but warm and sudden; her spirit altogether unbending…
Neither Emily nor Anne was learned; they had no thought of filling their pitchers at the well-spring of other minds; they always wrote from the impulse of nature, the dictates of intuition, and from such stores of observation as their limited experience had enabled them to amass. I may sum up all by saying, that for strangers they were nothing, for superficial observers less than nothing; but for those who had known them all their lives in the intimacy of close relationship, they were genuinely good and truly great.'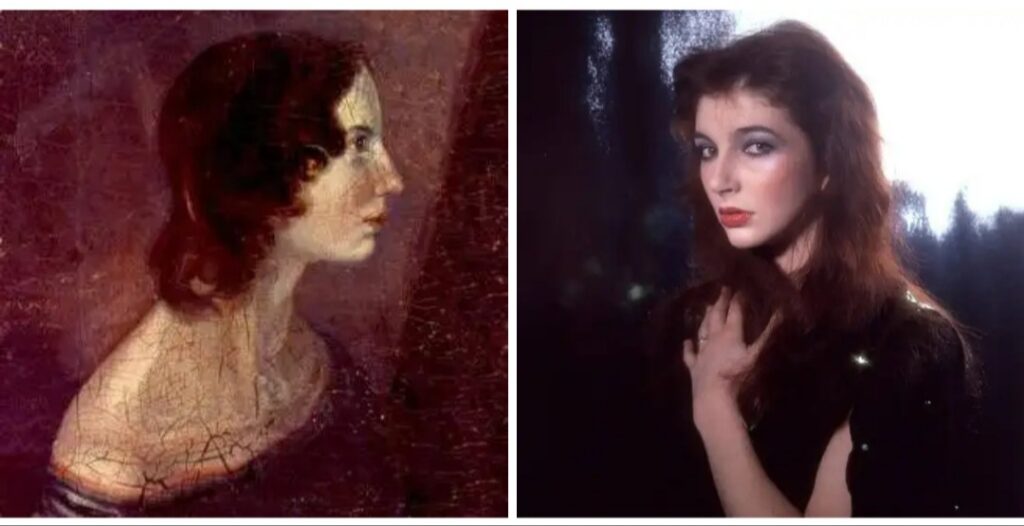 On this, the 205th anniversary of Emily's birth let us remember the greatness of Emily Brontë. Let us also pay tribute to another woman of great talent who was inspired by Wuthering Heights. Kate Bush is 65 years old today, she was born exactly 140 years after Emily Brontë.
Let us also remember another singer, Sinead O'Connor, who played Emily Brontë in the 1992 film adaptation of Wuthering Heights.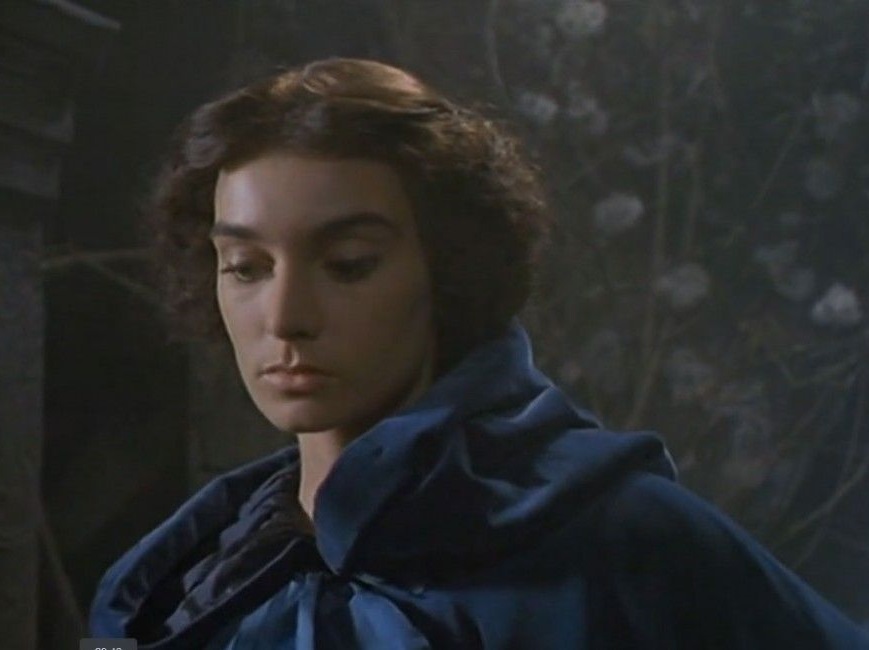 Raise a glass with me, and say happy birthday Emily Brontë – amidst all its turmoil and uncertainty, the world is a better place for the great works of literature she left in it. I hope to see you next Sunday for another new Brontë blog post.