The day has finally arrived! As I type this I'm listening to festive songs while munching on some breakfast shortbread. It's Christmas Day! In today's special Christmas post we're going to look at my Brontë themed 12 days of Christmas countdown and finish, as always, with Anne Brontë's poem 'Music On Christmas Morning'.
Over on Twitter (where I'm @Nick_Holland_) I've been tweeting a 12 days of Brontë every day leading up to today, so lets take a look at the twelve daily 'gifts', along with brief explanations of what they are:
A Merlin in a bare tree!
'Nero, body of a merlin', a portrait by Emily Brontë of her tame hawk.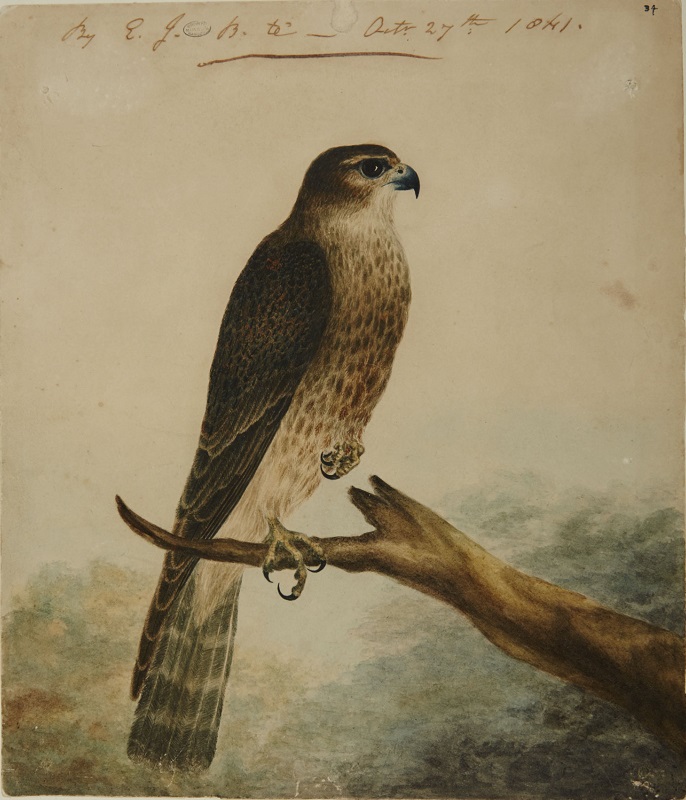 Two knitted gloves
These knitted gloves, with a subtle decoration, are part of the Brontë Parsonage Museum collection. They are 185mm long and 100mm wide, a medium in today's sizing. That leads me to think they belonged to Emily – the tallest Brontë.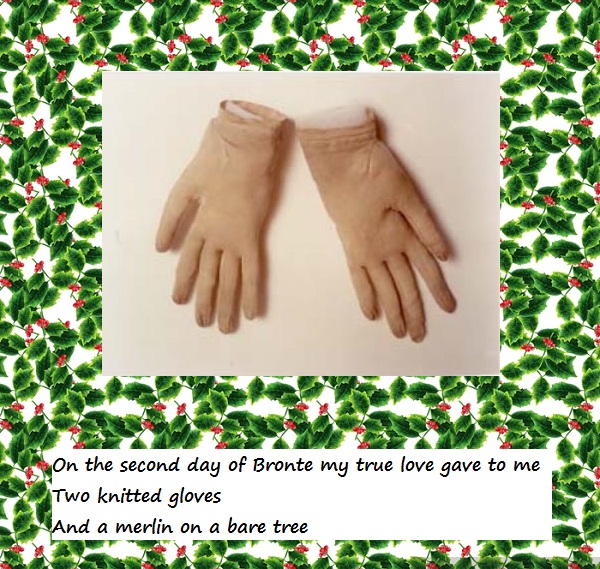 Three French lessons
These pages are from Patrick Brontë's own French phrasebook. He copied relevant sections out before journeying to Brussels with Charlotte and Emily in 1842. Phrases are presented in English, then French, and then phonetically. 'Must be fully mastered', Patrick has written to himself.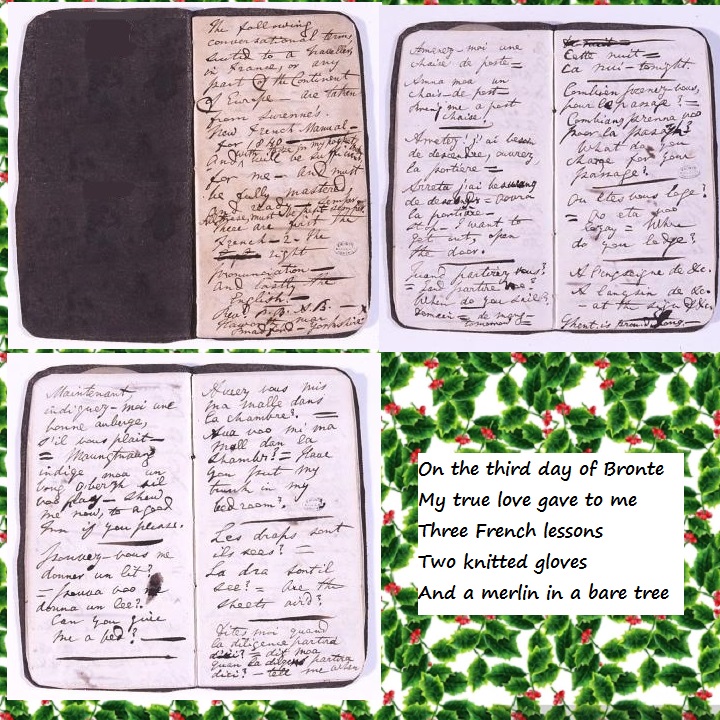 Four tiny books
These are among the tiny books written by Charlotte Brontë between 1829 and 1837 and clearly show the progression in her handwriting and her writing ability. They are part of the Honresfield Blavatnik Library which was recently saved for the nation!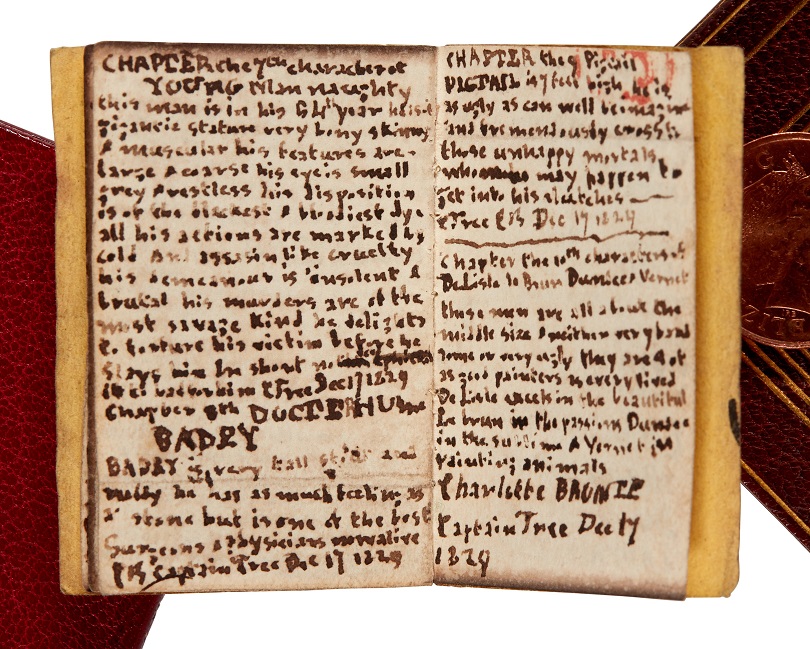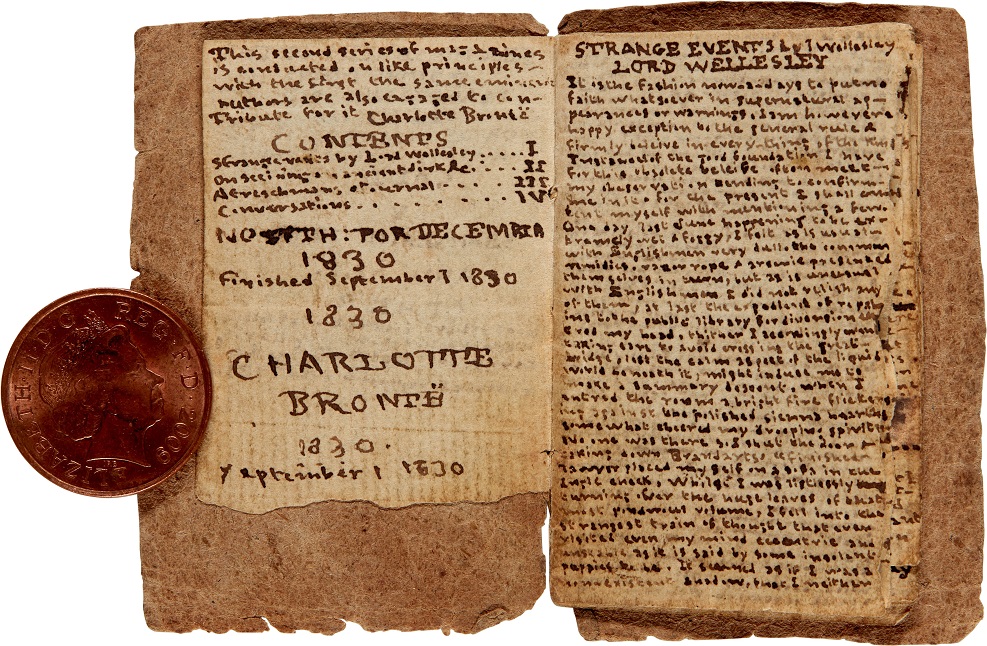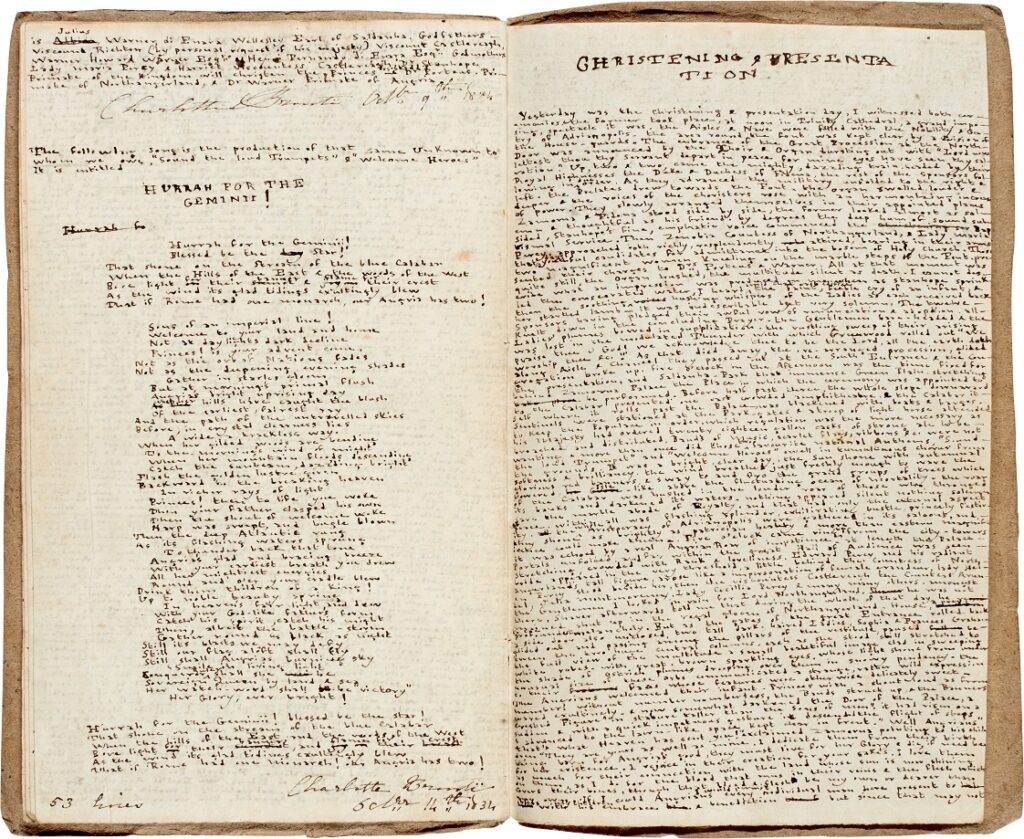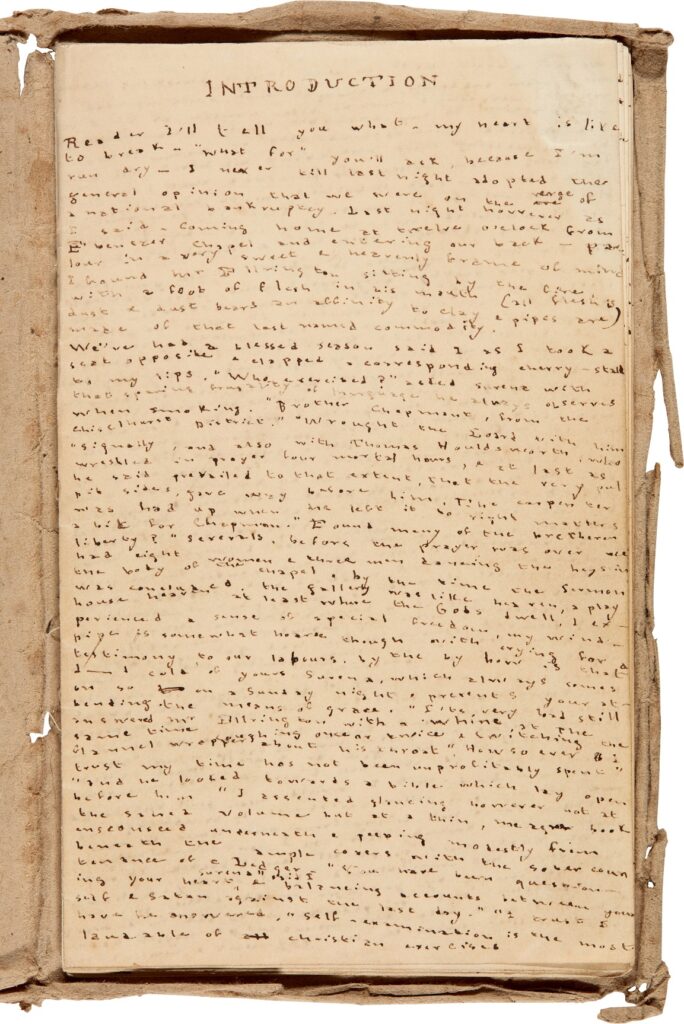 Five old rings
These five rings were all worn by the Brontës. We see, top left, Charlotte's tiny gold, diamond and garnet ring; top right, a ring which opens to reveal a lock of Emily's hair; bottom left, a mourning ring containing the hair of Anne and Emily; bottom right, Charlotte's pearl ring; in the centre is Charlotte Brontë's gold wedding ring.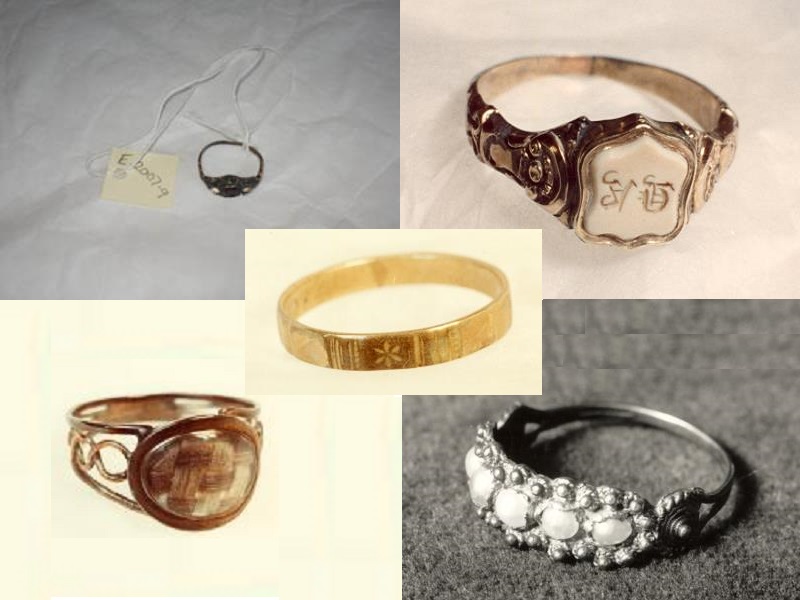 Six Brontë pets
The Brontës (like anyone sensible) loved animals. first, Anne's picture of her spaniel Flossy; second, Emily's picture 'Keeper from life'; third, Emily's 'Grasper from life'; fourth, 'Brontë Pets' by brilliant artist Amanda White: as well as Flossy (again) it features Dick the canary and Brontë geese (a laying) Adelaide and Victoria. The original of this hangs proudly on my wall.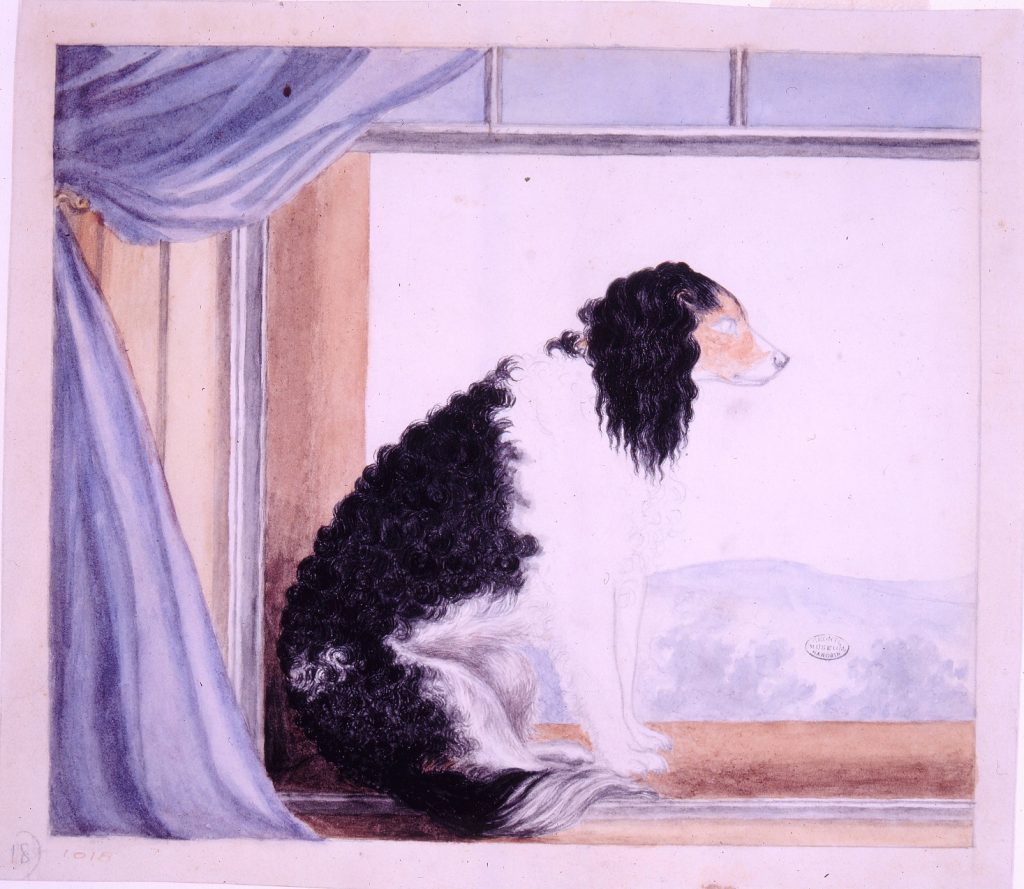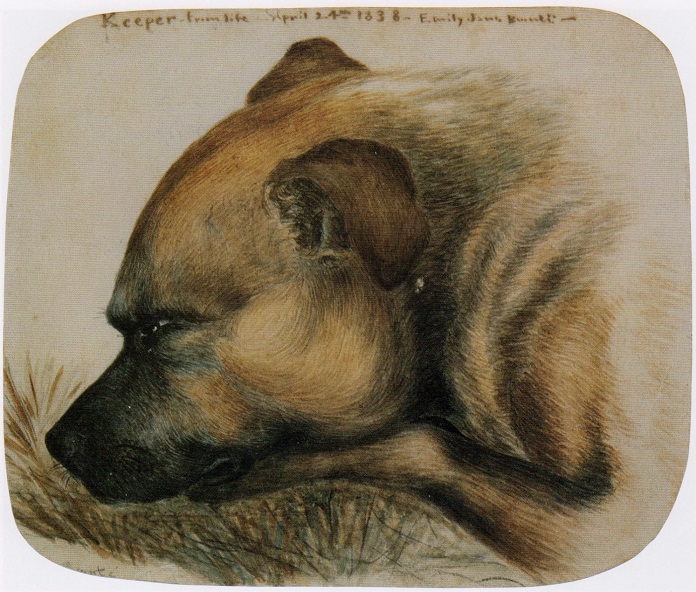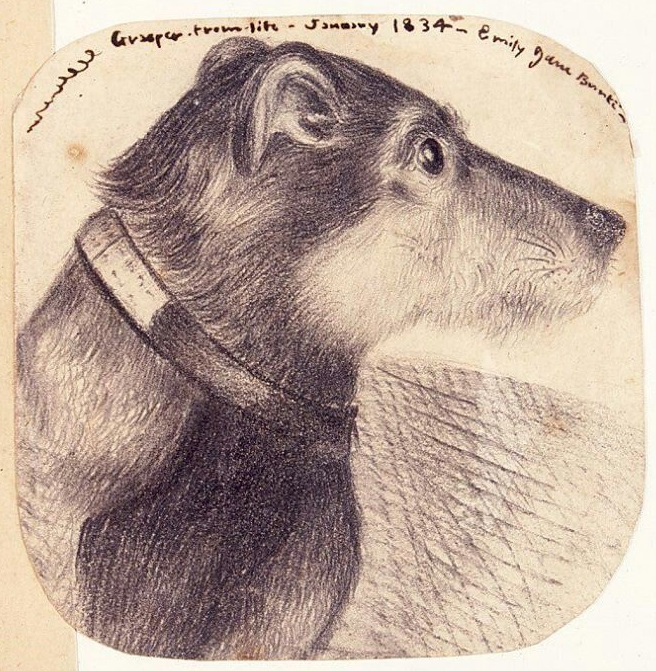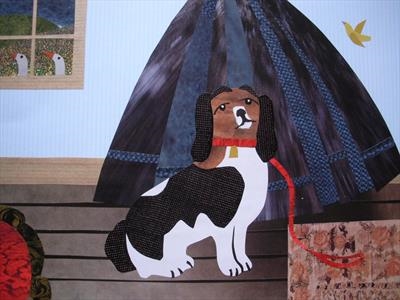 Seven Brontë novels
The seven Brontë novels in order of publication: Jane Eyre, Agnes Grey, Wuthering Heights (published jointly with Agnes Grey), The Tenant Of Wildfell Hall, Shirley, Villette and The Professor (written earlier but published posthumously).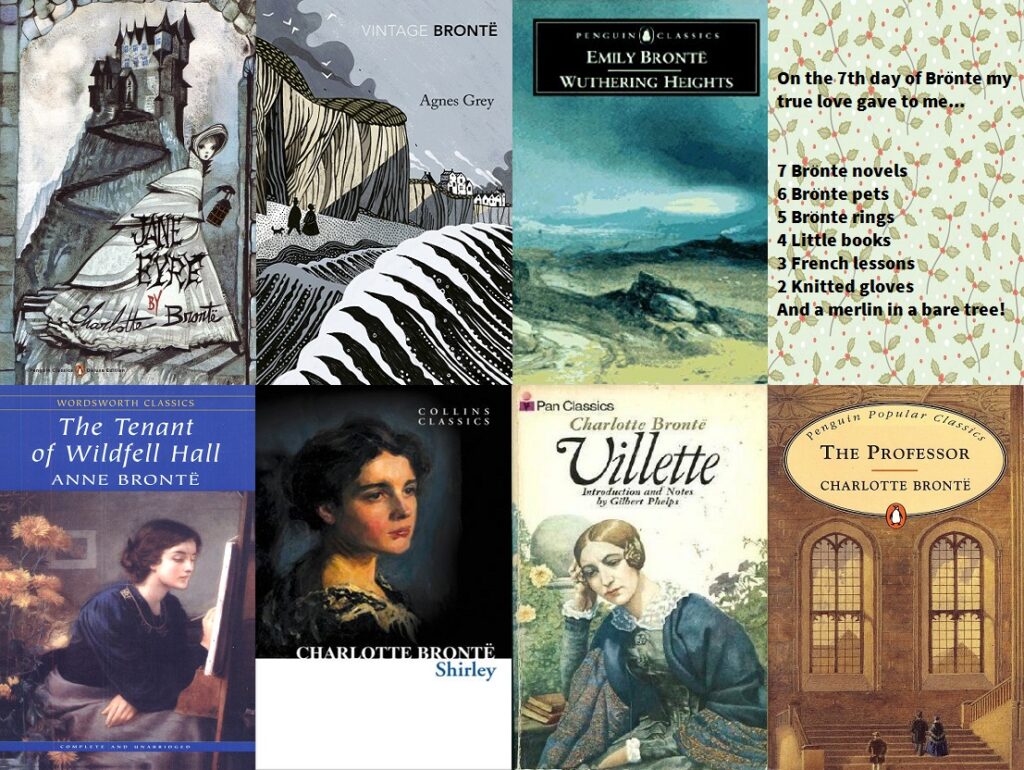 Eight Janes A Eyreing
Which is your favourite screen Jane? Here we have Virginia Bruce (1934), Joan Fontaine (1943), Susannah York (1970), Sorcha Cusack (1973), Zelah Clarke (1983), Samantha Morton (1997), Ruth Wilson (2006), Mia Wasikowska (2011). There was lots of support for Charlotte Gainsbourg's 1996 portrayal too, but alas the song limits us to eight!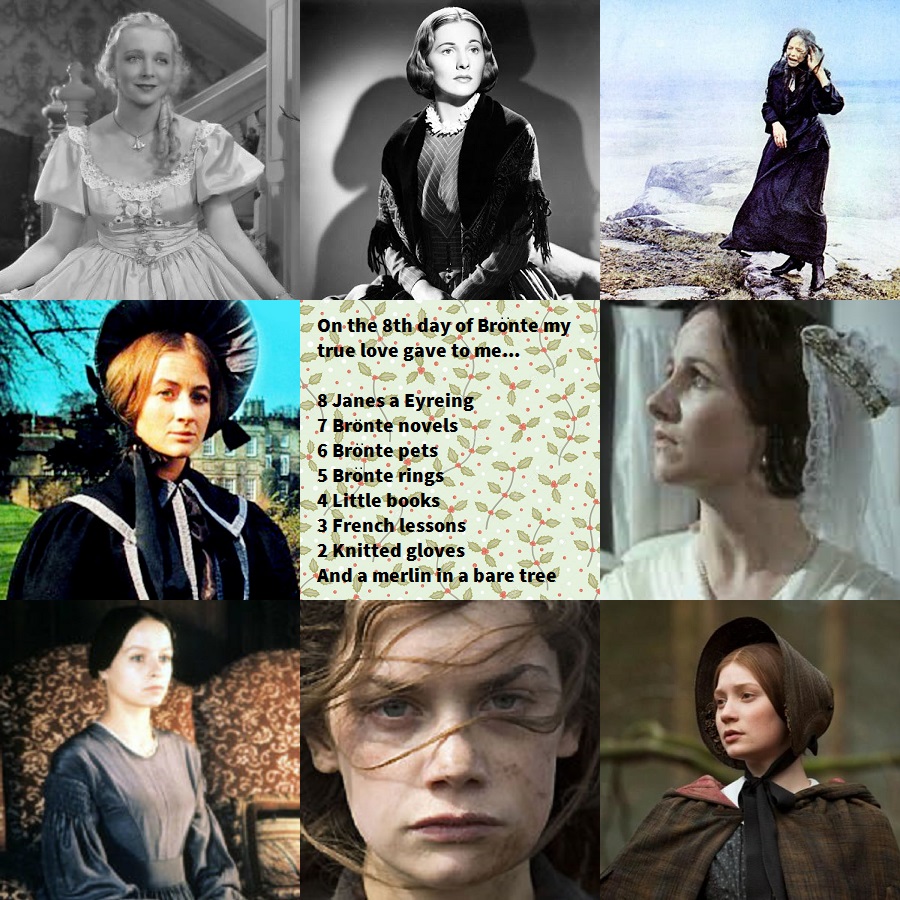 Nine Brontë-inspired ladies dancing
Here I paid tribute to two wonderful Brontë ballets. The first four images are from Northern Ballet's 'Wuthering Heights' and the last four from Northern Ballet's 'Jane Eyre'. The middle image, of course, is from the unforgettable Kate Bush dance to her great song Wuthering Heights.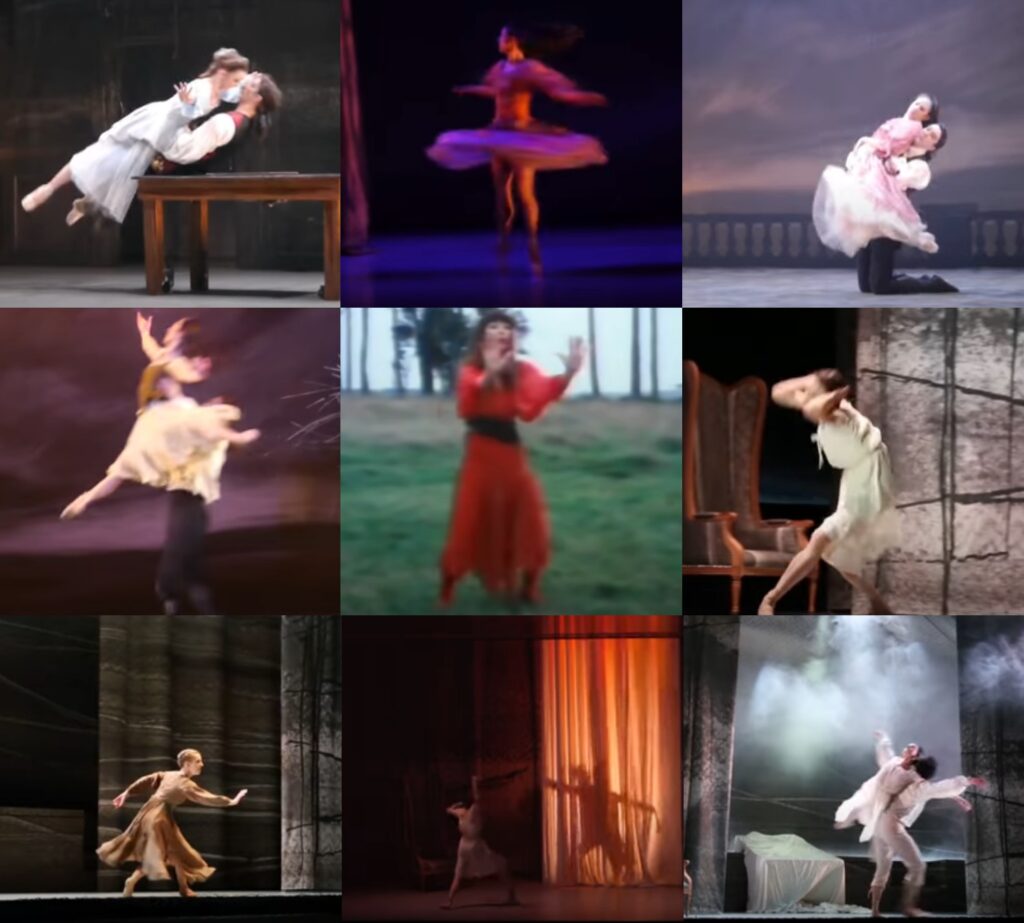 Ten Brontë Friends
The first five friends pre-date Charlotte's fame: Mary Taylor, Martha Brown, Arthur Bell Nicholls (who became more than a friend of course), Margaret Wooler and Ellen Nussey; the second set of five are literary-related friends of Charlotte: Elizabeth Gaskell, William Makepeace Thackeray, George Smith, W. S. Williams, and Harriet Martineau.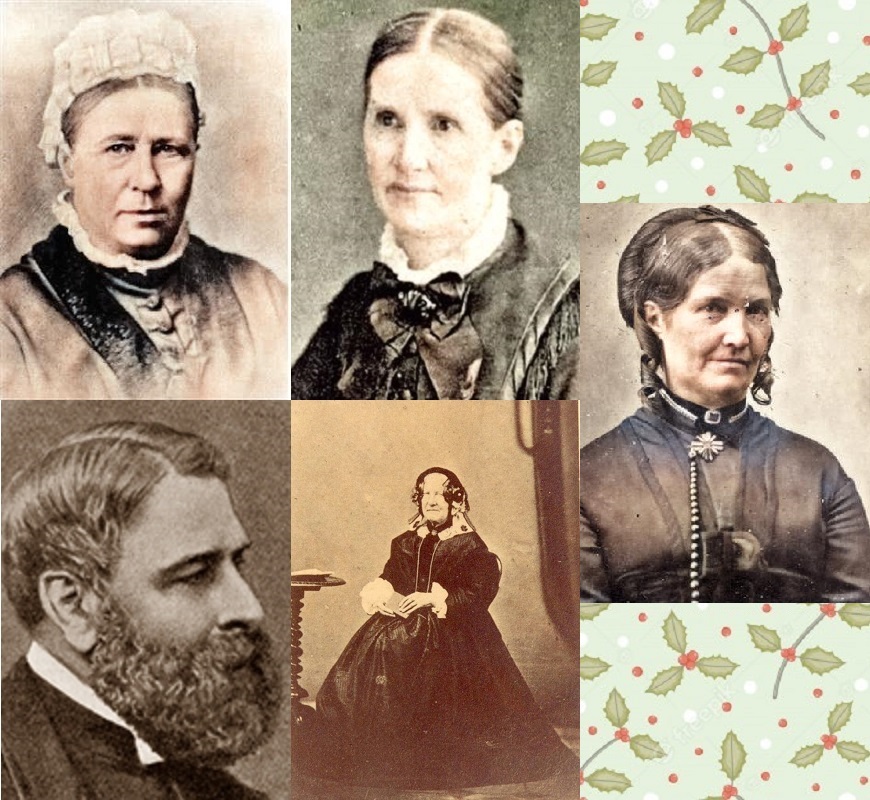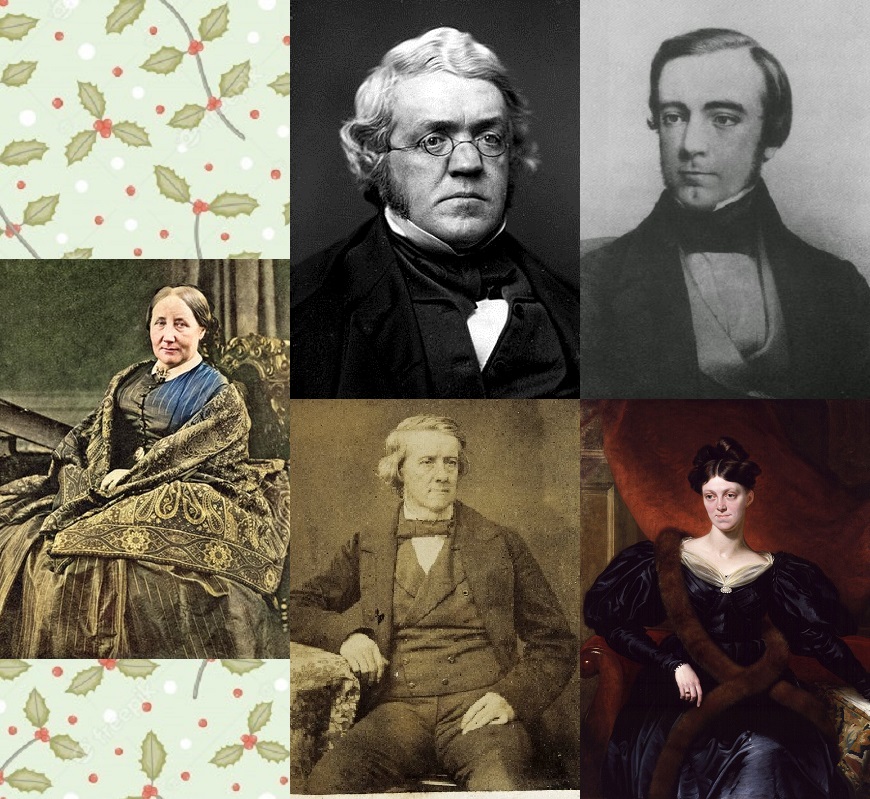 Eleven Heathcliffs Sniping
We've had Jane, but who was your favourite Heathcliff? Choose from Milton Rosmer (1920), Laurence Olivier (1939), Charlton Heston (1950), Richard Burton (1958), Keith Michell (1962), Ian McShane (1967), Timothy Dalton (1970 – he also played a brilliant Rochester opposite Zelah Clarke's Jane 13 years later), Ralph Fiennes (1992), Cliff Richard (1996), Tom Hardy (2009) and James Howson (2011).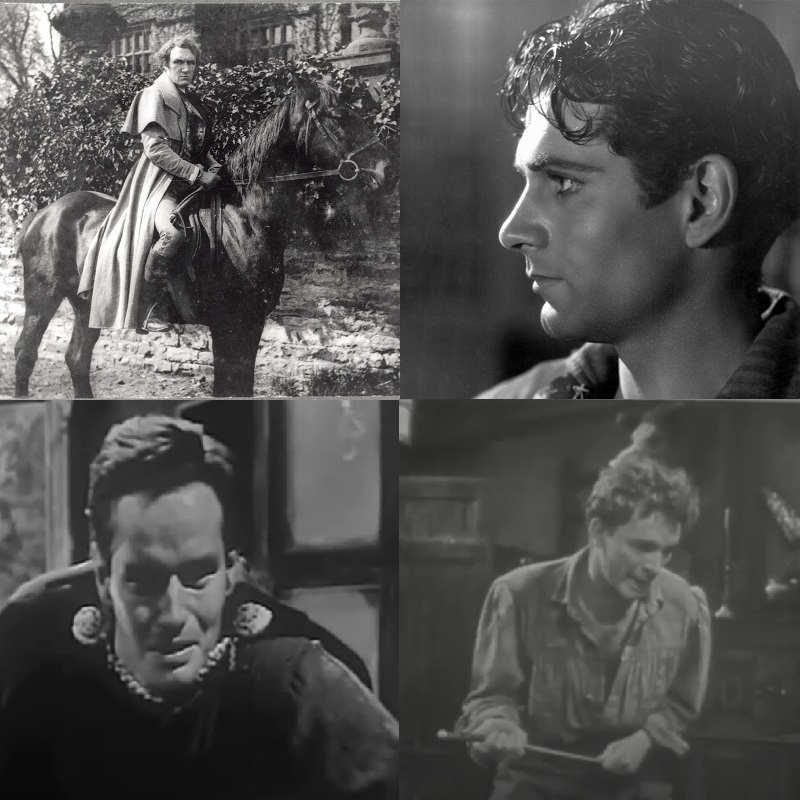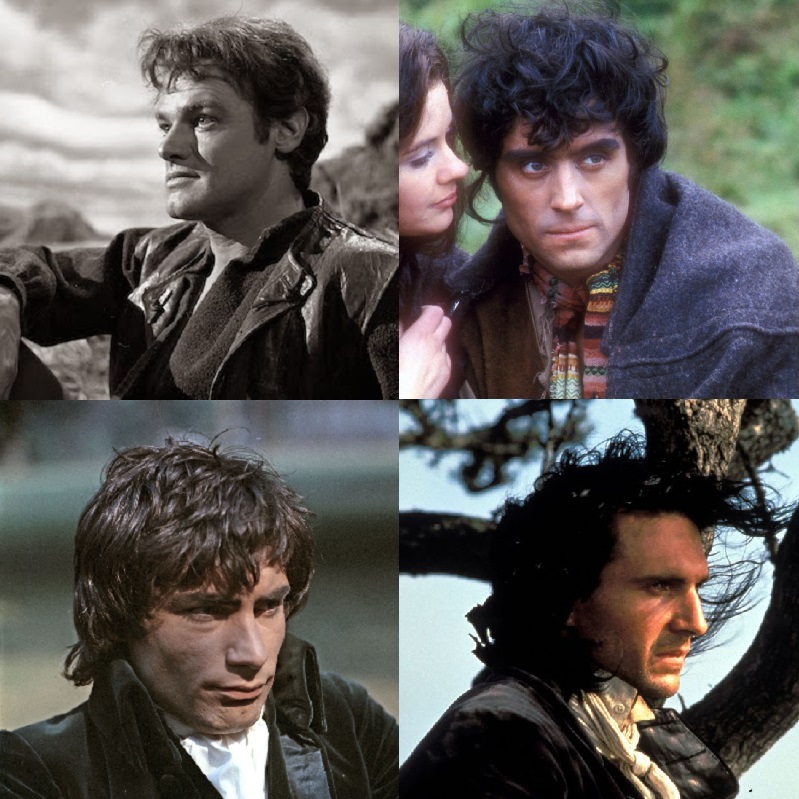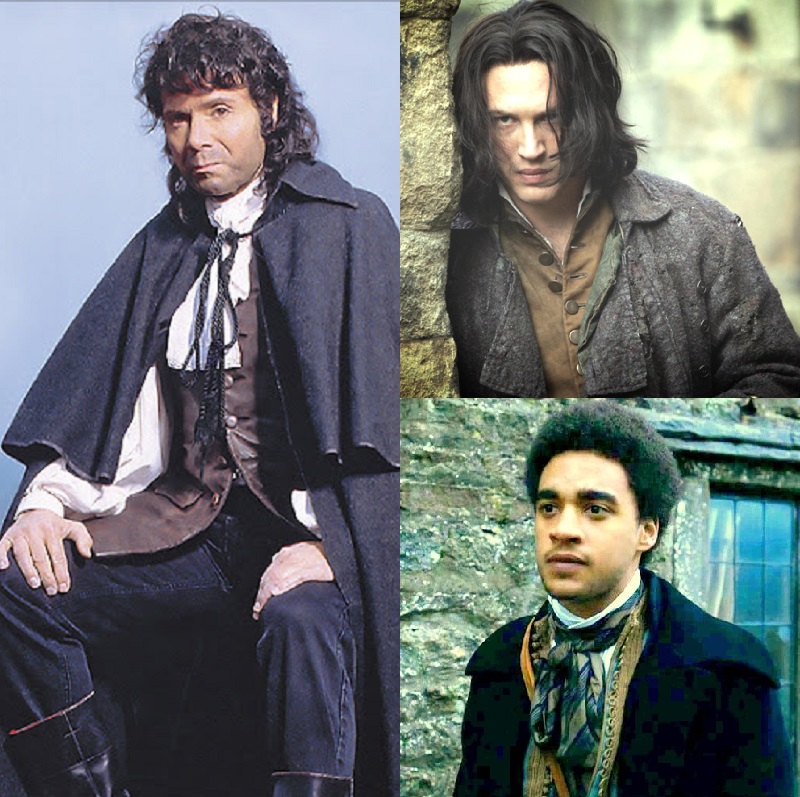 Twelve Brontë Treasures
There are so many Brontë treasures that I absolutely love, so picking just a dozen was tough. Here they are, and I'm going to describe them in top left, top right, bottom left, bottom right order for the following three squares:
Anne Bronte's handkerchief: embroidered with her initials by Anne, this is a sad item as it bears her blood. Nevertheless, I always think it could be used to clone her one day! Onto more cheery items now.
The pillar portrait by Branwell Brontë – showing Anne, Emily and Charlotte as teenagers with (probably, or could it be his father?) Branwell himself painted out behind a pillar.
Smelling salts bottles of Maria Branwell and Elizabeth Branwell; ornate and with beautiful gilding they show the luxurious lifestyle enjoyed in Penzance by the Brontës' mother and aunt.
Brontë toys that were found under the parsonage floorboards; the selection includes a tiny china doll, alphabet blocks and a toy iron. Keeper's huge collar also makes an appearance on the right!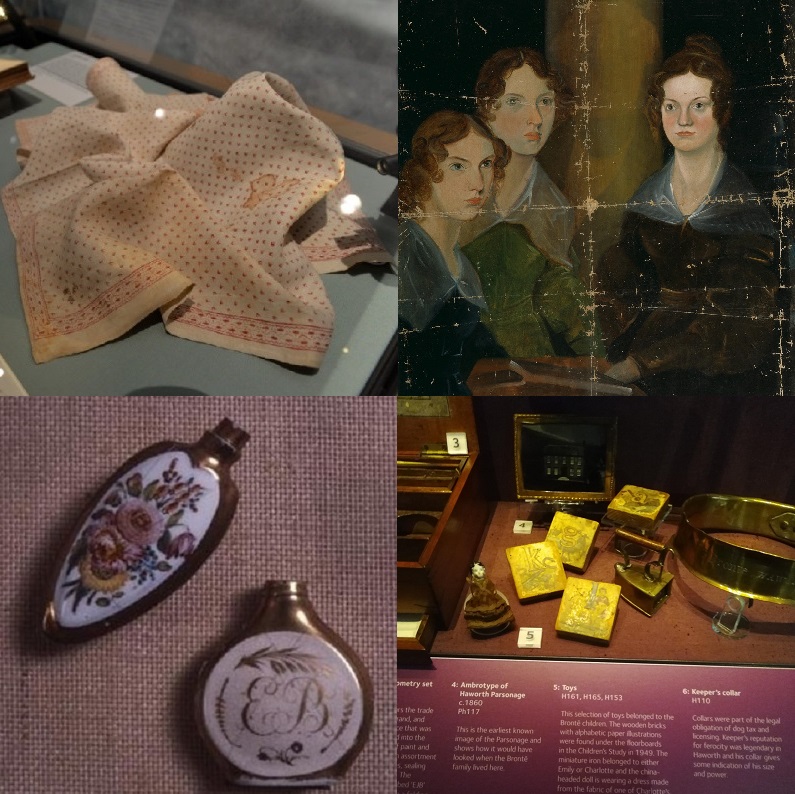 'Sunrise Over Sea' by Anne Brontë; this beautiful painting is full of optimism, and was painted by Anne before she ever saw the sea that she came to love.
A first edition of Poems by Currer, Ellis and Acton Bell, the first Brontë book – and the rest is literary history!
A dress of Charlotte Brontë, complete with gloves, stockings and parasol. It should be noted that I had to squash (technical term) this image slightly to fit in the square, so it's a bit longer and narrower than this in real life, but just as beautiful and evocative.
Maria Brontë's needle case, which she presented to a school friend at the Clergy Daughter's school, Cowan Bridge. It contains the only handwriting we have of the eldest Brontë sibling.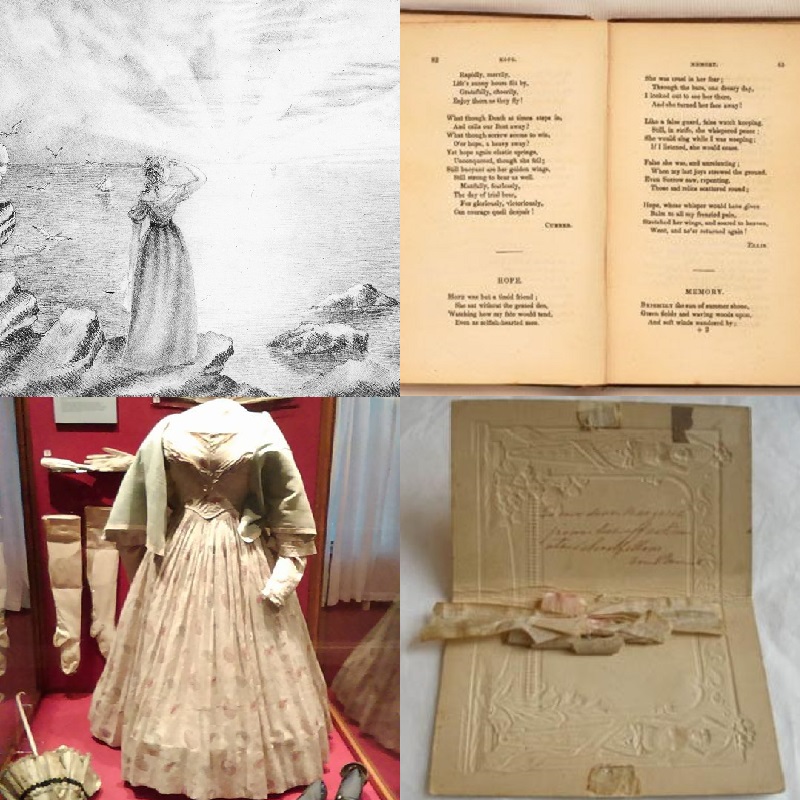 Brontë writing desks; these beautiful writing desks, or slopes as they are also called, could be used to hold pens, nibs, pencils, ink, cutting tools and paper, and were used to write some of the greatest books the world has ever seen.
A captivating Brontë bonnet collection. Particularly lovely are Charlotte's wedding bonnet (top left), and the tiny bonnet worn on the big day by her bridesmaid Ellen Nussey (centre right).
Anne Brontë's jewellery. I especially love the orange carnelian necklace as Charlotte drew her youngest sister wearing it.
Anne Brontë drawn by Charlotte Brontë. Anne was drawn three times by Charlotte, but this is my favourite. To the right of the picture you can see where Charlotte has also drawn Anne's eye looking upwards.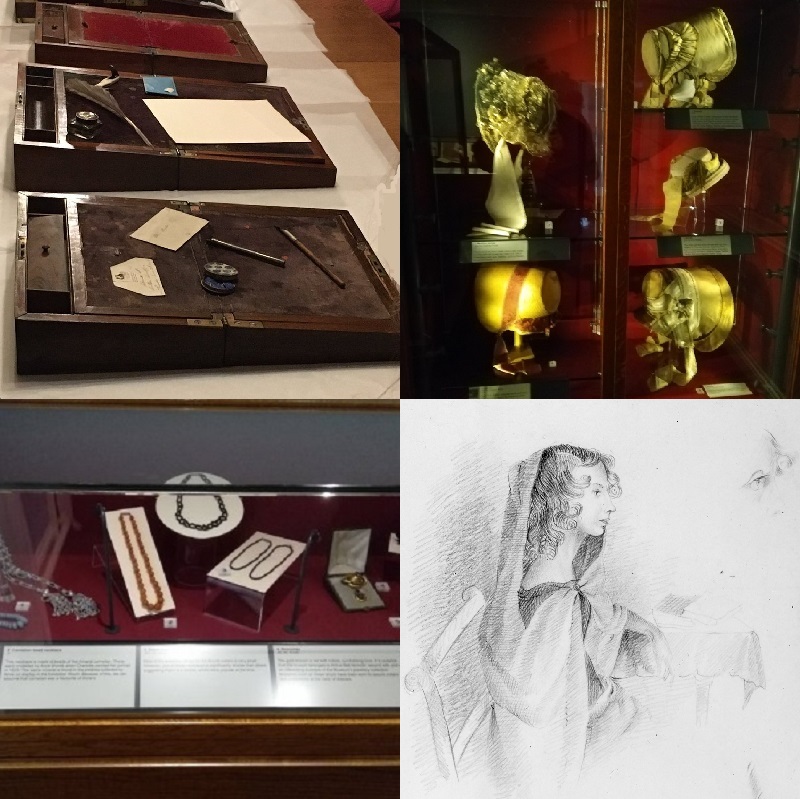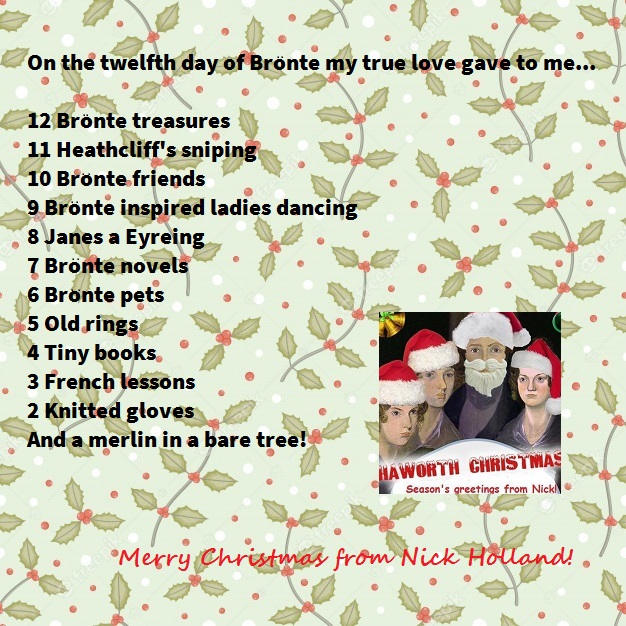 I hope you've enjoyed my twelve days of Brontë rundown; I've certainly enjoyed all your support and comments over the last year, it's meant a lot to me. I hope you've enjoyed my blog posts and Deo volente there will be lots more to come in 2022, so until then I wish you a very merry, peaceful and love-filled Christmas day, and leave you, as per my tradition, with Anne Brontë's 'Music On Christmas Morning'. I'll see you next Sunday, in a new year, for another new Brontë blog post.
"Music I love – but never strain
Could kindle raptures so divine,
So grief assuage, so conquer pain,
And rouse this pensive heart of mine –
As that we hear on Christmas morn,
Upon the wintry breezes born.
Though Darkness still her empire keep,
And hours must pass, ere morning break;
From troubled dreams, or slumbers deep,
That music kindly bids us wake:
It calls us, with an angel's voice,
To wake, and worship, and rejoice;
To greet with joy the glorious morn,
Which angels welcomed long ago,
When our redeeming Lord was born,
To bring the light of Heaven below;
The Powers of Darkness to dispel,
And rescue Earth from Death and Hell.
While listening to that sacred strain,
My raptured spirit soars on high;
I seem to hear those songs again
Resounding through the open sky,
That kindled such divine delight,
In those who watched their flocks by night.
With them – I celebrate His birth –
Glory to God, in highest Heaven,
Good will to men, and peace on Earth,
To us a saviour-king is given;
Our God is come to claim His own,
And Satan's power is overthrown!
A sinless God, for sinful men,
Descends to suffer and to bleed;
Hell must renounce its empire then;
The price is paid, the world is freed.
And Satan's self must now confess,
That Christ has earned a Right to bless:
Now holy Peace may smile from heaven,
And heavenly Truth from earth shall spring:
The captive's galling bonds are riven,
For our Redeemer is our king;
And He that gave his blood for men
Will lead us home to God again."