This week saw the beginning of a new series of The Great British Sewing Bee – so it's the perfect time to look at the Brontës and sewing, something that played an important part in the sisters' lives and in nineteenth century life in general.
It's particularly appropriate for another reason too, as this week marked the 206th anniversary of the baptism of the eldest Brontë sibling Maria – we don't know her exact date of birth. There's just one example of Maria's handwriting in the Brontë Parsonage Museum collection, and it's on an exquisite item – a needlecase that Maria presented to her school friend Margaret Dixon. Inside the case, tied together with a silk ribbon, Maria has written: "To my dear Margaret from her affectionate schoolfellow Maria Brontë."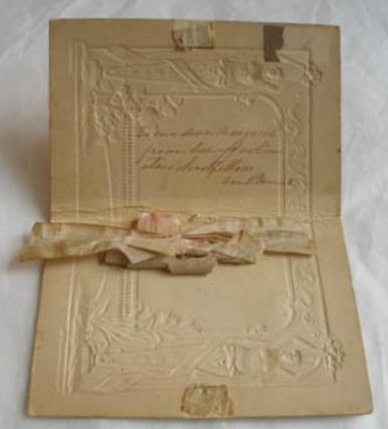 Needles were obviously a precious commodity at the time, and needlework was a highly valued skill – and especially important to a family like the Brontës. As the children of a Church of England Minister they were eminently respectable, always a consideration in the nineteenth century, but unlike many of his colleagues Reverend Patrick Brontë was not independently wealthy. His ill-fated predecessor Reverend Samuel Redhead, for example, was from a wealthy family and many priests at this time were the younger sons of gentry and aristocratic families.
This meant that unlike most priests Patrick Brontë, from a poor background in County Down, had to rely on his salary to buy all he needed, as well as to pay for the upkeep and repairs of his church and parsonage. In effect the Brontës were a lower middle class family – in a far better position than the vast majority of Haworth villagers, freed from the deadly poverty that threatened the loom workers and the children working in mills, but still often short of money.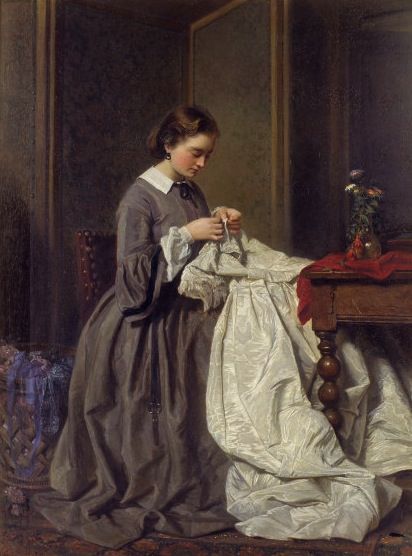 The Brontës were acutely aware of their position growing up, as we see when Charlotte grudgingly had to accept kindnesses from her friend Ellen Nussey who came from a much wealthier background, as in this 1834 letter in reply to the gift of a bonnet:
"I must thank you for your very handsome present. The bonnet is pretty, neat and simple, as like the giver as possible. It brought Ellen Nussey with her fair, quiet face, brown eyes, and dark hair full to my remembrance. I wish I could find some other way to thank you for your kindness than words. The load of obligation under which you lay me is positively overwhelming, and I make no return."
This also meant that the Brontës had to 'make do and mend', to use an old phrase, and rather than buying new clothing as often as they may have liked they instead had to repair and recycle their old clothes as much as possible. For that reason needlework was an essential skill for the girls growing up in Haworth Parsonage (they would have been expected to do the sewing for the men in the house too, of course, as per attitudes of the time), but it would serve another important purpose too. There were only three futures seemingly open to the Brontës in adult life: become a teacher in a school, become a governess to a private family, or marry and become a Victorian housewife. Of course, thankfully for us all, the Brontës had a very different future ahead of them, but for all three likely futures skill at needlework would be essential.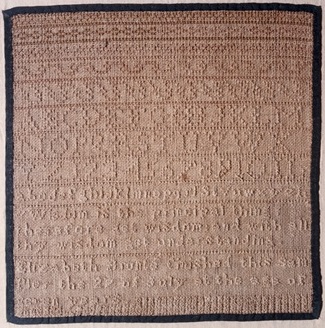 A governess would have to repair her own clothes and often that of the family she worked for, and to teach vital sewing skills to her female charges. It was a duty that Charlotte found onerous during her service as governess to the White family of Rawdon:
"Mrs White expects a good deal of sewing from me – I cannot sew 'much' during the day on account of the children – who require the closest attention."
As we can see, it was vital that the Brontë sisters received first class sewing tuition in their childhood, but where would that come from? One thing that the Brontës childhood had in common with many childhoods right now is that they were largely home taught. After their mother's early passing, the role of needlework teacher fell squarely to one person – their Aunt Branwell.
Elizabeth Branwell was herself a well educated woman who loved to read and who loved to debate the topics of the day, 'without fear' as Ellen said, with Patrick Brontë. She was also a very pragmatic woman, who realised how important sewing would be to the nieces she loved. The emphasis that she placed upon needlework lessons has brought her some very unfair criticism, including from Tabitha Brown, daughter of Haworth sexton John Brown and younger sister of parsonage servant Martha Brown:
"You know Miss Branwell was a real, old tyke. She made the girls work at their sewing, and what with their father's strictness over their lessons, and the hours they devoted to needlework, they had little time for themselves until after nine o'clock at night, and that was when they got time for their writing."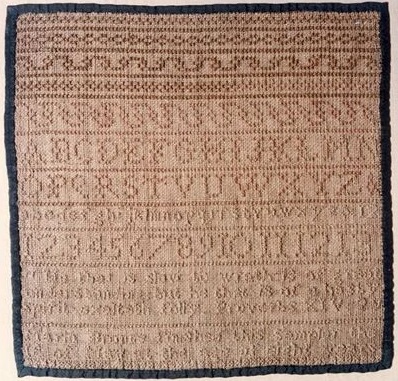 Tabitha occasionally worked as a servant herself when extra hands were needed in the parsonage, but she was not a regular incumbent there and so may have gained an imperfect impression of Aunt Branwell and of Patrick. An even more unfair criticism, and one that unfortunately persists in many quarters, comes from Charlotte's friend Mary Taylor:
"When I saw Miss Branwell she was a very precise person, and looked very odd, because her dress was so utterly out of fashion. She corrected one of us once for using the word 'spit' or 'spitting.' She made a great favourite out of Branwell. She made her nieces sew, with purpose or without, and as far as possible discouraged any other culture. She used to keep the girls sewing charity clothing, and maintained to me that it was not for the good of the recipients but of the sewers."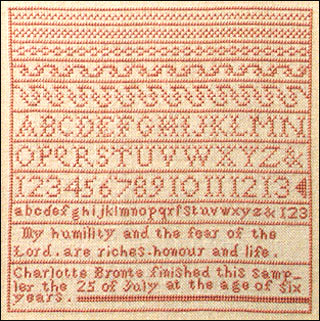 Mary Taylor, even more so than Ellen, was from a very different background to the Brontës. Mary would never have to rely on the life of a governess to supply her capital, she would never have to repair her dresses and stockings, and so she failed to comprehend the importance of these needlework lessons supplied by the Brontës' aunt. The attack on Elizabeth Branwell's clothing is unfair too – she had enjoyed wearing the finest clothes and jewellery in her native Penzance, but now in Yorkshire she gave all she had to her new family rather than spending money on herself. As to the charge of discouraging culture, this too is demonstrably incorrect. A Christmas gift of a Walter Scott book to her nieces was much loved and started their lifelong love affair with the writer, and we also know that Elizabeth subscribed to a number of literary magazines which were then read by the Brontës.
Aunt Branwell merely tried to do what parents across the United Kingdom and beyond are currently contending with – provide a useful education to the children in her care, despite not being a teacher herself. Children at this time were expected to produce sewing samplers to showcase their needlework skills, which could be used to obtain admission to schools or when applying for jobs – the Brontë samplers were often beautiful and accomplished to my eyes (and I've included some within this post), although the standards at the time were high and the Cowan Bridge school admission records were less than fulsome in their praise of the Brontë stitching – with Maria Brontë, despite her lovely needlework cases, being described as 'works very badly'. 'Works' here refers to needlework, but it's no slight on Maria, who by all accounts was a highly talented child. Cowan Bridge was equally scathing about the vast majority of pupils who passed through its doors, hardly surprising when we consider that it is now immortalised as the oppressive Lowood school in Jane Eyre.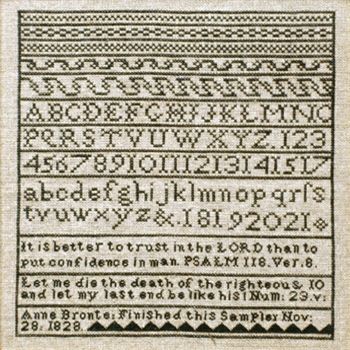 Incidentally, to say thank you for all the support I get here and on social media (I'm @nick_holland_ on Twitter and @nickhollandbrontes on Instagram) I'm giving away a signed copy of my biographies In Search Of Anne Brontë and Aunt Branwell And The Brontë Legacy. To enter, simply email me at insearchofannebronte@hotmail.com. I will be doing a random draw on Monday afternoon, 27th April, so hurry if you want to be included. As an added bonus, every person who emails me will get a free PDF copy of Aunt Branwell And The Brontë Legacy. Your support means so much to me, at this strangest of times and at all times.
To return to our opening, if there was a Great Brontë Sewing Bee who would win? Well, one particular sister was recorded by Cowan Bridge as 'reads very prettily and works a little'. This was by far the most praise given in the admissions register, and especially notable as it was given to the youngest pupil at the school. Yes, I think the person who would surely have won a Great Brontë Bake Off would also have won a Great Brontë Sewing Bee; she was simply good at everything she turned her hand to: it was, of course, Emily Brontë. Stay safe, happy and healthy and join me next week for a new Brontë blog post.