It's been a busy ten days for literary anniversaries. Yesterday was the birthday of Virginia Woolf, who visited Haworth Parsonage in 1904 and wrote about Emily and Charlotte Brontë in 'A Room Of One's Own', and Robbie Burns, much loved by the Brontës. Of course, they were both trumped by the 200th birthday of our much loved Anne Brontë just nine days ago, so today we're going to look back at last weekend's Anne Brontë celebrations in Haworth and Scarborough.
Anne's big day was last Friday, the 17th of January, and I myself marked the day by travelling to the place she and her family are most associated with: Haworth. Clouds were overhead but, rarely for a winter's day, there was no rain as I climbed that famous steep hill once more. Now called Main Street it had been called Kirkgate as Anne made her first voyage along it aged just three months in April 1820.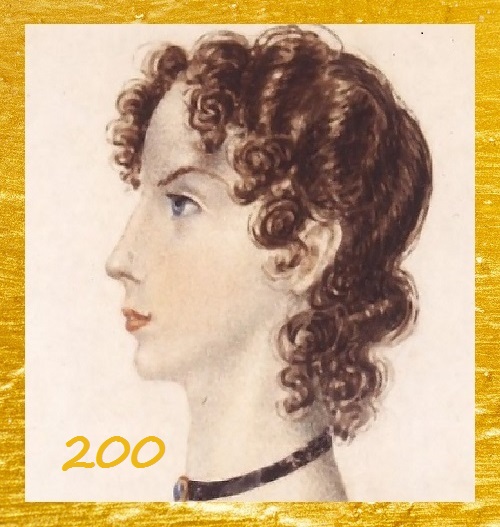 My first port of call was the Brontë Parsonage Museum itself, or rather it's shop annex. The Parsonage building is out of action throughout January as this is the time when the year's new display is installed and essential cleaning and conservation work is carried out. Thankfully, however, the museum had opened its Bonnell Room especially for Anne's birthday celebrations, and what a treat it was.
Henry Houston Bonnell was a major donor to the museum collection. A wealthy American from Philadelphia who loved all things Brontë, his generous bequest has seen part of the museum named after him. Unfortunately he never got to see this recognition, for he died in 1926, two years before the parsonage museum was opened to the public. For those familiar with the museum, it's the room at the far end of the shop, or alternatively the final room that you enter as you walk down the stairs after visiting the parsonage itself.
This year it has been dedicated to Anne, and after kindly partaking of a glass of bubbly I was offered, I walked with excitement into it. Anne's exhibition, entitled 'Amid The Brave And Strong' opens in full to the public next month, and I can't wait to see it and report back on its treasure, but if the Bonnell Room is anything to go by, we're in for a real treat.
The numerous cabinets contain a wide selection of Anne Brontë items that tell her story from beginning to end. Thus we have her pebble collection, one of her drawings of her spaniel Flossy, and a large and varied selection of her poetry and art. We also have the blood stained handkerchief with her initials in the corner, and the walls themselves are beautifully decorated with the cross-written letter which she sent to Ellen Nussey in the last weeks of her life.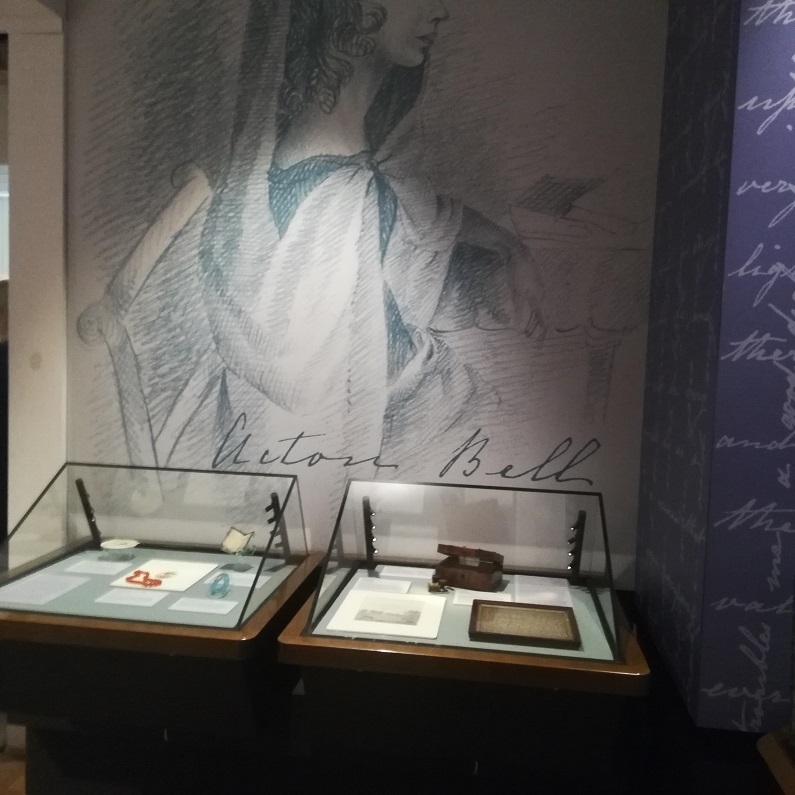 Above is a photograph of the first pair of display cases, containing Anne's stunning turquoise and carnelian necklaces, as well as the small round portrait of Anne wearing that very same carnelian necklace aged around 12 or 13, drawn by Charlotte Brontë.
From the moment of seeing that first case I was incredibly moved. At last, Anne Brontë was centre stage. As a child she had been called 'waiting boy', but now Anne has to wait no longer for the love and recognition she deserves. The attendant asked what I thought of the exhibition at which point I promptly burst into tears – maybe the bubbly had gone to my head, but I think I was overcome with how wonderful the exhibition was, how fitting and tastefully done – there is no doubt now that this is Anne Brontë's year, and I found seeing that an incredibly emotional experience. When I visit the full exhibition next month I aim to be more in control of my emotions, but I'll take a hanky or ten along just in case.
After leaving the parsonage, I made my way to the neighbouring church where Anne's father served so well for more than 40 years. From there, it was a short stroll to the Old School Rooms, the building founded by Patrick Brontë and in which Anne spent many hours as a much loved and respected Sunday School teacher. A talk was given on Anne Brontë there which was informative and well presented – there was one little error in which a picture of Anne by Charlotte was described as being a 'fantasy figure of a woman' drawn by Anne, but otherwise it was a fitting tribute to Anne on her special day and hit exactly the right tone.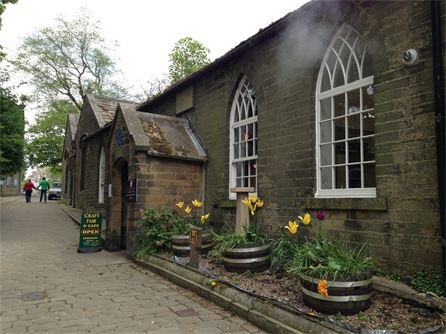 I headed home to South Yorkshire full of love and delight at how Anne was being remembered – well done to all who have been involved in the exhibition, including Brontë Society supremo Kitty Wright who I was pleased to bump into again in Haworth.
Sunday saw the celebrations switch to Scarborough, but unfortunately I was struck down by manflu at this most inappropriate time and was unable to attend. Thankfully I received a number of reports of the weekend, all of which praised it fulsomely. The 'Anne Brontë p.200' art exhibition organised by Lindsey Tyson was a huge hit, and the book that accompanies it, containing 200 images created from 'The Tenant of Wildfell Hall', has delighted everyone lucky enough to have a copy. The exhibition itself will soon be moving to Haworth, giving everyone another chance to see it.
Venerable Brontë biographer Edward Chitham gave a talk which was very well received. Now in his mid-eighties he has lost none of his passion for Anne Brontë and her sisters, nor his ability to convey that to an audience.
A large group of people then made their way to the South Bay beach, where they each wrote a phrase or word onto a pebble relating to Anne before throwing them into the sea. I think this was a lovely idea, as this beach was walked by Anne many times; she even crossed it in a donkey drawn cart (you can still get donkey rides here in summer) and chose it as the setting for the reunion between Agnes Grey and Reverend Weston. I couldn't be there in person but I was there in spirit, so I was absolutely delighted to see that I was represented on the pebbles thanks to two very special Brontë enthusiasts. Rachel Maria Bell wrote 'Crave The Rose' on a pebble to represent my latest book, whilst Pamela Nash, organiser of the Anne Brontë event in Manchester in March, wrote 'In Search' (after my first Bronte biography, 'In Search Of Anne Brontë') and 'Spirit' on her pebbles. I was really happy to see this, so thank you very much to Rachel and Pamela.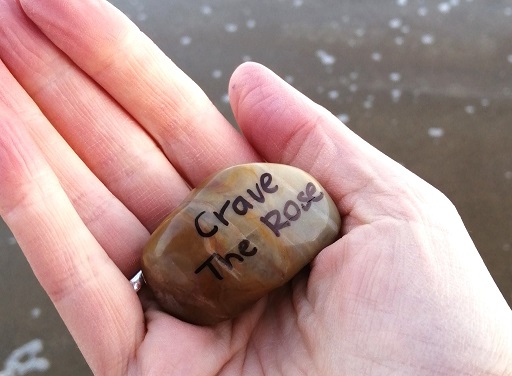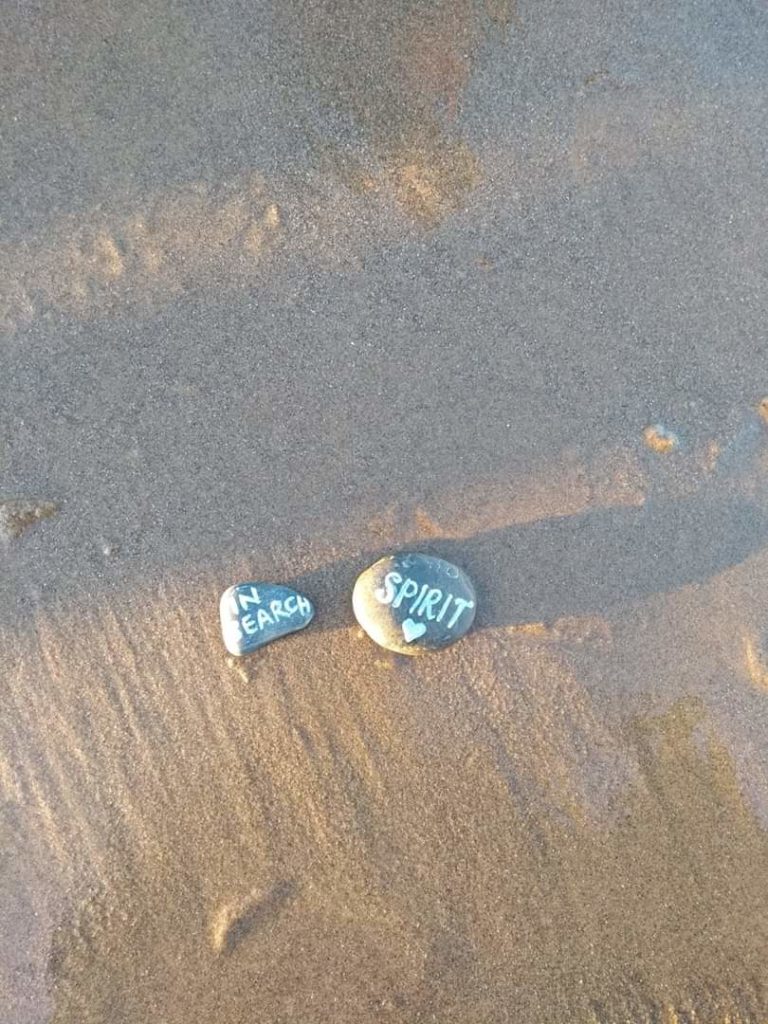 There was then a procession up the steep hill (steep hills seemed to follow the Brontës wherever they went) to Anne's final resting place at St. Mary's Church beneath Scarborough Castle. I have to give great thanks here too to Eileen Prunty Hynes, who had not only travelled from Ireland to pay tribute to Anne Brontë but who sent me a picture of my book on Anne's memorial. A huge honour for me, and Eileen also brought me a present all the way from the Brontë fatherland of Drumballyroney in County Down – thank you very much! I was thrilled beyond measure at these kind thoughts and actions, and even more thrilled to see how wonderfully Anne had been remembered in Scarborough – as represented by the candles and white roses around her memorial.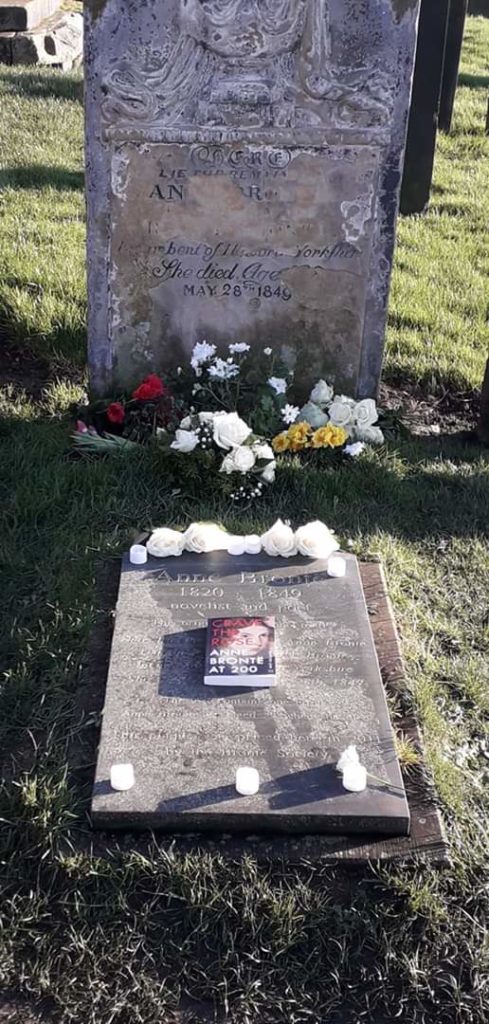 Anne's immortal creation Helen, the tenant of Wildfell Hall, famously plucks a white winter rose and uses it to represent her own courage and resilience. It also, of course, perfectly represents the courage and resilience of Anne Brontë.
Next week I will be reviewing a new Brontë graphic novel called 'Glass Town' by Isabel Greenberg – is it a fitting book to mark Anne's special year? (Spoiler alert: yes it is, but more on that next week). For now I just want to thank all who have remembered Anne in the last ten days, wherever in the world they are. We are in the year of Anne Brontë, and it's about time.