This week saw National Poetry Day celebrated in the UK, and we can be proud in this country to have contributed some of the world's greatest poets: from the sonnets of Shakespeare, through the pastoral perfection of Wordsworth to the genial genius of Betjeman. To that number we can also add the absolutely beautiful poetry of Anne Brontë.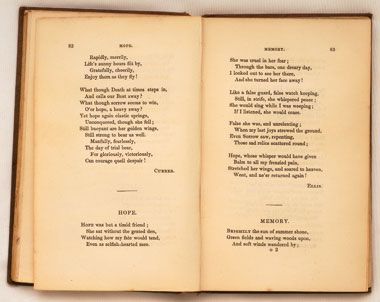 It was poetry that first set the Brontë sisters on the publishing route, as their first creative endeavour to hit the bookshelves was their collaborative 'Poems by Currer, Ellis and Acton Bell' of 1836. It is well known how this sold only two copies initially (although not so well known is that it eventually sold out its run of 1000 copies, after a relaunch by Smith, Elder & Co.,) but the sisters were not disheartened, as Charlotte Brontë revealed:
'Ill-success failed to crush us: the mere effort to succeed had given a wonderful zest to existence; it must be pursued.'
This zest for writing, a return to the 'scribblemania' of their childhood, turned now to the prose form and resulted in the Brontë novels we know so well.
To celebrate poetry week (as I'm now dubbing it) I finish with one of Anne's finest poems, 'Lines Composed In A Wood On A Windy Day', one of Anne's 21 poems selected for inclusion within 'Poems by Currer, Ellis and Acton Bell'. Written in December, 1842 Anne was seized by the poetic muse as she walked through the Long Plantation woods to the north of Thorp Green Hall where she was then governess (that's a picture of them at the top of this post). With the autumnal weather really making itself felt here in Yorkshire, it seems particularly apposite:
"My soul is awakened, my spirit is soaring
And carried aloft on the wings of the breeze;
For above and around me the wild wind is roaring,
Arousing to rapture the earth and the seas.
The long withered grass in the sunshine is glancing,
The bare trees are tossing their branches on high;
The dead leaves, beneath them, are merrily dancing,
The white clouds are scudding across the blue sky.
I wish I could see how the ocean is lashing
The foam of its billows to whirlwinds of spray;
I wish I could see how its proud waves are dashing,
And hear the wild roar of their thunder today!"