As the end of term approaches at schools across the UK, it has become customary for pupils to present their teachers with little presents, and quite right too. Teaching is one of the most important professions of them all – as Anne Brontë understood all too well. Many people know that Anne Brontë was a governess with the Ingham and Robinson families, but her time as a teacher is less well known. In fact, Anne was a popular, if reluctant, teacher from a young age and her classroom lay just a stones throw from the house she called home – Haworth Parsonage.
Schooling in England wasn't made compulsory until 1880, so before that time whether a child received an education was largely dependent upon their class and background. The upper classes had governesses, a profession well known to Anne and which she dissected in her brilliant first novel 'Agnes Grey', and then finishing schools or private schools. The middle classes had access to schools if they could afford them, and the working class had no education at all unless it was provided by their local church in the form of a Sunday school.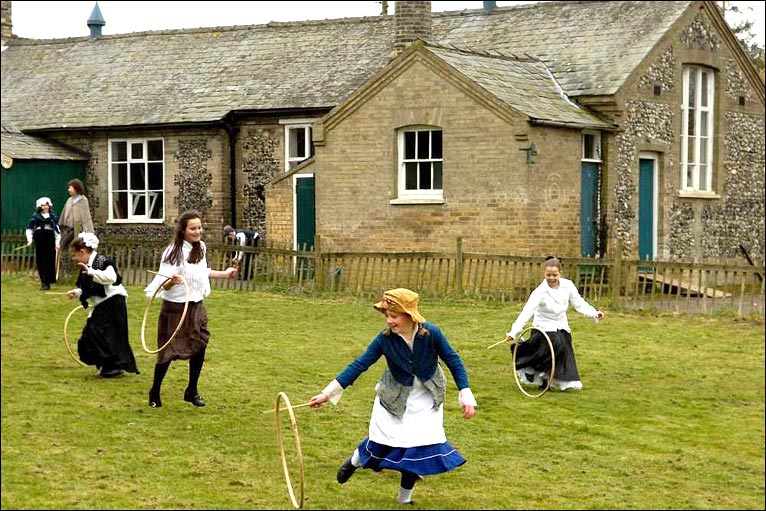 Patrick Brontë was a great supporter of education for the poor; after all he himself was from a poor County Down family, and his own education had completely changed the course of his life, taking him to Cambridge University and then on to a life as an Anglican priest. When Patrick arrived at Haworth in April of 1820 one of his first goals was to open a Sunday school – this was also something he had done at his previous parish of Thornton, where the three writing Brontë  sisters were born between 1816 and 1820. To achieve his aim of founding a Haworth school he set about obtaining subscriptions locally and from national charities, and after 11 years his goal was achieved and the school was opened. Patrick himself chose the words that can still be seen on the foundation stone:
"This National Sunday School… was erected AD 1832 by Voluntary Subscription and by a grant from the National Society in London. Train up a child in the way he should go and when he is old he will not depart from it. Prov.xxii.6"
Sunday was the perfect day for educating children, not only because of its religious connotations but because on other days they would be working in mills or at the many weaving houses in Haworth, even from a very early age. Years later, Patrick would secure funding for a full time teacher and introduced early morning classes but at first, as was often the case at Sunday schools nationwide, the role of teacher would fall on the parish priest's wife or children. Mrs. Brontë was long dead by this time, so the role of teacher fell upon three of Patrick's children: Charlotte, Branwell, and Anne Brontë. Emily's great reserve made her unsuitable for the role of teacher, and she was excused the duty. Years later Emily's reserve would again make her unsuitable for a role as teacher in their proposed school, the Misses Brontë  Establishment that never came to fruition, as Charlotte admitted in a letter to her former Professor and amour Constantin Heger:
'Emily does not like teaching much, but she would always do the housekeeping and, although she is a little reclusive, she has too good a heart not to do everything for the wellbeing of the children.'
Educationally they were more than capable of carrying out the role. Anne was only twelve at this time, and yet thanks to the teaching of her father and aunt she was very learned in everything from art, music and needlework to composition, reading the scriptures, arithmetic, geography and even languages. It seems, indeed, that Anne was possibly the most gifted of them all from an intellectual point of view, and she was the only one of the children who became fluent in Latin.
So, at just twelve years old, the young and very shy Anne, who preferred spending hours walking the moors in company with her beloved sister Emily to mixing with people outside of the family, found herself taking her turn teaching the village children.
We can wonder how Anne's nerves held up to this first test, but we get a big clue in the text of Charlotte Brontë's masterpiece 'Shirley'. The character of Caroline Helstone in that novel is based upon Anne, and Caroline too is a parson's daughter who has to teach at Sunday school from the age of twelve. In the novel, a friendly neighbouring priest Mr. Hall describes Caroline's first day as a teacher, and it's not a great leap to conjecture that this is really Charlotte remembering what happened to Anne on the identical occasion:
"'They made her a Sunday-school teacher when she was a little girl of twelve. She is not particularly self-confident by nature, as you may have observed; and the first time she had to 'take a tray', as the phrase is, and make tea in public, there was some piteous trembling and flushing. I observed the speechless panic, the cups shaking in the little hand, and the overflowing teapot filled too full from the urn.'"
Nevertheless, later in the same novel, we see how much Caroline, by which we can read Anne, was loved and respected by her pupils when they keep her company and treat her with kindness at a May Day gathering:
"Miss Helstone knew these girls liked her, yet she was shy even with them out of school… They did not take advantage of it… They stood round her still, civil, friendly, receiving her slight smiles and rather hurried efforts to converse with a good feeling and a good breeding – the last quality being the result of the first – which soon set her at her ease."
We also have the testimony of some of Anne's former pupils at the Haworth school itself. One young boy by the name of Binns later recalled that he liked Anne best of all the teachers because she 'looked the nicest and most serious like'.
Anne was also a very popular teacher with the upper class Robinson children in later life, as shown by them gifting her Flossy the spaniel, and their correspondence with her and a visit to Anne in Haworth after she had finished her role as governess at Thorp Green Hall.
Despite her natural timidity Anne succeeded as a teacher, whether at Sunday school or as a private governess, because of her determination, her intellect, and above all her kindness which although hidden behind a veil of seriousness and propriety invariably led to people liking her. This is characteristic of Anne's life as a whole: she would not allow her shyness to stop her achieving what she wanted to achieve; she would struggle against it, and eventually she would overcome.
What became of the school itself? If you've been lucky enough to visit the Brontë  Parsonage Museum in Haworth then you're sure to have seen it: it's the low, long building at a right angle to the Parsonage itself – that's it at the top of this post. Now under new management and called 'The Old School Rooms', it is used for functions and events throughout the year. This is not a new role for the building, as it was after all the venue for Charlotte's wedding reception in 1854.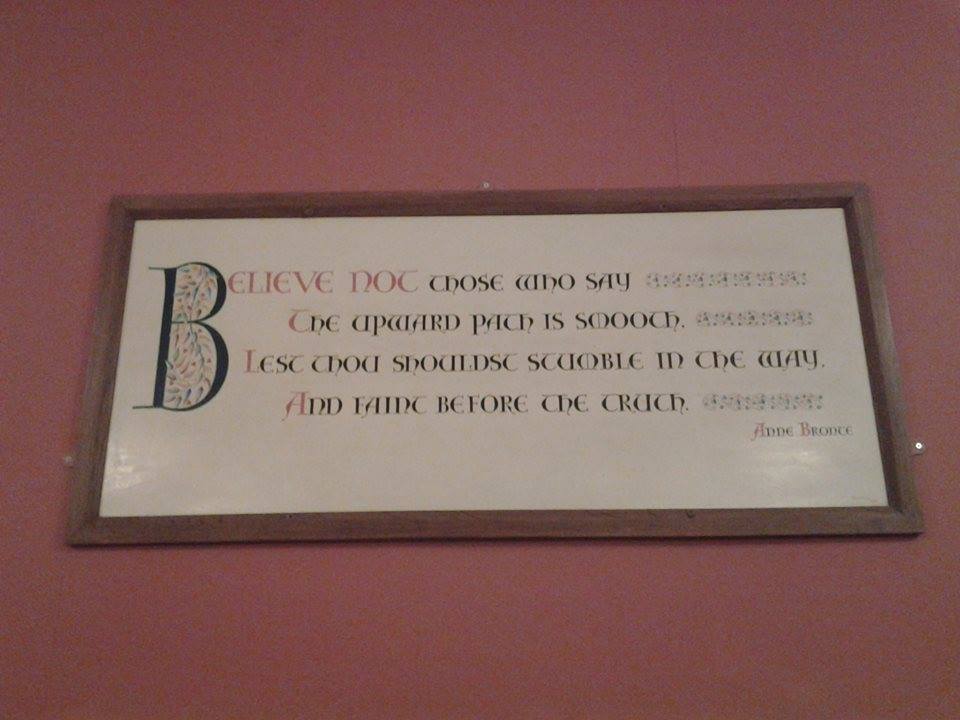 I was pleased to see that Anne isn't forgotten inside the school. On a wall is this beautifully hand crafted and painted wooden plaque, containing words from Anne's poem of faith 'The Narrow Way', itself often used as a hymn today. A fitting and lasting tribute to the woman who went from being a shy young girl to a popular and well respected Sunday school teacher. If you're thinking of buying a present for your child's teacher this summer, then I can think of a perfect gift: 'Agnes Grey' by our dear Anne Brontë .