This week we witnessed the celebration of a very special day – the 75th anniversary of VE Day, the day on which World War Two's European conflict was finally ended, and a major step towards the end of the war worldwide. It was commemorated in a way we could not have imagined a year ago, but I still found the sight of the Duke and Duchess of Cornwall laying wreaths as a solitary piper played a very moving experience. People and communities across Europe remembered, mourned and celebrated, even if behind closed doors or in the silence of their own hearts. This included Haworth as well, so today, after a brief look at the Brontës and war, we'll step into the archives to look at Brontë country in the Second World War (the header picture, by the way, is an actual picture of Haworth on VE Day 1945).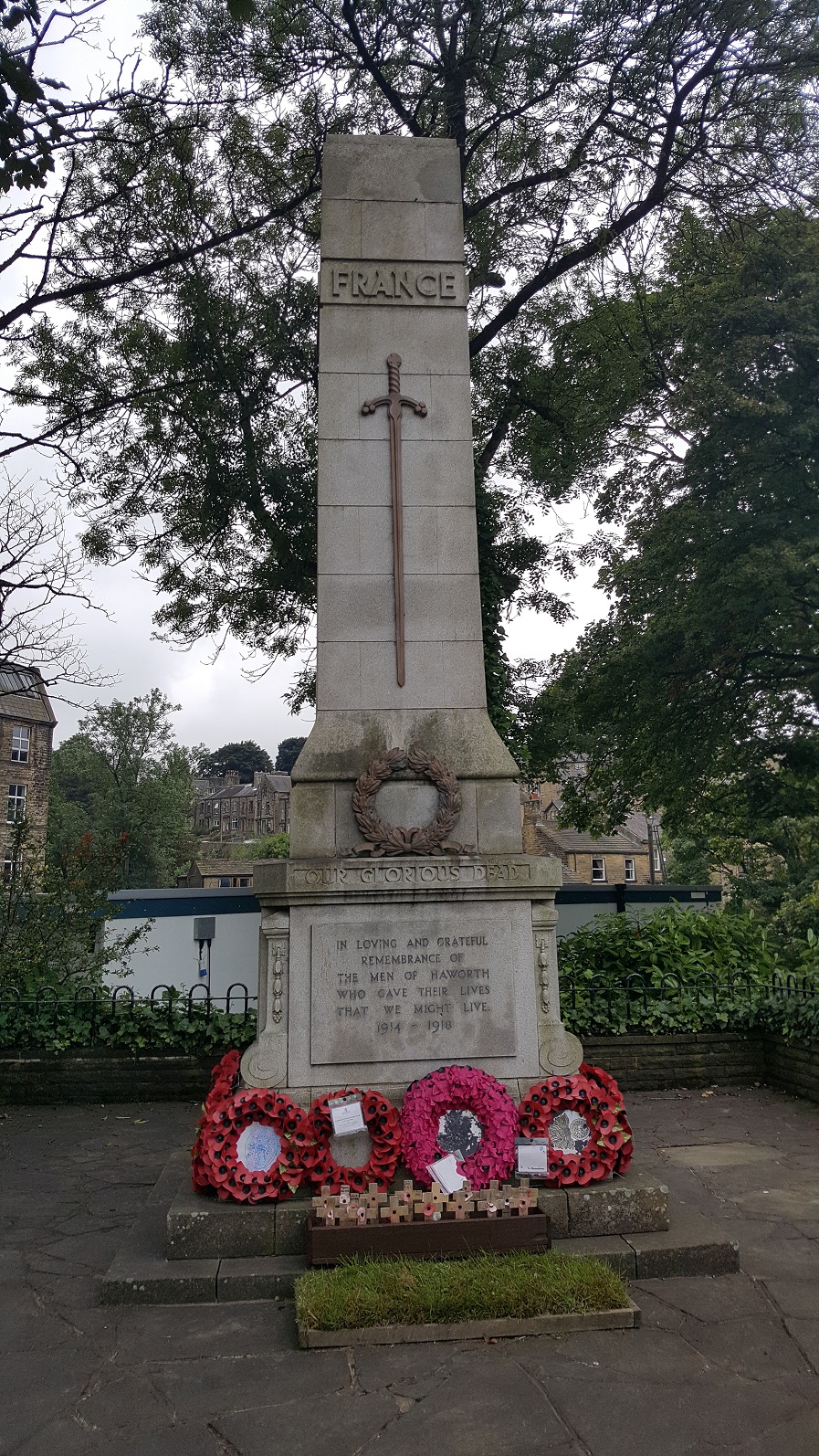 The first half of the nineteenth century was a tumultuous time, with newspapers and magazines full of tales of war and conflict – and of course this was guaranteed to fire up the imagination of the Brontë siblings. The story is well known of how Patrick's gift of twelve toy soldiers to Branwell was the catalyst for an explosion of creativity within the parsonage, and Patrick himself was equally enthralled by the stories of battle and conquest. Patrick was a very patriotic man, he had after all been inspired by Admiral Nelson, the Duke of Brontë, when he decided to change his family name from Brunty or Prunty. Ellen Nussey, who came to know him well over many years, said of Patrick that: 'he simply had missed his vocation: he should have been a soldier, and circumstances made him a priest.'
Whilst there's no direct Brontë involvement in the Second World War, of course, there was a family connection to the First World War. Captain Arthur Branwell had already served in the army with distinction when he came out of retirement at the age of 52 at the outbreak of war in 1914. Initially involved in troop training in England, the wholesale slaughter of the trenches and need for numbers meant that he eventually found his way to the western front. It's often forgotten today that officers suffered the most losses per capita, as they were expected to lead from the front. We have this touching photograph of Arthur sitting with four fellow officers in France. Of these five officers, he was the only one who returned from the war alive.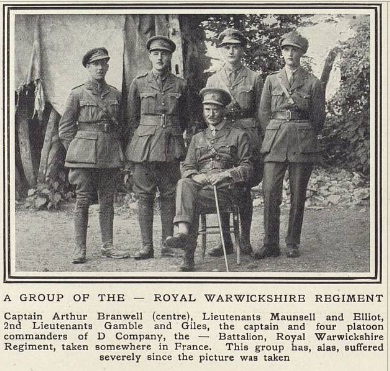 Arthur was the son of Thomas Brontë Branwell of Penzance, who had visited his cousin Charlotte Brontë in Haworth, possibly with the aim of proposing to her. It's incredible to think that amongst the carnage of the First World War trenches was a man who was only one generation away from the Brontë sisters.
Now lets forward to World War Two, but before we get to Haworth let's take another look at Captain Branwell's family, and discover a terrible material loss for Brontë lovers today. Thanks to aviation advances, citizens at home in Britain were now under threat as well as the armed forces on campaign. After returning safely from the war, Arthur Branwell made his home in London with his wife whom he'd married in 1897 – believe it or not his wife's maiden name was Charlotte Brontë Jones! Arthur died in 1937 and his wife Charlotte died five years later. Unfortunately, as this newspaper story reveals, some of her valuable Brontë relics which had come into her possession, as well as her will, were destroyed in an air raid during the London Blitz: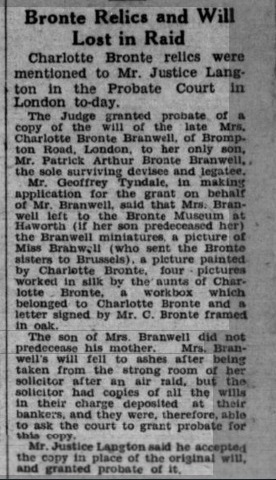 Now let's head to the moors of Yorkshire, and look at World War Two in Haworth and in the Brontë Parsonage Museum. Like many towns and villages, Haworth had its own Home Guard unit – here they are pictured in 1943. Now it's easy when we see this to think of 'Dad's Army', but these were men who were facing a very real threat of invasion and were prepared to put their lives on the line to defend the community they loved.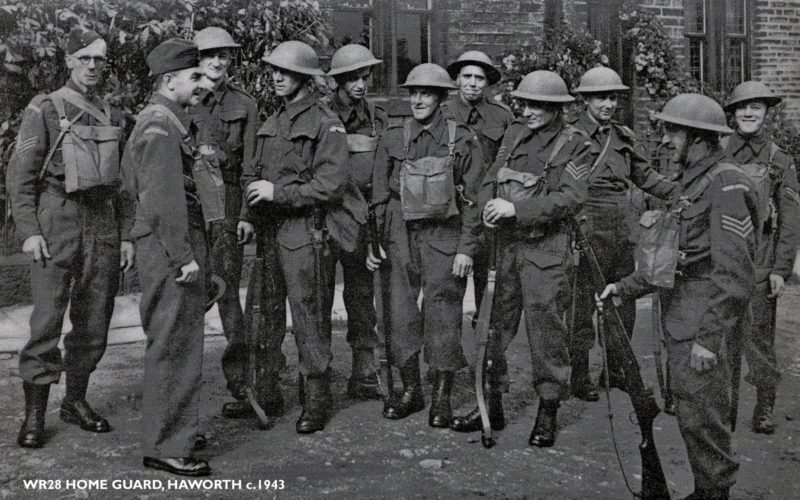 Of course, many Haworth men of conscription age were serving overseas, but Haworth was far from quiet. Firstly, there was an army training camp nearby, and after the entry of the United States into the war at the close of 1941 there were also American troops nearby preparing to enter the conflict on mainland Europe. The Brontë Parsonage Museum stayed open throughout the war, sometimes showing movies on a screen to members of the allied forces, as well as welcoming Brontë lovers from home and abroad.
We get a glimpse of this in this 1941 report, which shows Canadian and Polish troops visiting the museum, as well as people who had been re-homed in the Haworth district from the blitzed areas of Bradford and Leeds: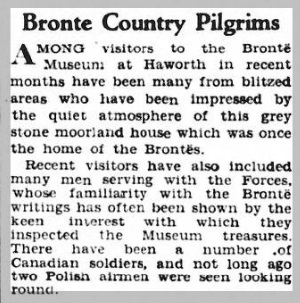 A year later, the numbers show no signs of diminishing, with armed visitors making up a third of all visitors to the Brontë Parsonage Museum: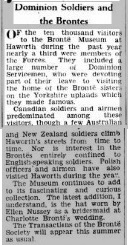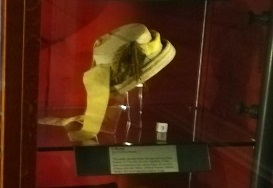 This rather amusing report from 1943 shows the impact that American troops were now having in Haworth. Their love for the Brontës has become evident, as has the fact that they know more about the family than the people who hail from the area did: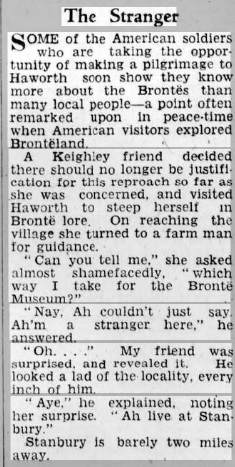 By 1944 the war was heading towards a ferocious climax, and yet amidst all this turmoil the Brontë Parsonage Museum reported record attendance figures. The visitor's book showed that people of many nationalities had attended, including one from south London who defined themselves as 'Croydonion'!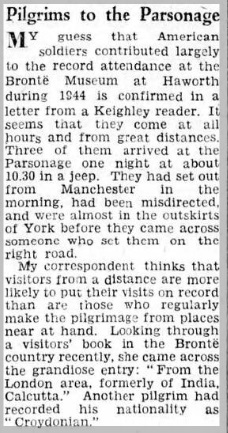 We will finish with a particularly moving story from 1944 about a very special party of visitors to the Brontë museum – a group of wounded soldiers: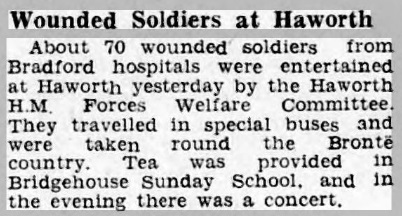 These men made very real sacrifices, but whatever front the people fought on, or if they made contributions on the home front, this week gives us a perfect opportunity to remember the men and women on World War Two. These stories from the archives also carry a very important message for today – this was a period of great anxiety, when people were losing their lives, losing loved ones, and had seen their way of life completely changed. And yet, in these dark times, they found light from culture, from reading, from the Brontës. Whatever challenges the world faces, or our families face, the Brontës will always be there for us, and we can always find escape and happiness in the pages of a book. Stay happy and healthy, stay alert, and I will see you with a new Brontë post next Sunday.