This has been a momentous week of anniversaries for Mary Taylor, for the 26th of February 1817 marked her birth, whilst the 1st of March 1893 saw her death. It was a long life for the times, and a very eventful one – she is most known today as one of the two great friends of Charlotte Brontë (along with Ellen Nussey), but she also became a businesswoman, a travel writer, an ardent feminist and a novelist in her own right. This, then, seems the perfect time to remember the real Mary Taylor.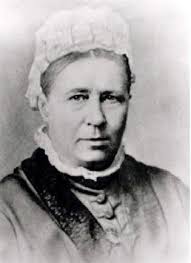 Mary was born in Gomersal in the West Riding of Yorkshire, and her family the Taylors were on the rise. They were heavily involved in the production of red cloth that was used in British military uniforms, and as the Napoleonic wars and subsequent conflicts raged, this proved to be very lucrative indeed. The family lived in the Red House, which was until recently a wonderful museum (that's a picture from inside it at the head of this post), and they even operated their own bank there.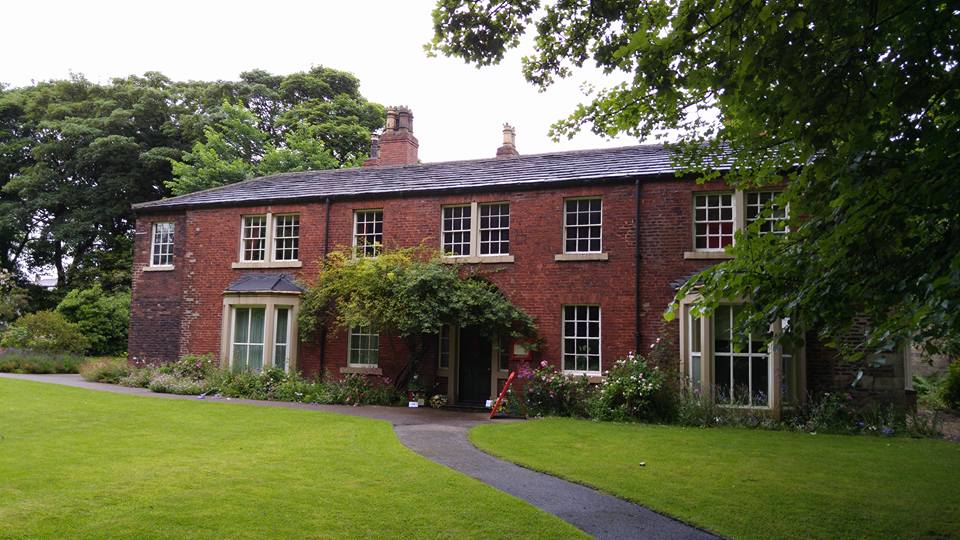 In January 1831, Mary Taylor was sent to Roe Head School, recently opened in the nearby town of Mirfield. She found there a fellow pupil she already knew, from the neighbouring village of Birstall, and from a similar mercantile family: Ellen Nussey. These two soon formed a close bond with another pupil there who was from a very different background; this young woman was a year older than them, small, painfully shy and from a considerably less wealthy background – there was something about her, however, that grabbed your attention; even aged 15 it was obvious that here was a woman of truly unique character and talents, it was of course Charlotte Brontë.
Mary was always honest and a plain talker, and this showed in her description of Charlotte upon her arrival at Roe Head:
"She looked a little, old woman, so short-sighted that she always appeared to be seeking something, and moving her head from side to side to catch sight of it. She was very shy and nervous, and spoke with a strong Irish accent."
Nevertheless, she and Charlotte soon became firm friends, and Mary often visited the Brontë parsonage in Haworth, after which she famously gave this description of the Brontë sisters:
"I told her [Charlotte] sometimes they were like growing potatoes in a cellar."
A far better analogy in my mind is that they were mining for diamonds in the dark, but this comment should not be taken as a slight on Mary's part, who loved the sisters dearly, but rather the difference in their personalities. Mary was not a home lover, never content to simply sit and read, she was a woman who from an early age was in search of adventure. It was this that took her, in the company of her younger sister Martha, to Europe after the sudden death of her father in December 1840. It was found at this point that his wealth had been built on promises, and he left a series of debts behind him, but Mary and Martha still had enough to install them in the prestigious Chateau de Koekelberg finishing school in Brussels.
Mary's letters to Charlotte at this time fired Charlotte's imagination, and were the driving force behind her decision to strike out for Brussels herself, in company with Emily Brontë, ostensibly to learn skills that would allow her to form their own school after their return to Haworth. Charlotte was delighted to see the Taylor sisters again, but tragedy struck when Martha Taylor suddenly sickened and died. Charlotte loved Martha greatly, as we can see from the affectionate portrait of her in 'Shirley' as Jessie Yorke. Mary herself is Rose Yorke in 'Shirley'. Martha's funeral service, attended by Mary, Charlotte and Emily is remembered very movingly within this novel:
"Certain people who had that day performed a pilgrimage to a grave new-made in a heretic cemetery, sat near a wood-fire on the hearth of a foreign dwelling. They were merry and social, but they each knew that a gap, never to be filled, had been made in their circle. They knew they had lost something whose absence could never be quite atoned for so long as they lived; and they knew that heavy falling rain was soaking into the wet earth which covered their lost darling; and that the sad, sighing gale was mourning above her buried head. The fire warmed them; Life and Friendship yet blessed them; but Jessie lay cold, confined, solitary – only the sod screening her from the storm."
Charlotte's tribute to Martha can be seen at the foot of the grave in Gomersal churchyard that serves for both Mary and Martha Taylor; it reads, 'Martha Taylor – much loved she was, much loving. C Brontë.'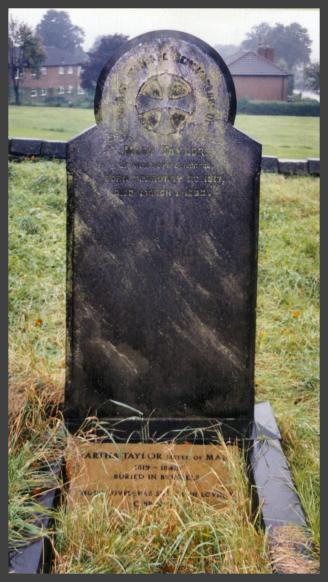 Martha's death was devastating for both Charlotte and Mary, who after Brussels continued her travels by becoming a teacher in Germany. Mary could not yet return home to live in Yorkshire, it was full of memories of her father's fall, of her dead sister. In 1845 Mary made the decision to emigrate to Wellington, New Zealand, where her brother Waring Taylor had moved three years later. This was another terrible blow for Charlotte who realised that her chances of seeing her friend again were now very slim. With her usual brilliance at finding the right words, Charlotte wrote of this loss in words that many of us can feel empathy with:
"To me it is something as if a great planet fell out of the sky."
Charlotte sent Mary ten pounds (worth well in excess of a thousand pounds in today's money) to buy a cow, and in 1849 she founded her own business. Mary's cousin Ellen Taylor had by this time emigrated to Wellington too, and they founded a draper's shop together that proved to be highly successful. In 1851, however, Ellen Taylor died from tuberculosis, and towards the end of that decade Mary sold the business and returned to Gomersal, having first endured the terrible Wellington earthquake of 1855 that destroyed so much of the growing city. It was too late to see her old friend again however, as by the time Mary landed back on English soil in 1859, all of the Brontë siblings were dead.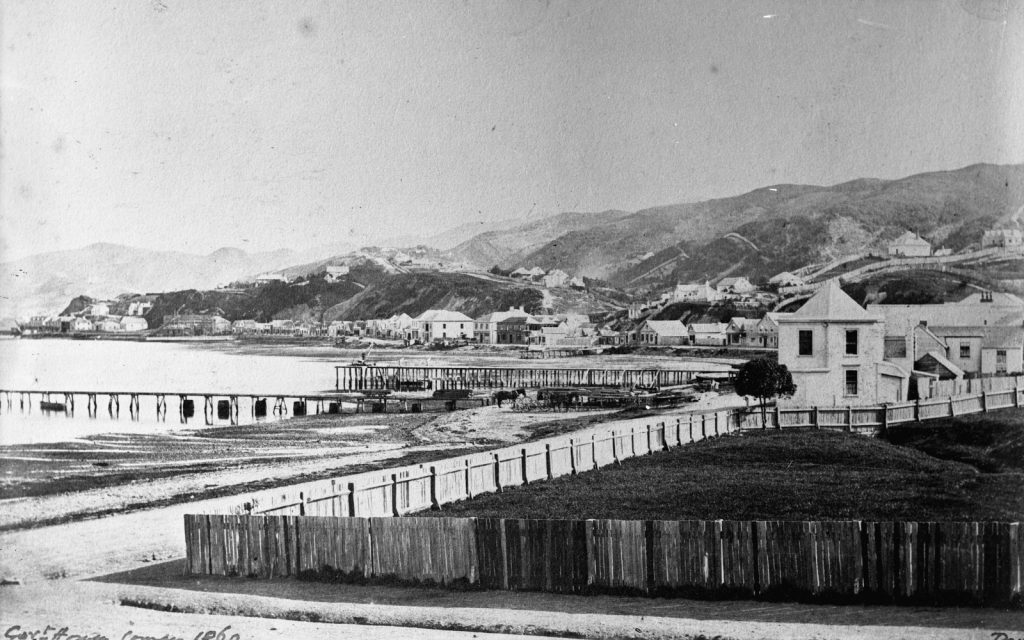 Mary returned to Gomersal a woman of independent wealth, and she lived in High Royd, a grand building owned by her brother Joseph. She travelled extensively across Europe again over the next few years, and took particular delight in Switzerland, where she often went climbing in the Alps.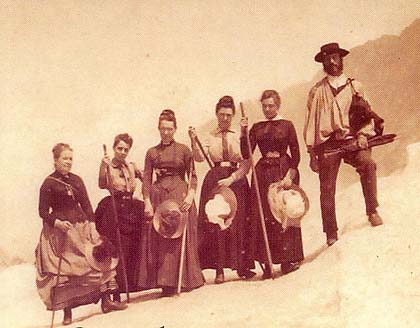 She 'adopted' a series of Swiss sisters who came to work as maids for her in Gomersal, and she also formed a close bond with a woman called Grace Hirst who many saw as a kind of daughter to her (although others thought their closeness was scandalous). Mary loved nothing more than being in female company, and became regarded as an eccentric, although one with a brilliant mind.
In the 1860s she began to write journalism, and she was passionate about social inequality and particularly about the rights of women. It was this subject that formed the basis of a series of articles published by 'Victoria Magazine' between 1866 and 1877. Collected together as 'The First Duty Of Women' they place Mary as a Victorian pioneer of feminism.
Even in later life, Mary Taylor showed no signs of slowing down. In 1890, at the age of 73, she had her own novel published: 'Miss Miles, Or A Tale Of Yorkshire Life 60 Years Ago.' It was not reviewed kindly, with many reviewers saying it was far too slow for contemporary tastes, but I think it's well worth a read. In common with 'Wuthering Heights' it has sections written in the Yorkshire dialect that may prove hard to read and understand for those outside the county; it also, however, has passages of beauty, light and wit, and it is very well written. Mary's three key concerns in life are well represented here: the poor conditions in which the working class lived in, religious hyprocrisy, and the importance for women to make their own way in life, rather than submitting to the marital drudgery expected of them.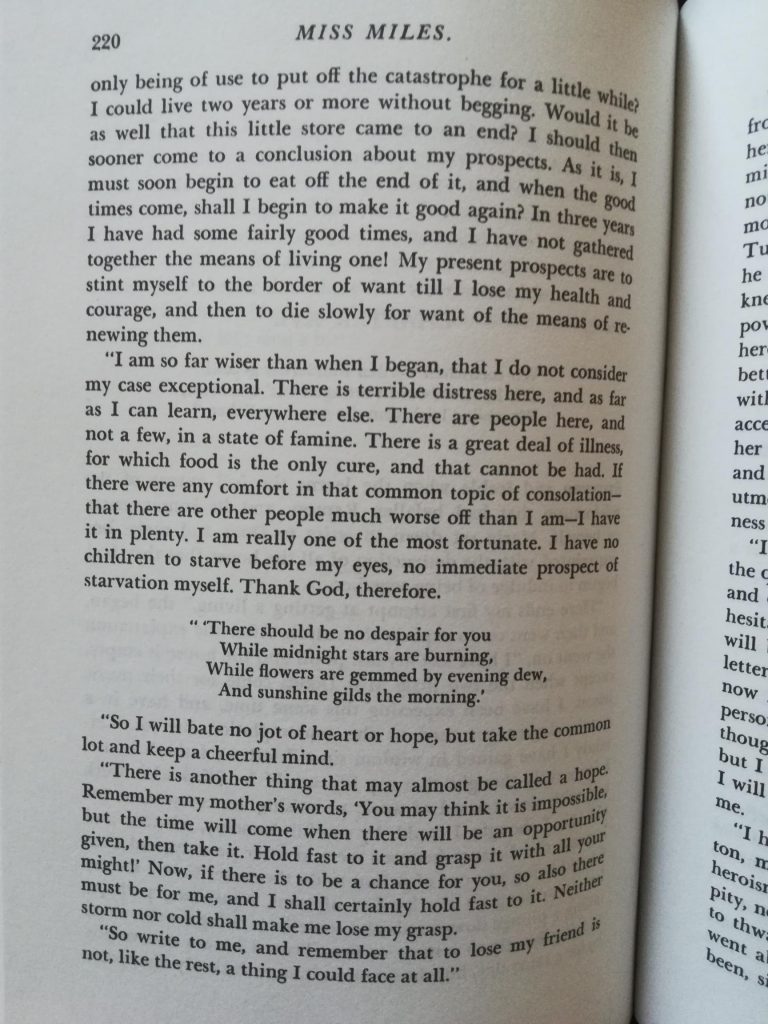 In 1850, Mary had stated (in a letter to Charlotte Brontë) that she was 'obstinately lazy', but she certainly overcame this trait. In her life she supported with friendship one of the greatest writers of them all, she became an excellent scholar and taught in Germany and Belgium, she wrote brilliant articles, completed a novel and stood up for the downtrodden at every opportunity; she climbed mountains, and she knocked down barriers.
Her death in 1893 brought a number of glowing obituaries from publications nationwide, but I will leave you with this one from the Whitstable Times And Herne Bay Herald. It includes perhaps the most beautiful tribute of them all, paid to her many decades previously by her great friend Charlotte Brontë: "She was full of feelings, noble, warm, generous, devoted, and profound. God bless her! I never hope to see in this world a character more truly noble. She would die willingly for one she loved. Her intellect and attainments are of the very highest standard."