With just hours to go until the dawn of Christmas Day, excitement and anticipation is growing around the land, and a similar feeling could be felt in a remote moorside parsonage nearly two hundred years ago. The Brontë's Christmas celebrations were much less commercially oriented than the ones we know today, but they still enjoyed the joyous day – as evidence of this, we find many references to Christmas within the Brontë novels.
Christmas features most of all within Emily Brontë's 'Wuthering Heights', and we get a glimpse of what Christmas would have been like not only at Thrushcross Grange and the Heights, but also in Haworth. After a Christmas cake and a 'fragrant feast' the revels begin:
'In the evening we had a dance. Cathy begged that he [Heathcliff] might be liberated then, as Isabella Linton had no partner; her entreaties were in vain, and I was appointed to supply the deficiency. We got rid of all gloom in the excitement of the exercise, and our pleasure was increased by the arrival of the Gimmerton band, mustering fifteen strong: a trumpet, a trombone, clarionets, bassoons, French horns, and a bass viol, besides singers. They go the rounds of all the respectable houses, and receive contributions every Christmas, and we esteemed it a first-rate treat to hear them. After the usual carols had been sung, we set them to songs and glees. Mrs Earnshaw loved the music, and so they gave us plenty.'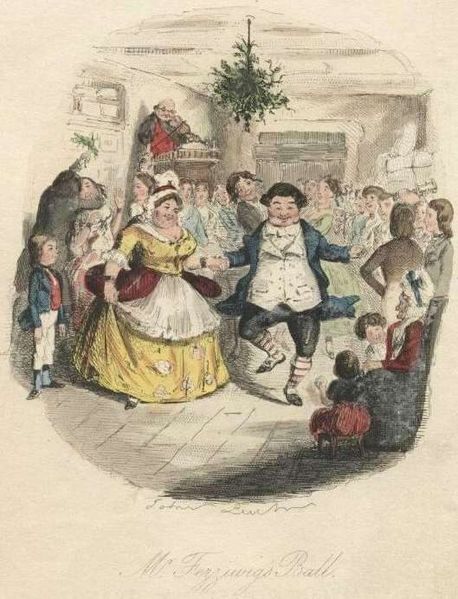 I remember carol singers knocking on the door every Christmas in my childhood, but now it seems that the tradition has been forgotten and allowed to die away – I'd better not get started on that! Back to 'Wuthering Heights', where the dour manservant Joseph is less than enamoured of the festivities, however, and indeed of festivities of any kind:
'After playing lady's maid to the new comer, and putting my cakes in the oven, and making the house and kitchen cheerful with great fires, befitting Christmas eve, I prepared to sit down and amuse myself by singing carols, all alone; regardless of Joseph's affirmation that he considered the merry tunes I chose as next door to songs.'
To Joseph, singing cheery songs is a great sin, and in him we see a representation of the hardline Calvinists that were becoming more influential within the Church of England at this time – men such as the fire and damnation preacher William Carus Wilson who founded the dread school at Cowan Bridge recreated by Charlotte Brontë as Lowood.
'Jane Eyre' also allows Charlotte to reveal what a typical Christmas was like at the time, on this occasion at the Gateshead estate where the young Jane is being lovelessly brought up:
'Christmas and the New Year had been celebrated at Gateshead with the usual festive cheer; presents had been interchanged, dinners and evening parties given. From every enjoyment I was, of course, excluded; my share of the gaiety consisted in witnessing the daily apparelling of Eliza and Georgiana, and seeing them descend to the drawing-room, dress out in thin muslin frocks and scarlet sashes, with hair elaborately ringletted; and afterwards, in listening to the sound of the piano or the harp played below.'
By the way a prototype of Jane's cousin Eliza may well be Eliza Williams, a second cousin who visited the Haworth Parsonage in 1840, leading Charlotte to write in a letter to Ellen Nussey:
'My cousin Eliza is a young lady intended by nature to be a bouncing, good-looking girl. Art has trained her to be a languishing affected piece of goods. I would have been friendly with her, but I could get no talk except about the Low Church, Evangelical clergy, the Millennium, Baptist Noel, botany, and her own conversion. A mistaken education has utterly spoiled 'the lass'.
In 'Agnes Grey' by our beloved Anne Brontë, Christmas is talked of as a time when Agnes and her mother hope that the school they plan on founding will begin to pay it's own way:
'Mary offered to lend the little she possessed; but my mother declined it, saying, that we must begin on an economical plan; and she hoped that the whole or part of mine, added to what we could get by the sale of the furniture, and what little our dear papa had contrived to lay aside for her since the debts were paid, would be sufficient to last us till Christmas; when, it was hoped, something would accrue from our united labours.'
Agnes is very much a representation of Anne herself, and so here we see a representation of what we undoubtedly know by looking at their employment history – that Anne was the most practical of the Brontë sisters.
We see a very different side to Christmas in Anne's 'The Tenant of Wildfell Hall', as the heroine Helen's diary entry reveals a day far removed from happy celebrations:
'DECEMBER 25th. – Last Christmas I was a bride, with a heart overflowing with present bliss, and full of ardent hopes for the future, though not unmingled with foreboding fears. Now I am a wife: my bliss is sobered, but not destroyed; my hoped diminished, but not departed; my fears increased, but not yet thoroughly confirmed.'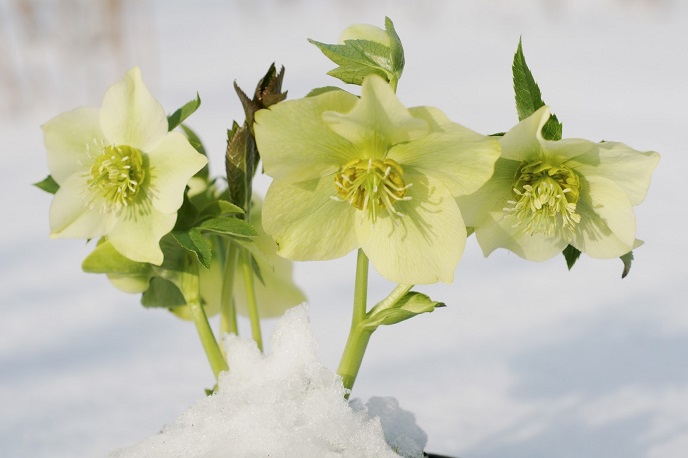 There then follows an incredibly moving passage, as Helen looks down upon her infant child Arthur, full of fears that he will grow up to be like his father – leading her to pray that God should snatch him away from her now if that was to be his fate. Christmas features in another powerful and moving passage near to the book's close, wrapped in the symbolism of a Christmas rose:
'Without waiting for an answer, she turned away her glistening eye and crimson cheek, and threw up her window and looked out, whether to calm her own excited feelings or to relieve her embarrassment, or only to pluck that beautiful half-blown christmas rose that grew upon the upon the little shrub without, just peeping from the snow that had hitherto, no doubt, defended it from the frost, and was now melting away in the sun. Pluck it, however, she did, and having gently dashed the glittering powder from its leaves, approached it to her lips and said – "This rose is not so fragrant as a summer flower, but it has stood through hardships none of them could bear: the cold rain of winter has sufficed to nourish it, and its faint sun to warm it; the bleak winds have not blanched it, or broken its stem, and the keen frost has not blighted it. Look, Gilbert, it is still fresh and blooming as a flower can be, with the cold snow even now on its petals – Will you have it?"'
These two beautiful passages referred to above are more than enough, in my opinion, to confirm Anne Brontë as one of the greatest writers of all time. I'll certainly be thinking of Anne at Christmas time, and also all of you wonderful people who read my blog – have a very merry Christmas!