Anne Brontë died on May 28th, 1849 in Scarborough, watched by her sister Charlotte and their friend Ellen Nussey. For Charlotte Brontë especially it marked the end of a traumatic period that had seen Anne, Emily and Branwell Brontë all die from tuberculosis within a nine month period. Being far from home as she was, she knew that it was now incumbent upon her to make the arrangements for Anne's burial, but it was beyond her medical and physical capability at that time.
A mournful letter was sent to the Haworth Parsonage, and Patrick wrote back saying that he had known when his youngest daughter Anne had left him on May 24th, that he would never see her alive again. He also urged Charlotte to take a much needed break before returning to her home nearly a hundred miles away at the other side of Yorkshire.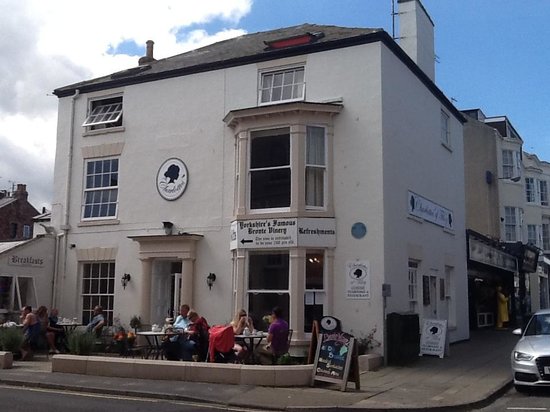 Charlotte had little choice but to accept, feeling weak in body and mind, and with Ellen beside her she stayed another week in Scarborough. After that she journeyed down the coast to the resort of Filey, where she remained for ten days, and then Bridlington. Cliff House, where she stayed in Filey, is now a café called 'Charlotte's' in honour of its guest who returned there once more in 1852. She finally arrived back, alone, in Haworth on 20th June, nearly a month after she had left with her only remaining sibling. She wrote a poignant and moving letter to W.S.Williams, of her publisher, telling how she was greeted by the dogs that Anne and Emily had left behind:
"The ecstasy of these poor animals [Flossy and Keeper] when I came in was something singular… I am certain they thought that, as I was returned, my sisters were not far behind – but here my sisters will come no more. Keeper may visit Emily's little bed-room, as he still does day by day, and Flossy may look wistfully round for Anne – they will never see them again – nor shall I."
In the immediate hours and days following Anne's death, it was the ever helpful Ellen who had to take on many of the organisational duties. This included organising Anne's headstone. Unfortunately, Ellen made several unintentional errors, as it seems that Charlotte was in no state to supply the correct information to her at the time. When Charlotte gathered the mental strength to re-visit Anne's grave for the first time three years later, she found that the headstone contained five errors. She paid to have them corrected, but one, famously, still remains. The headstone reads: 'She died aged 28, May 28th 1849′. She was in fact 29. The fact that this remained unchanged may indicate that Charlotte herself wasn't sure how old her sister actually was. Further evidence of this could be found in the Brontë memorial that stood in St. Michael & All Angels' church in Haworth. This, as evidenced by Elizabeth Gaskell in her biography of Charlotte, stated that Anne had died even younger than the Scarborough headstone did, saying that she was aged 27.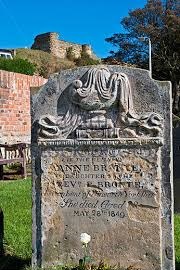 Anne now lies buried in the churchyard of St. Mary's, Scarborough just underneath the hill and castle. I, and many others, still visit it and lay flowers there. Here's a tip: if you want to visit it, Anne's grave isn't in the main churchyard itself, but at the top of an annexe to the side and above what is now a car park.
St. Mary's, however, was being renovated at the time, and so the funeral itself had to be held in Scarborough's Christ Church. The doctor who had visited Anne in her last hours was so impressed with her character that he offered to come to the funeral, but Charlotte excused him of this duty. It would be just she and Ellen at the funeral; or so she thought. Upon arriving at the church on Tuesday, 30th May, they found a woman already there. It was Margaret Wooler, Anne's former teacher, who was residing in Scarborough and had heard of her passing and come to pay her respects, as well as providing comfort to her former pupil and colleague Charlotte.
In the weeks, months and years following Anne's death, Charlotte would often suffer from dark bouts of depression; just the sight of the moors around her home would remind her of her departed sisters Emily and Anne, who had loved to roam them so recently.
Her feelings at this time are summed up in perhaps her best, and certainly most succinct poem, 'On The Death Of Anne Brontë', written on 21st June, 1849:
'There's little joy in life for me,
And little terror in the grave;
I've lived the parting hour to see,
Of one I would have died to save.
Calmly to watch the failing breath,
Wishing each sigh might be the last;
Longing to see the shade of death
O'er those beloved features cast.
The cloud, the stillness that must part
The darling of my life from me;
And then to thank God from my heart,
To thank him well and fervently;
Although I knew that we had lost
The hope and glory of our life;
And now, benighted, tempest-tossed,
Must bear alone the weary strife.'
Charlotte Brontë's relationship with Anne, like that of any sisters, could be fractious at times, but as this poem shows there was also a real love between them. Anne Brontë is gone, but her work remains, and that legacy is gaining more recognition and praise as the years pass.