We head ever closer to the big day, and the chill in the air is certainly an indicator of things to come – let's hope that Santa can afford to fuel his sleigh this year! I've decided to turn this December into an Anne Brontë Advent! Each Sunday I'll 'light' an Anne Brontë advent candle by focusing on one wonderful Anne Brontë related item, and I'll finish each post with an Anne Brontë poem. The fourth and final Anne-vent candle will be lit on Christmas day itself, so it's time to light our first candle with our new Brontë blog post.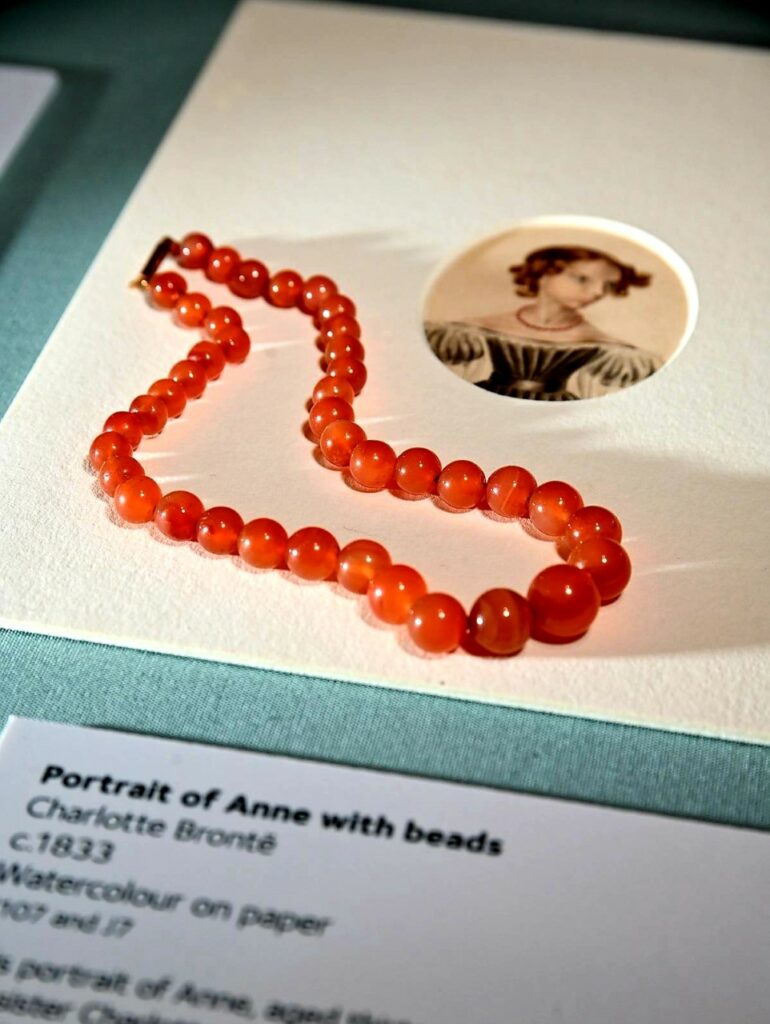 This rather beautiful necklace is made of carnelian, an orangey-red mineral belonging to the chalcedony family. Its vivid colour has long made it a popular choice for jewellery and it must have been a favourite of Anne's for it was she who wore this necklace made of it.
How do we know that Anne wore this necklace? The answer to that is what makes this Anne Brontë treasure so special, and a fitting choice to represent our first blog candle of this Advent period. A 13 year old Anne is pictured wearing this very necklace in the sketch by her elder sister Charlotte Brontë which can be seen above the necklace itself.
This is one of a number of jewellery items once belonging to Anne Brontë within the Brontë Parsonage Museum Collection. Anne clearly liked beautiful things, and it is perhaps this which also inspired her love of collecting pebbles and brightly coloured stones from Scarborough beach. Perhaps this love was passed down from her Aunt Branwell? Elizabeth Branwell was very close to Anne in many ways, and they shared a bedroom throughout Anne's childhood years. We know that Elizabeth habitually wore plain, dark clothing (probably because she preferred to spend her money on her nephew and nieces) but she also had a love of beautiful objects, as can be seen from some of the Aunt Branwell items which now form part of the museum collection in Haworth.
It seems likely to me that these items reminded Aunt Branwell of her younger years in her beloved Cornwall, a subject she never tired of. Ellen Nussey went so far as to state that Aunt Branwell liked nothing more than talking about the 'gaieties of her native town', so we can be sure that she often discussed them with her favourite niece Anne. It's not a huge leap to surmise that it was from these early talks that Anne Brontë developed the love of the sea and the love of beautiful items and jewellery which we see in her later life.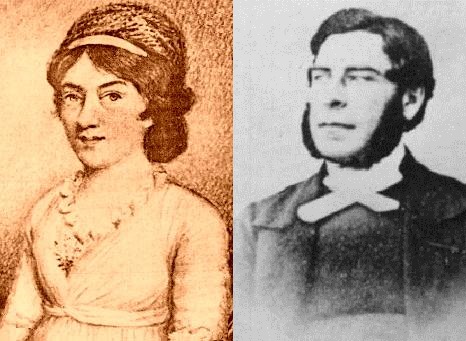 It's fitting to mention Elizabeth Branwell, for we reached the 246th anniversary of her birth this week. She was born on 2nd December 1776, and this date also marks the passing of Arthur Bell Nicholls, widower of Charlotte Brontë, who died on 2nd December 1906. Two people who were vital to the Brontë story, and yet whose shared anniversary is 130 years apart.
Many of us are facing challenges this Christmas, whether emotionally, physically or financially. Nevertheless, I hope this Advent period proves a happy one for you and your loved ones, and I hope you can join me again next week for another new Brontë blog post and the lighting of our second Anne-vent calendar. I leave you now with one of Anne Brontë's finest poems, and one with a suitably wintry setting: 'The Student's Serenade.'