Charlotte Brontë was a masterful novelist, as we all know, but she was also a master of letter writing. Charlotte was simply incapable of writing dull or poorly executed sentences; in her hand, the mundane became the magnificent. Her letters could be witty, they could be enthralling, but they could often be mournful and moving too. On this day in 1850 Charlotte wrote perhaps her most moving letter of them all, and it's phrases and emotions still resonate with so many. In today's post we're going to look at this letter, and at Charlotte Brontë walking on alone.
Charlotte Brontë, like Emily (especially) and Anne Brontë, was an introvert. When surprised by an unexpected visitor at Elizabeth Gaskell's house she hid behind curtains, when forced into polite society during her visit to London in 1848 she was beset by doubts and by headaches. Charlotte was perfectly happy alone, but at times, as all introverts know, that loneliness can still be painful – especially when the loneliness is completed because of the absence of those people whose company they do enjoy.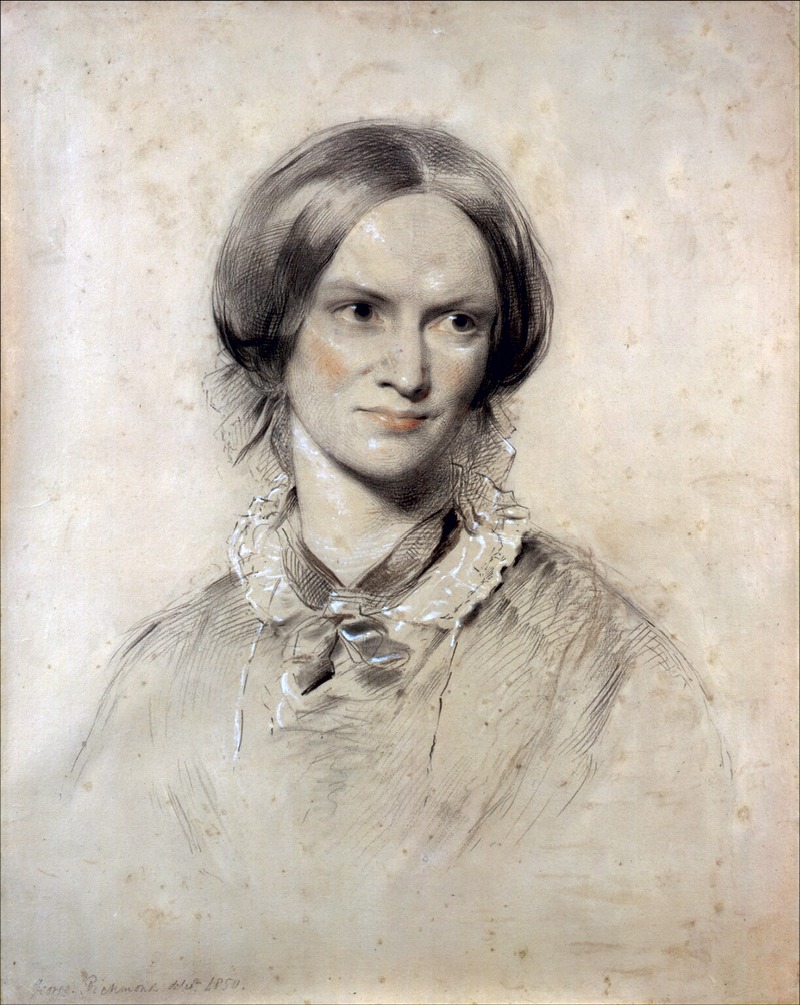 Charlotte was perfectly happy when in the company of Anne and Emily (and of brother Branwell during their childhood and youth), but it was the sudden and tragic loss of these dear companions in 1848 and 1849 that left her truly alone. It was a terrible blow.
The traditions which the three sisters had enjoyed together were now carried out in solitary fashion by the sole surviving sibling. In 1853 loyal Brontë servant Martha Brown confided to parsonage visitor John Forster how Charlotte had continued the evening perambulations around the dining table that that sisters had used to discuss their tales, and how heartbreaking it was to witness it:
'For as long as I can remember Miss Brontë [Charlotte], Miss Emily and Miss Anne used to put away their sewing after prayers and walk all three one after the other round the table in the parlour till near eleven o' clock. Miss Emily walked as long as she could, and when she died Miss Anne and Miss Brontë took it up – and now my heart aches to hear Miss Brontë walking, walking, on alone.'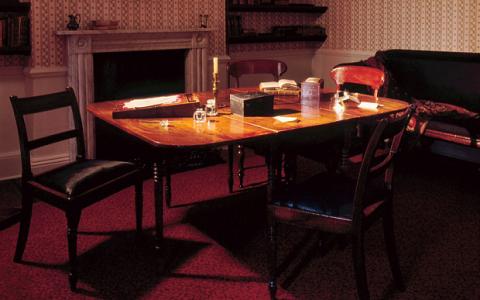 Charlotte could not give up walking, and she could not give up thinking about the siblings she had loved and lost. It was a thing of wonder to her that only she was left, a thing of horrible wonder, as she revealed in a letter to W. S. Williams of 4th June 1849, just a week after Anne's passing:
'They [Emily and Anne] are both gone, and so is poor Branwell – and Papa has now me only – the weakest, puniest, least promising of his six children. Consumption has taken the whole five.'
Grief is dealt with in different ways by different people, but once it has arrived it never really leaves does it? These feelings so raw in the letter above only gained in intensity in the years that lay ahead for Charlotte, as we see clearly in this letter written, again to W. S. Williams, 172 years ago today: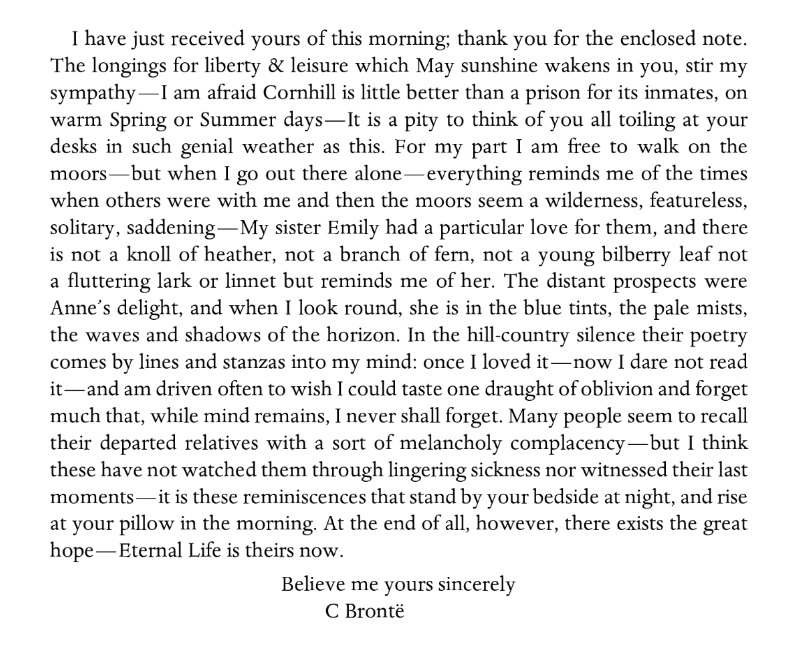 Charlotte still walks around the table, but she finds it hard to walk across the moors; she can write poetry, but she can no longer read her sister's poetry for if she does she longs too eagerly to join them.
A mournful day but a powerful insight into the daily struggle Charlotte lived with in the six years after the death of Anne Brontë. There's a mournful week ahead too, as we have reached the anniversary of Anne's final struggle. In two days time, May 24th, we reach the date at which Anne Brontë set off with Charlotte Brontë to Scarborough – it would be the last time she would ever see Haworth. Painful memories of that approaching week must surely have been in Charlotte's mind when she wrote her letter almost a year later.
Happier Brontë anniversaries are approaching, and whatever tests they faced, we still have their ultimate triumphs to revel in: their books. I will see you next Sunday for another new Brontë blog post in which we remember the anniversary of Anne Brontë.