Today I'm going to be reviewing a new Brontë book – Glass Town by Isabel Greenberg. As the name suggests it tells the story of the Brontë juvenilia, but it does so much more than this too. Before I begin my review it's only fair to say that I was sent a copy of this book free of charge by the publisher Jonathan Cape – but regardless of that fact I'm going to give my honest and full opinion of this book.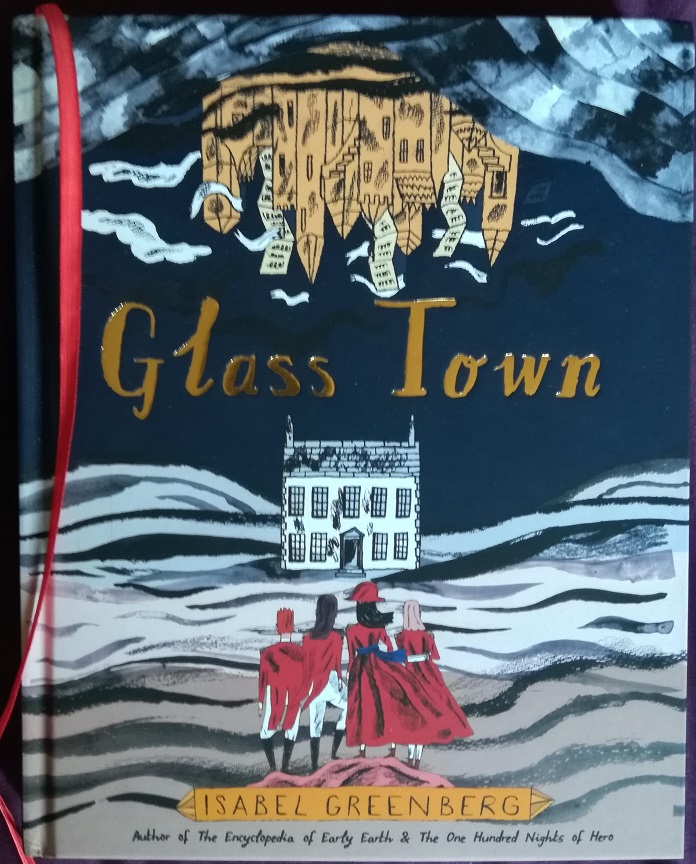 I've read many books on the Brontës, from the sublime, such as the weighty fact filled biography by Juliet Barker and the series of books by Winifred Gerin, to the ridiculous where pages are spent describing the author's car problems. Nevertheless, I've never before read a Brontë related book like Glass Town. In part that's because of the format – this is a graphic novel; not a genre I'm overly familiar with, but I know they're very popular, and to be frank if they're all up to this standard I can see why.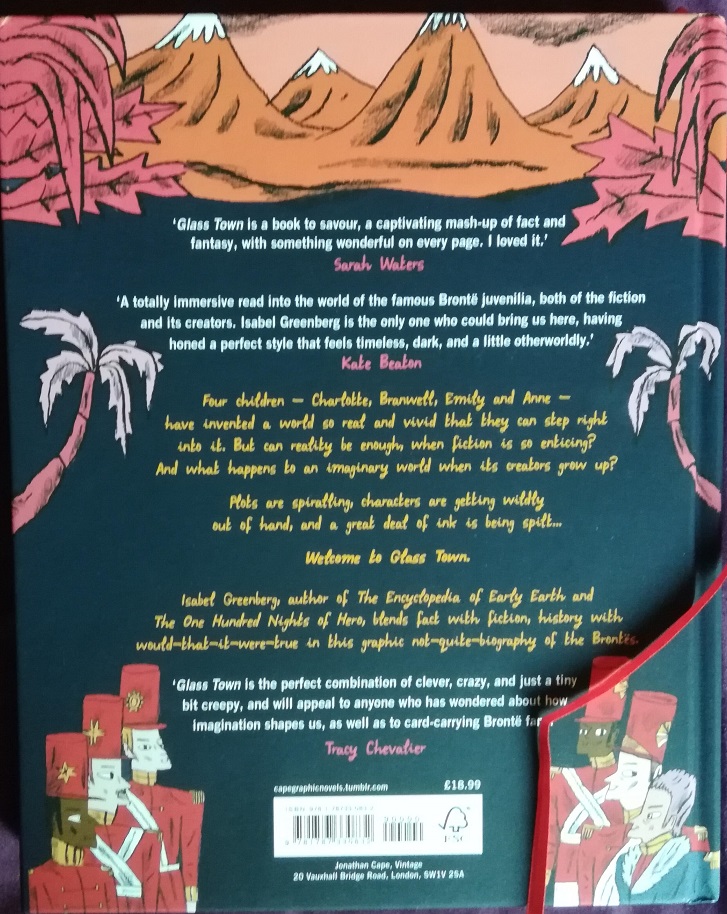 I don't want to give too much of the plot, or the ending, away, but the title places this firmly in the early days of the Brontë writing – the days when the 'scribblemania', as Charlotte called it, took hold, resulting in the tiny little books that we can still marvel at within the Brontë Parsonage Museum in Haworth.
The earliest incarnation of the, by then, four Brontë siblings' creative world was Glass Town, which later expanded into the world of Angria. At this point the writing was carried out by Charlotte and Branwell Brontë only. It took Charlotte's voyage to Roe Head School in Mirfield to liberate Emily and Anne Brontë, at which point they created their own fictional worlds of Gondal and Gaaldine – one that Emily in particular found solace within throughout her life.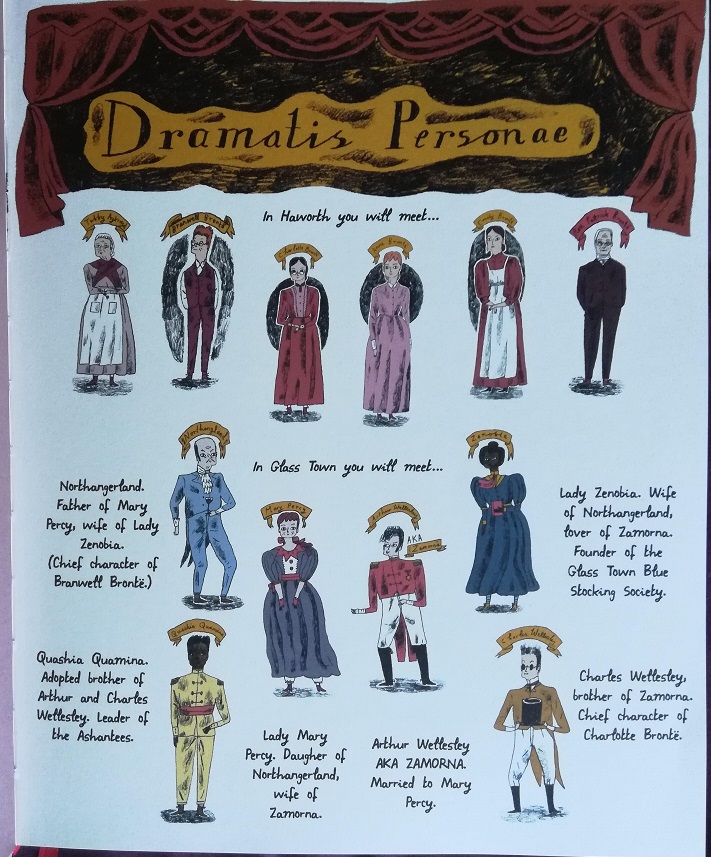 This is all contained within this marvellous book. I said 'by then' in the preceding paragraph because the eldest Brontë sisters, Maria and Elizabeth, had tragically died from tuberculosis before the writing adventures had begun. I was pleased to see that this was referenced by the author, and emphasis was placed upon how the eldest sisters were always remembered.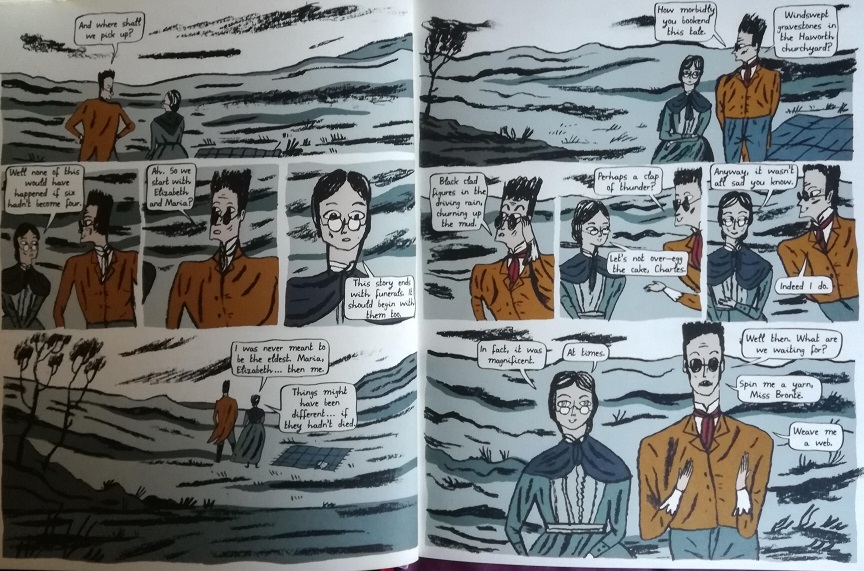 We also see the catalyst for this early creativity – the present of twelve toy soldiers that Patrick Brontë made to Branwell Brontë in July 1826, and which he then shared with his sisters. I found it very moving how reference is also made to Anne's soldier being named 'waiting boy', as we learnt from Charlotte's later account of this incident – in this year especially, Anne need wait no longer for the love and acclaim she deserves.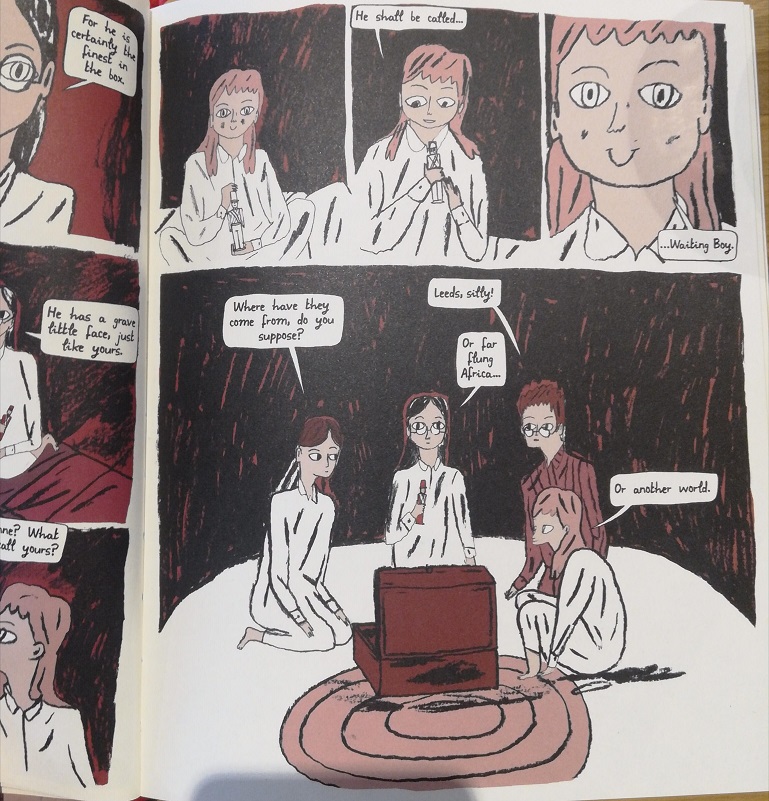 This is a large, thick book that is an absolute pleasure to look upon and hold, with a beautiful red ribbon incorporated as a page marker. Each page turn is a sheer delight, and I love the way that each pair of pages are different – some are monochrome, some bold and colourful; some consist of a single image, some of many individual boxes. It is simply beautiful, and I found that it had a very cinematic quality too, particularly when Greenberg utilises moments of silence, and lets the emotion so inherent in the pictures do the talking.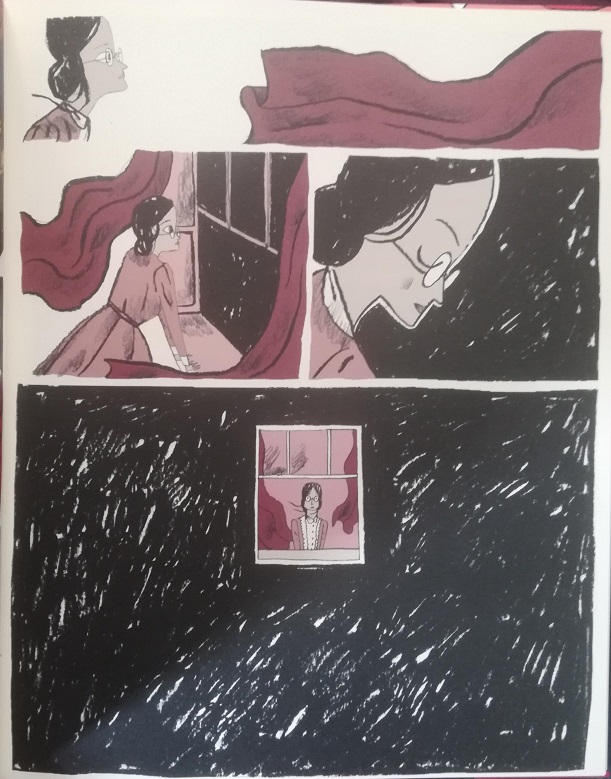 Is this then simply a telling of how the Brontë children became such powerful and proficient writers? In fact, it's far more than this. It is three stories in one novel, woven together immaculately. Yes, we see the young Brontës as they grow up, and there's a lot of biographical information included – the author is clearly a Brontë enthusiast who has revelled in her research. We also see a telling of these early writings themselves, so we enter Glass Town and see how the devilish Zamorna becomes locked in a deadly power struggle with Northangerland and others. We also see Charlotte herself dragged by Zamorna into Glass Town – she is not only the writer, she has become a character.
I found this particularly magical – it is a look at the power of the creative process, and how Charlotte in particular as a youth, and Emily in adulthood, became obsessed by the worlds and people they created. In this, it has almost a Magic Realism touch to it, as the lines between reality and the imagination become blurred. Glass Town asks us which is more real, our day to day lives, or the words we speak and the ideas we conjure up? Can Charlotte ever escape her Glass Town world – does she even want to? Is it better sometimes to live in our own imaginary kingdoms rather than face what can be sad, painful realities? This is a deep question that this book addresses, but I will leave you to discover the answer for yourself.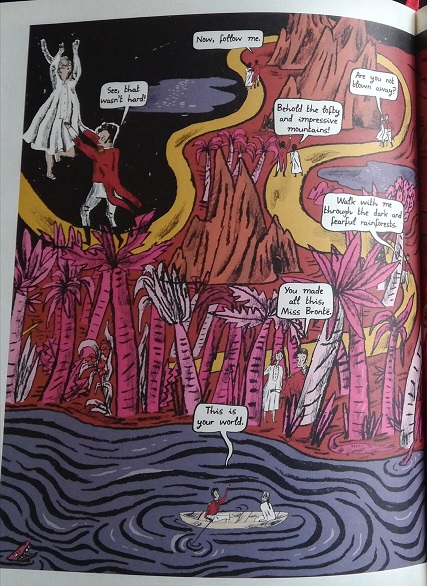 It is clear that Isabel Greenberg is a master of this genre; an excellent artist, a wonderful wordsmith, and, above all, this is a book with a mighty soul. I found it incredibly moving in places, and it has certainly brought me solace when I needed it. In short, I can't recommend this book highly enough. It could be a quick read, but I found myself lingering over each page – it's certainly an object of beauty as well, that would enliven any shelf or coffee table. If I was giving marks I would have no hesitation in giving this ten out of ten. If you want an in depth look at the large and varied juvenile output of the Brontës I would always recommend Nicola Friar's remarkable blog on that matter – but this serves as a fascinating introduction to what can be a complex subject. Is it a graphic novel, a biography, a work of fiction? It's all three, and it's also a book that I have no hesitation in recommending. I found it a very worthy addition to the canon of Brontë related books in Anne's special year.
Glass Town by Isabel Greenberg is available in hard back and Kindle editions, and is published by Jonathan Cape on 6th February.