At the start of this week I was in Scarborough to mark the 170th anniversary of Anne Brontë's death. At 2pm, the moment of her passing, a large group of students from Sweden arrived and were stood by her grave, I'm sure it's something that Anne would have loved. Anne certainly loved Scarborough, and that's something I share too. The town has changed of course in the decades since Anne was an annual visitor to the resort, but if you know where to look you can still enjoy the sights that she did. That's why I've created this guide (a little picture heavy, sorry) to help others who want to follow in Anne Brontë's east coast footsteps.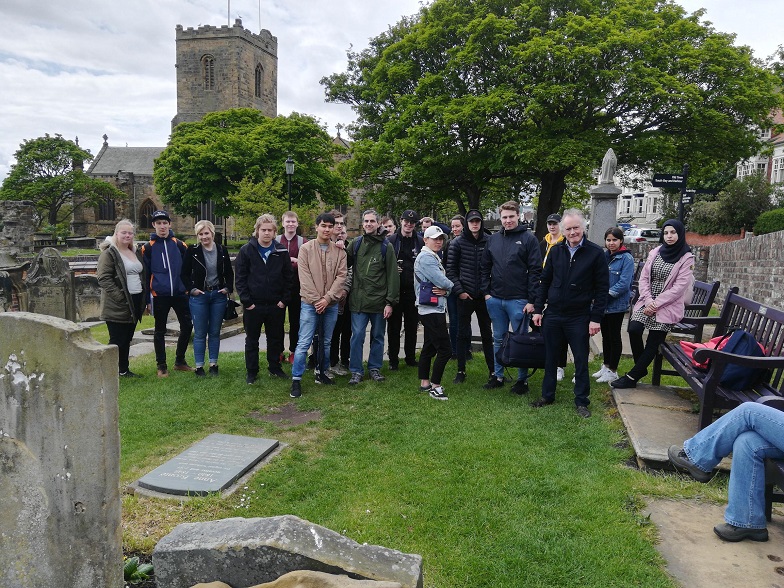 The Grand Hotel
The Grand Hotel opened in 1861, so of course Anne Brontë never stayed there, but it's still an important location for any Anne pilgrimage, as it was on this very spot that Anne Brontë died in May 1849. The Grand is on the site of Wood's Lodgings, which was itself an imposing building in its own right, and was once an exclusive place for the well off to stay. A plaque outside the main entrance to today's hotel pays tribute to Anne.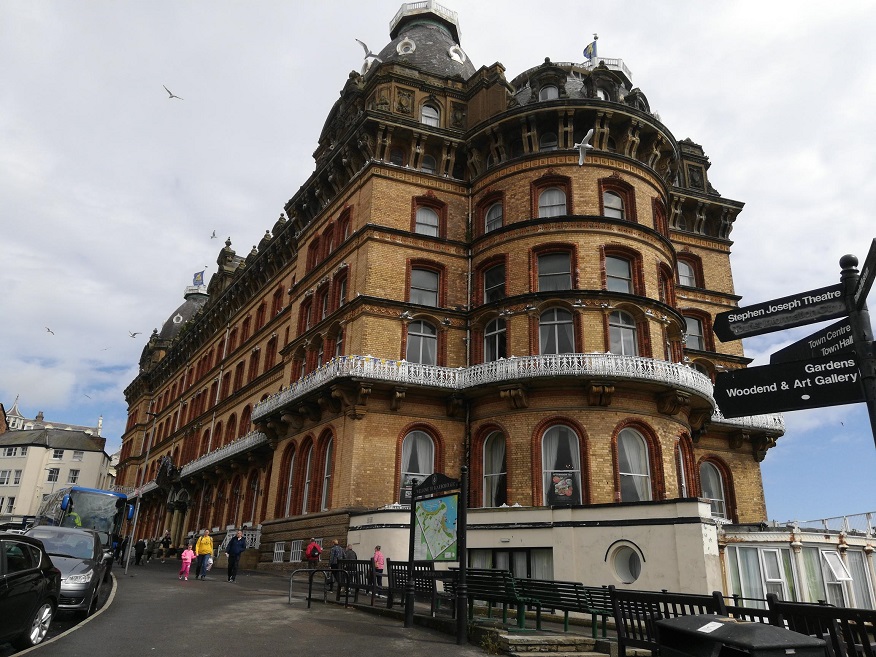 Of course, Anne enjoyed happier times on this spot too, as she would also have stayed in Wood's Lodgings with the Robinson family of Thorp Green Hall, York, during their yearly sojourns to the resort. These were among the most joyous times of Anne Brontë's life, and the reason why she fell in love with Scarborough.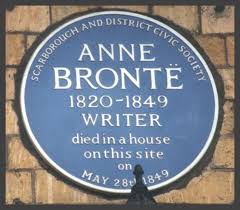 The Spa
Scarborough was once one of England's first and most fashionable seaside resorts, and the reason so many wealthy people came was because of its Spa. The natural spa waters of Scarborough were believed to be able to cure a wide range of ailments, or at least alleviate their conditions. Anne obviously had these properties in mind in 1849 when she insisted upon visiting the town, despite her increasingly frail condition. We know that Anne visited the spa alone during her final days, and took to the waters, but that she collapsed outside her lodgings and had to be carried back in. In previous years, Anne would have delighted in the numerous concerts held at the Spa complex, and these still persist to this day, with daily concerts held in the summer months.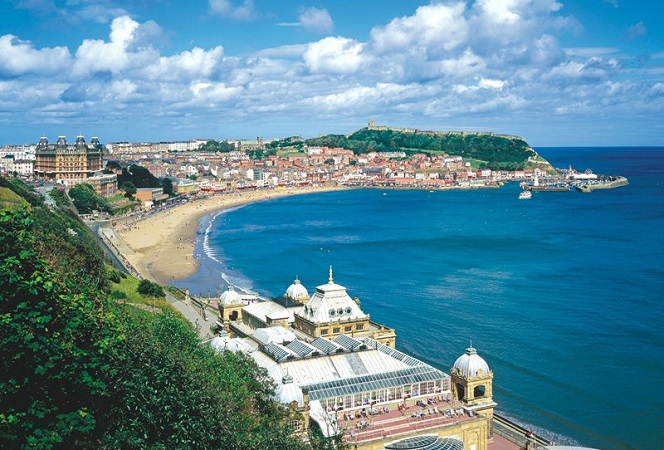 Spa Bridge
In 1827 a fantastic engineering achievement was opened that made it much easier to access the Spa – the Spa Bridge. It then linked the complex with Wood's Lodgings and St. Nicholas Cliff, and today it stands adjacent to the Grand Hotel and offers the same magnificent views across the North Sea.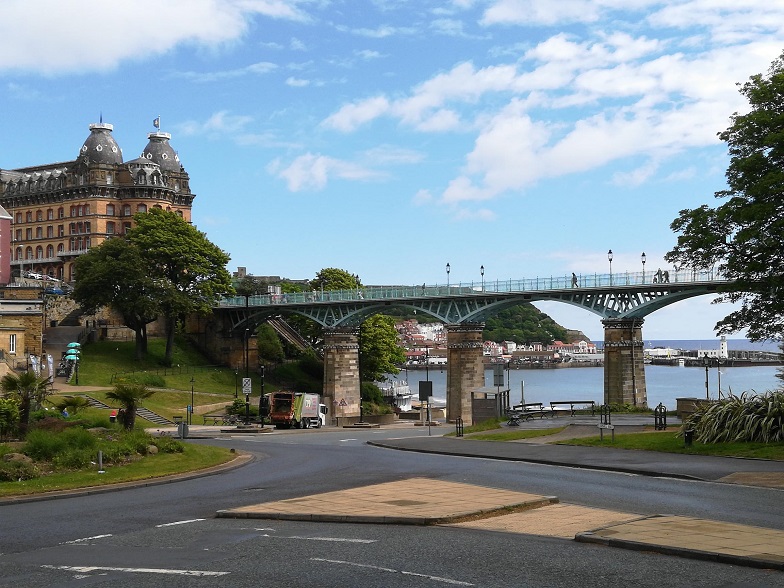 Scarborough Beach
Scarborough is blessed with two beaches, the North and South Bays, but it's the South Bay that still draws huge crowds of tourists on a sunny day. The backdrop may be different, thanks to the profusion of amusement arcades and rock emporiums, but we can still walk the same sand that Anne trod. We also know that Anne took a donkey ride during her final visit, and presumably during previous ones as well. Little ones can still enjoy donkey rides today, and every day they are led down from their home near Oliver's Mount to the golden sands, bells jangling at each step. On a quiet morning on the beach we can also imagine the beautiful scene from Agnes Grey, set on the very same spot:
"In another minute or two, the distant bathing machines would begin to move, and then the elderly gentlemen of regular habits and sober quaker ladies would be coming to take their salutary morning walks. But however interesting such a scene might be, I could not wait to witness it, for the sun and the sea so dazzled my eyes in that direction, that I could but afford one glance; and then I turned again to delight myself with the sight and the sound of the sea, dashing against my promontory—with no prodigious force, for the swell was broken by the tangled sea-weed and the unseen rocks beneath; otherwise I should soon have been deluged with spray. But the tide was coming in; the water was rising; the gulfs and lakes were filling; the straits were widening: it was time to seek some safer footing; so I walked, skipped, and stumbled back to the smooth, wide sands, and resolved to proceed to a certain bold projection in the cliffs, and then return.
Presently, I heard a snuffling sound behind me and then a dog came frisking and wriggling to my feet. It was my own Snap—the little dark, wire-haired terrier! When I spoke his name, he leapt up in my face and yelled for joy. Almost as much delighted as himself, I caught the little creature in my arms, and kissed him repeatedly. But how came he to be there? He could not have dropped from the sky, or come all that way alone: it must be either his master, the rat-catcher, or somebody else that had brought him; so, repressing my extravagant caresses, and endeavouring to repress his likewise, I looked round, and beheld—Mr. Weston!
'Your dog remembers you well, Miss Grey,' said he, warmly grasping the hand I offered him without clearly knowing what I was about."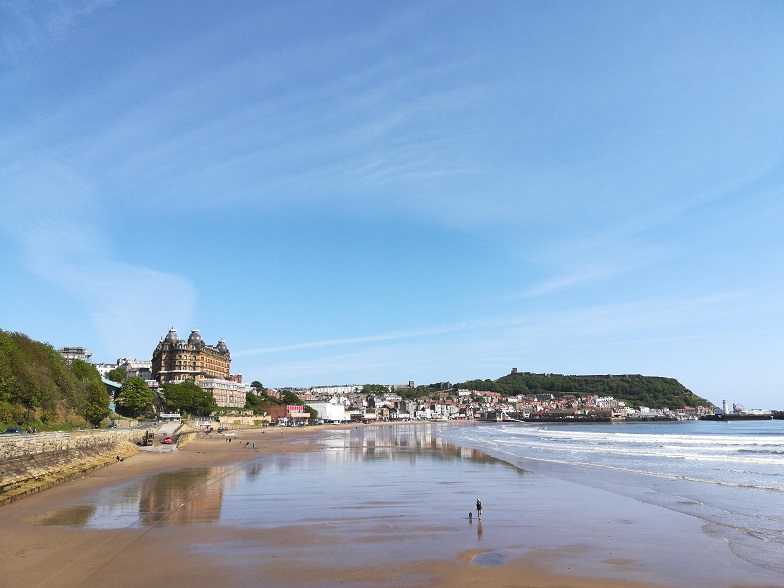 Scarborough Castle
Dominating the town in a most beautiful fashion is Scarborough Castle. It has a rich history, and a beautiful facade, as well as a fascinating interior managed by English Heritage. Anne Brontë would have loved the glorious climb up the verdant hill to the castle, and it's this spot that she chose for the moving proposal of Weston to Agnes Grey:
"When we had got about half-way up the hill, we fell into silence again; which, as usual, he was the first to break.
'My house is desolate yet, Miss Grey,' he smilingly observed, 'and I am acquainted now with all the ladies in my parish, and several in this town too; and many others I know by sight and by report; but not one of them will suit me for a companion; in fact, there is only one person in the world that will: and that is yourself; and I want to know your decision?'"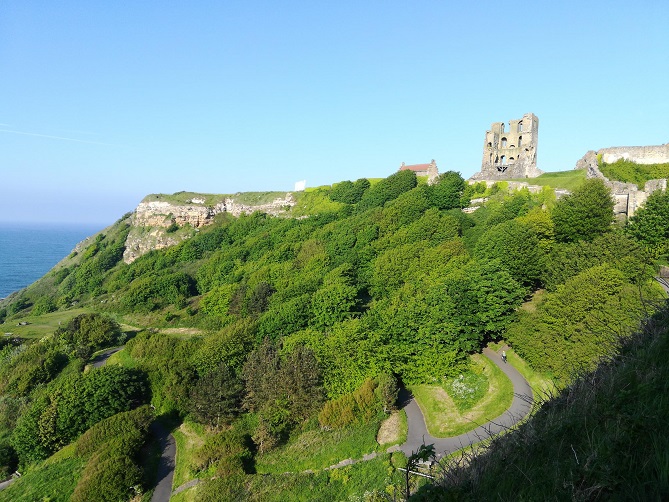 Iceland
What's a humble Iceland store doing in this guide? Look at the name on the building – Christchurch House. This Iceland store on Vernon Road today stands where once Christ Church stood – the church where Anne Brontë's funeral was held on 30th May 1849.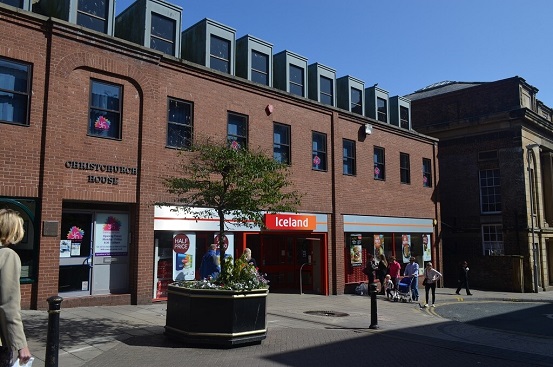 St. Mary's Church
The funeral service was held in Christ Church on Vernon Road because St. Mary's Church was being renovated at the time, but she was still buried in its churchyard. This is the church that Anne loved more than any other in Scarborough, and which Agnes Grey calls 'the venerable old church'. It is ancient indeed, and very beautiful. Inside you can find the church's own guide book on Anne Brontë, as well as pictures of her. By the side altar is a magnificent screen or reredos; it was brought here when Christ Church was demolished, and is the screen that would have been in place during Anne's funeral service.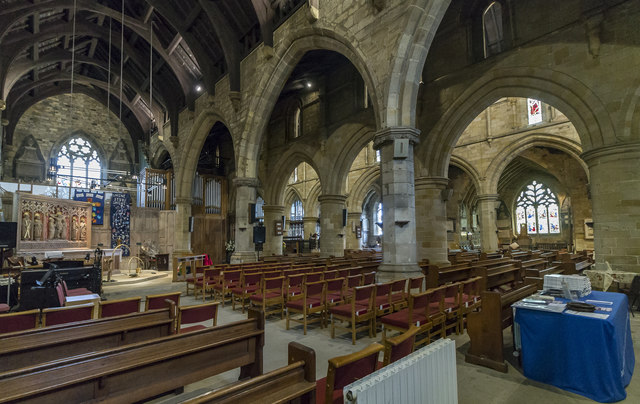 Anne Brontë's Grave
We end our journey in Anne's footsteps by her grave. If you're looking for it, be aware that it's not in the main churchyard but at the top of the auxiliary churchyard next to it. Anne is not alone here, she has visitors every day, people leave her flowers, badges, sometimes notes. Below is the sea she loved, look up and you see the castle where she wrote of Agnes' happiest moment with Weston (and perhaps wished she could have shared a similar moment with Weightman there). I'm adding here a tweet with a little video I made on Tuesday at this spot, if you click the play button you should be able to hear my tribute to the writer we all love. I hope you enjoy it and if you ever get the chance to visit Scarborough I hope you enjoy that too, I'm sure you will:
For those who couldn't be in Scarborough today & those there in spirit I've made a short video (my 1st, so excuse the quality) to mark today's 170th anniversary of the passing of Anne Bronte: pic.twitter.com/3j8hFQyTZf

— Nick Holland (@Nick_Holland_) May 28, 2019
Related posts: