It's that time of year again. Whether you call it Halloween, Samhain, All Saint's Eve or just an excuse to carve out a pumpkin and eat lots of sweets, today is a unique day within the calendar and one to be celebrated. In previous years on this blog we've looked at some spooky Brontë-related stories, from Mrs Baines the ghost of Penzance to the gytrash of Ponden Hall and reports of Anne Brontë haunting a staircase on Long Island.
We see ghostly apparitions throughout the works of Charlotte and Emily Brontë; only Anne seems to shun the supernatural in her works, possibly because she was more motivated by the pursuit and telling of the truth: she was more interested in the physical than the metaphysical.
From Charlotte we have the haunted red room to which a young Jane Eyre is consigned, the spooky fragments of an unfinished novel Willie Ellin, and of course the phantom nun of Villette: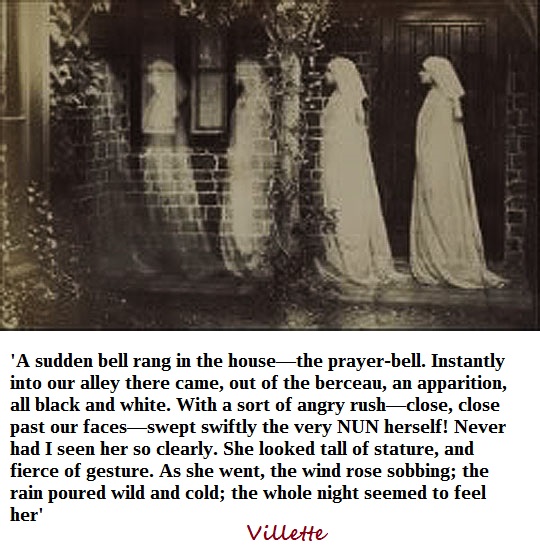 Emily gives us one of the most famous ghost scenes in all literature as Catherine's ghostly hands scratch at Lockwood's window. We also get Emily's statement delivered from Heathcliff's mouth: 'I pray one prayer – I repeat it till my tongue stiffens – Catherine Earnshaw, may you not rest as long as I am living; you said I killed you – haunt me, then! The murdered do haunt their murderers, I believe. I know that ghosts have wandered on earth.'
In today's new Halloween post we're going to look at reports that a very famous ghost still wanders the earth of Haworth: that of Emily Brontë herself!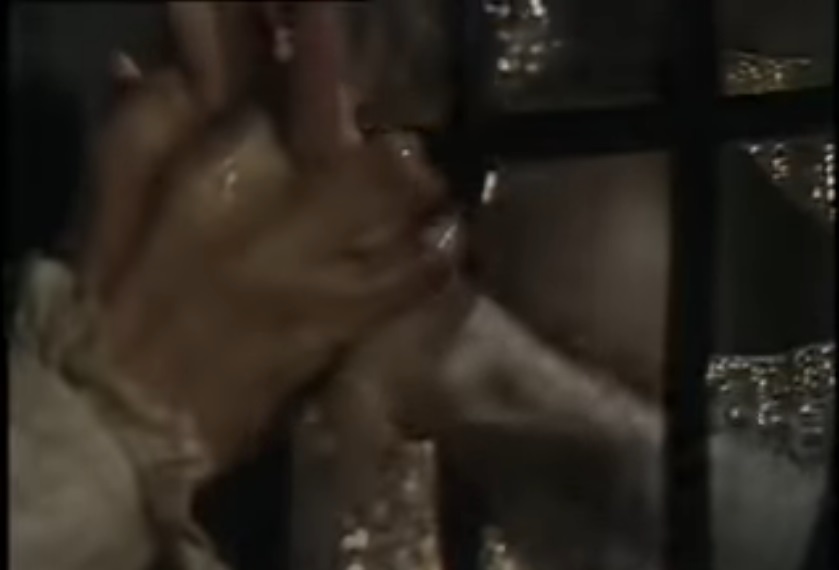 In the early nineteenth century, weaving was the main employment of the Haworth workforce. Eventually large factories and machine driven looms dominated the area and the West Riding of Yorkshire as a whole, but hand loom weavers could still be found who followed the old traditions of warp and weft. A line of old weaver's cottages can still be seen in Haworth today on West Lane not far from the parsonage itself; dating from the mid-eighteenth century they would have been well known to the Brontë siblings, and on occasion may have been visited by them if they were accompanying their father on parochial visits.
One such cottage, beautiful and evocative, is now Weaver's Guesthouse, although it has formerly been Weaver's Restaurant and a Toby Jug restaurant. What stories it could tell. What stories it possibly continues to tell?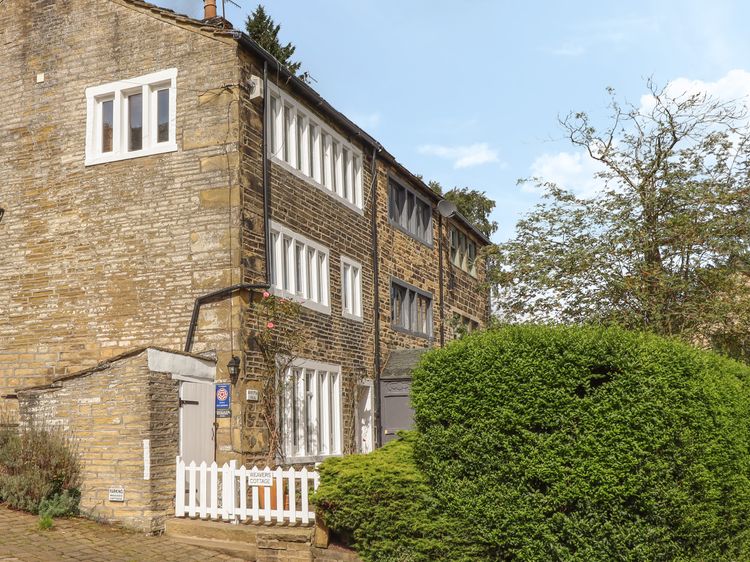 For much of the twentieth century there were reports of a ghostly lady making a regular appearance. This grey lady was always dressed in a long grey dress with a bonnet and shawl, and carrying a basket on her arm as if she was making a visit.
In 1974 Keith Akeroyd, owner of the Toby Jug restaurant in the old weaver's cottage, described one of the visitations, and made an appeal for an exorcism: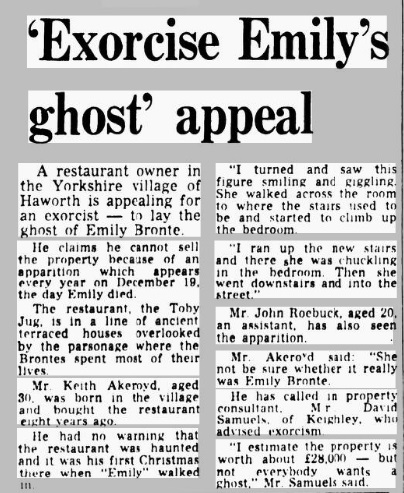 Here we see the name that has long been associated with the grey lady: Emily Brontë! It is said that the ghost appears annually on 19th December, the anniversary of Emily's tragic passing. Could this really be Emily Brontë's ghost? Further descriptions always describe the grey lady as laughing and giggling; this is not how we usually think of Emily Brontë today, but in fact a letter from Ellen Nussey to Elizabeth Gaskell describes how Emily loved to play practical jokes and then laugh uproariously.
On the other hand, the grey lady is also invariably described as small and frail in stature. Emily would undoubtedly have been very frail by her end, but she was also the tallest in her family. Her sisters, on the other hand, were small in stature. Could these annual appearances be Emily's final practical joke, or is it another spirit? If so, why does it choose the day of Emily's death to appear? Another thing to consider is that the death rate in Haworth was so high at this time that there could well have been another woman from the area who passed away on that date, perhaps someone small and frail who carried a basket?
Weaver's Guesthouse is a magnificent place to stay in that I recommend to anyone, so don't let tales of ghosts put you off! Ghosts can be found, they say, in just about every building of age in Haworth. It's a liminal village where spirits seem to wander easily, particularly at Halloween when the veil between this world and others is said to be at its slightest.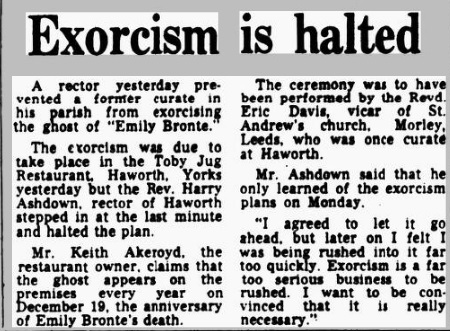 Oh, by the way, as the Birmingham Daily Post of October 2nd 1974 points out, the exorcism didn't take place. If you hear a giggling, see a grey haze, or hear a rustling noise the next time you're in Haworth you could have encountered a very special person indeed. I hope to see you all next week for a new Brontë blog post; have a Happy Halloween, and try not to be too scared as you turn out the lights!