Today marks the 200th birthday of a man who was very important in the Brontë story – Arthur Bell Nicholls. Born in County Antrim in what is now Northern Ireland on 6th January 1819, he arrived in Haworth to serve as assistant curate in June 1845 and nine years later he married Charlotte Brontë. We've looked at Arthur's marriage to Charlotte previously, whilst the course of romance ran far from smooth with them, they certainly found love eventually. Today, we're going to look at why Haworth needed an assistant curate, and at the six men who filled this role.
Haworth was a very prestigious parish, largely thanks to its minister William Grimshaw who served there from 1742 until his death in 1762. He was, alongside the likes of the Wesleys, prominent in the founding of what we now know as Methodism, and huge crowds would come to hear him speak. His sermons could last for hours, and he was noted for sometimes fainting during them, being revived and continuing on and on. It was also claimed that he had a habit of entering the nearby inns, such as the Black Bull, during Sunday services and whipping men that he found there. Perhaps surprisingly these actions made him hugely popular, although one famous commentator gave this view of Grimshaw:
'In his unconverted state this person was certainly insane; and, had he given utterance at that time to the monstrous and horrible imaginations which he afterwards revealed to his spiritual friends, he would deservedly have been sent to Bedlam.'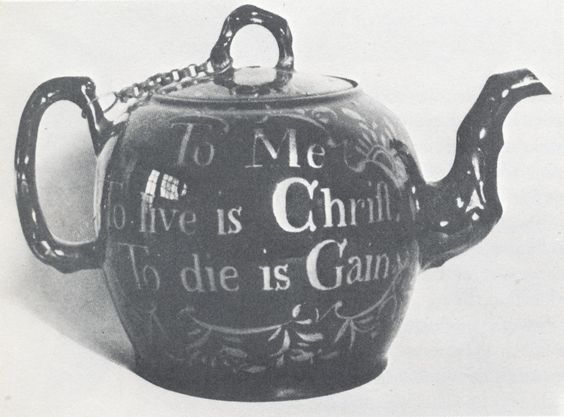 The man who gave this opinion? Robert Southey, who also of course gave his opinion on women writers to Charlotte Brontë. Grimshaw's fame lived well into the nineteenth century, so that one of Aunt Branwell's prized possessions was a teapot bearing his name and one of his quotes. Patrick Brontë, then, was entering a very prestigious post in 1820, but it was also a very busy one thanks largely to the huge numbers of funerals he had to preside over. As he aged he felt increasingly the need for help at his services, and this came in the shape of the following six assistant curates:
Reverend William Hodgson (December 1835 – May 1837)
Hodgson was Patrick's first assistant curate, and his appointment was made possible by a grant of £50 given to Patrick by the Church Pastoral Aid Society to cover his wage. He left Haworth to become a vicar in nearby Colne, across the Lancashire border.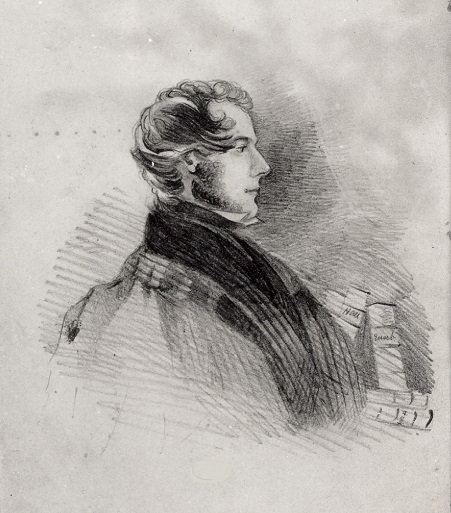 Reverend William Weightman (August 1839 – September 1842)
Along with Arthur, poor tragic William Weightman is the assistant curate who made most impact on the Brontës. He was a charming, kind man with a brilliant intelligence, and in a moving funeral sermon, Patrick claimed that he had been like a son to him. Perhaps if fate hadn't intervened he could one day have filled that role, as I believe that he and Anne Brontë were in love with each other. He was also a close friend of Branwell Brontë, and after his sudden death from cholera, caught after visiting a sick parishioner, he was mourned by Anne in a series of poetic laments as well as being the inspiration for Reverend Weston who eventually marries Agnes Grey.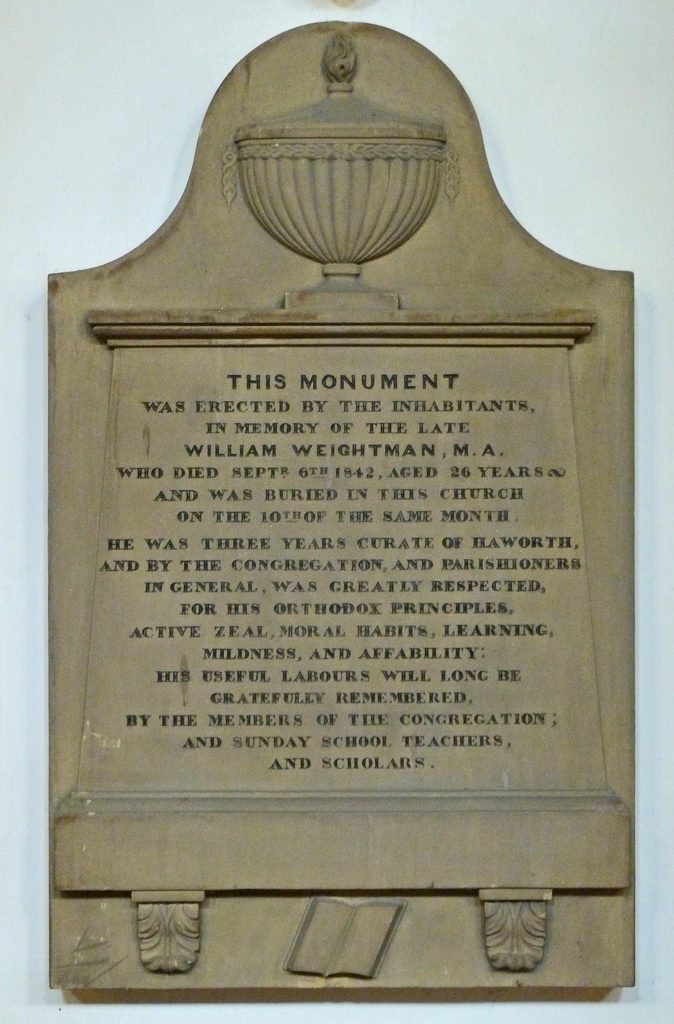 Reverend James William Smith (March 1843 – October 1844)
Weightman's successor as assistant curate was an altogether different character. He was in little favour with Patrick, who disliked his fiery temper and his love of money – going so far as to tell Charlotte to warn her friend Ellen Nussey that he may only be after her money when the curate showed some interest in her. It is also thought that he was the inspiration for Reverend Malone in Charlotte's novel 'Shirley', the argumentative priest who is summarily banished by the title character. In 1844 he left Haworth to become a priest in Keighley, but he came under a cloud due to the missing accounts of Haworth's school which had been supposedly under his control. In 1848 he fled to Canada leaving unpaid debts behind him.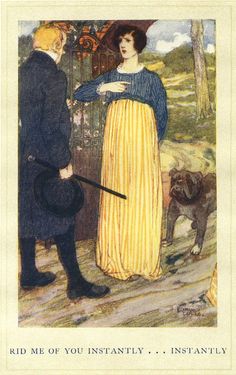 Reverend Joseph Brett Grant (October 1844 – March 1847)
Grant combined duties as assistant curate with the role of Headmaster at the nearby Free Grammar School in Oxenhope, and when Oxenhope was created a parish in March 1847 he was appointed its first vicar. He was a friend of Arthur Bell Nicholls, and accompanied him to his wedding to Charlotte, presumably also acting as his best man. Grant's high standing is also evinced by his role as one of the six pall-bearers at Patrick Brontë's funeral in 1861.
Reverend Arthur Bell Nicholls (May 1845 – May 1853)
Arthur was the longest serving of Patrick's assistant curates, and all seemed to be going well in his role until he made the mistake of falling in love with his boss's daughter. It is well known how furious Patrick was, and of how Charlotte was amazed at his proposal of marriage, but a 1905 newspaper report I saw this week also carried the revelation that Charlotte was advised not to marry him because he had rheumatism. Despondent, Arthur pledged to start a new life as a missionary in Australia, but in fact he became curate at Kirk Smeaton near Pontefract, at 37 miles away not quite so distant from Haworth as Australia.

Reverend George de Renzy (May 1853 – June 1854)
During his spell as assistant curate, de Renzy married a local girl, Emily Mackey of Wilsden. Patrick seems to have been less than impressed by him, and this may have helped to soften his stance towards the man who replaced him.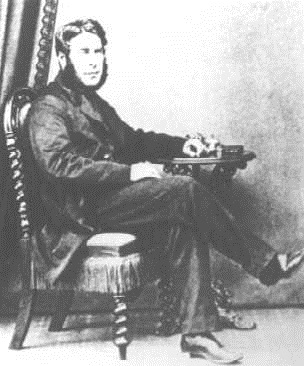 Reverend Arthur Bell Nicholls (August 1854 – September 1861)
When Arthur left Haworth under a cloud in May 1853 few would have thought he would have officiated there again, but 15 months later he returned triumphant – not only resuming his previous role as assistant curate but adding a new one as fiance to Charlotte Brontë. One of Charlotte's most delightful sentences in 'Shirley' is, 'Of late years, I say, an abundant shower of curates has fallen on the north of England', but only one of them could, eventually, capture her heart. He was a devout man, a persistent man, one whose heart was full of love (even if his legs may have been full of rheumatism), and so on this day let us charge our glasses and say 'Happy 200th Birthday, Arthur Bell Nicholls.'