In this extra mid week post I'm going to take a look at a man who played a central part in Anne Brontë's life: William Weightman. I believe that Weightman was loved by Anne and that he loved her back, and if they hadn't been torn apart by tragedy they may have married – I believe that's a message contained in 'Agnes Grey' and much of Anne's poetry, but I accept that others may have different opinions. Anyway, that's a subject I will look at in a future post, but today we are looking back at an event that happened on this day 176 years ago, and on the reputation that Weightman has now and had then.
On this day, 14th August, in 1842 William Weightman presided over his final duties as assistant curate to Patrick Brontë at Haworth's St. Michael and All Angels' church. Weightman, a native of Appleby, Westmorland (that's it at the head of this post), first arrived in Haworth in August 1839, having recently graduated with a Master of Arts degree from the newly created Durham University. At Durham he would have met three people with links to the Robinson family of Thorp Green Hall, Charles Thorp, Thomas Gisborne and Lionel Gisborne, but again this link and the implications it had for Anne will be looked at in another post.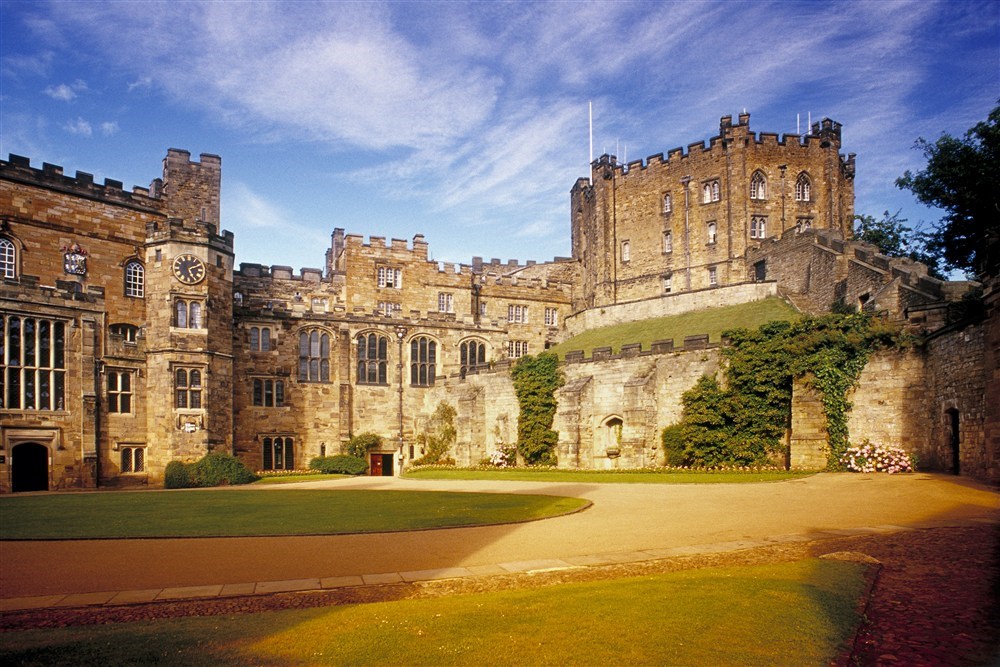 He replaced a previous assistant curate, William Hodgson, who had left under a cloud in 1837, and Patrick seems rarely to have hit it off with his assistants (most obvious when one, Arthur Bell Nicholls, dared to ask for his daughter Charlotte's hand in marriage). Nevertheless, Patrick and William got on brilliantly together, which is testimony to his good character. In his elegy for William Weightman, Patrick went so far as to say he had been like a son to him, and paid him this fulsome tribute:
"There are many who for a short time can please, and even astonish – but who soon retrograde and fall into dispute. His character wore well; the surest proof of real worth… but what he gained at first he did not lose afterwards. He had those qualities which enabled him rather to gain ground."
Weightman was also hugely popular with the villagers of Haworth, who as previous ministers had found out, weren't always easy to please. Some portraits of Weightman show him as being flirtatious or insincere, but he was anything but. Even Charlotte had to admit that she had got this aspect of his character wrong. She saw him return to the Parsonage late one evening looking sad and tired. Patrick asked him what was wrong and he replied that he was in low spirits because he has just been to see a poor young girl who was dying. The girl turned out to be Susan Bland, one of Charlotte's Sunday school pupils. She visited the house the next day, and found that Susan was indeed dying, but also that Weightman had not only visited them but that he'd taken them a bottle of wine and a jar of preserves. Mrs Bland further told Charlotte that 'he was always good-natured to poor folks, and seemed to have a deal of feeling and kind-heartedness about him.' It was this that led Charlotte to concede in a letter to Ellen Nussey that 'he is not all selfishness and vanity.'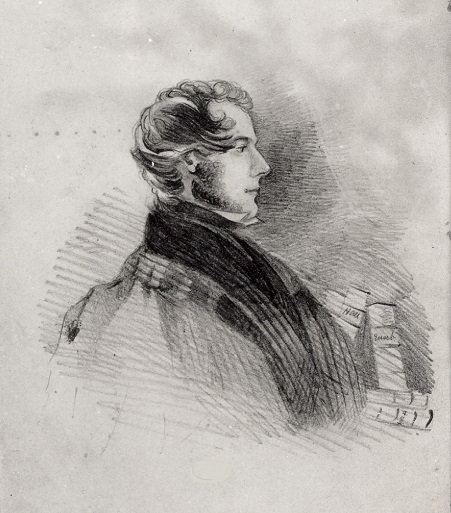 Alas, Charlotte discovered too late this kindness that Anne and the villagers of Haworth had long known. The reason that this day marked the last duty of William Weightman is that on the night of the 14th he once again visited a sick parishioner, contracted cholera from them and died aged 26 three weeks later.
The man by Weightman's side as he breathed his last is also testament to his character; it was Branwell Brontë who despite being a non-believer himself had found a firm friend in the assistant curate. In October 1842 he wrote to Francis Grundy:
'I have had a long attendance at the deathbed of the Rev. William Weightman, one of my dearest friends'.
The parishioners loved Weightman, and they too were devastated by his death; so much so that they begged Reverend Brontë to deliver a written speech on Weightman, so that it could be published and they could then buy it. This is indeed what happened, and it marked a departure for Patrick who usually preached ex tempore, that is without notes. This funeral sermon painted Weightman in a brilliant light, stating that he: 'had classical attainments of the first order, and above all, his religious principles were sound and orthodox.'
From Patrick there was no greater praise, and an obituary in local newspaper the Leeds Intelligencer painted a similar picture:
'He was admired and beloved for his sterling piety, his amiability, and cheerfulness, and the loss of so zealous and useful a Minister of Christ is deeply felt by those among whom he lived and laboured. This discourse [the funeral sermon], plain and touching in its language, simple yet expressive, pays a well deserved tribute to the memory of the preacher's beloved and lamented fellow labourer.'
There was one further tribute, and it can be seen today by visitors to Haworth's parish church. There are a number of tributes around the walls, but the largest of them all is to Weightman. The parishioners collected for two years to raise money to pay for this loving tribute to a man who had been their assistant curate for just three years, and yet he left a lasting impression. It reads:
'This monument was erected by the inhabitants in memory of the late William Weightman, M.A. who died September 6th. 1842, aged 26 years [actually 28] and was buried in this church on the tenth of the same month. He was three years curate of Haworth and by the congregation and parishioners in general was greatly respected for his orthodox principles, active zeal, moral habits, learning, mildness, and affability: his useful labours will long be gratefully remembered by the members of the congregation; and Sunday school teachers, and scholars.'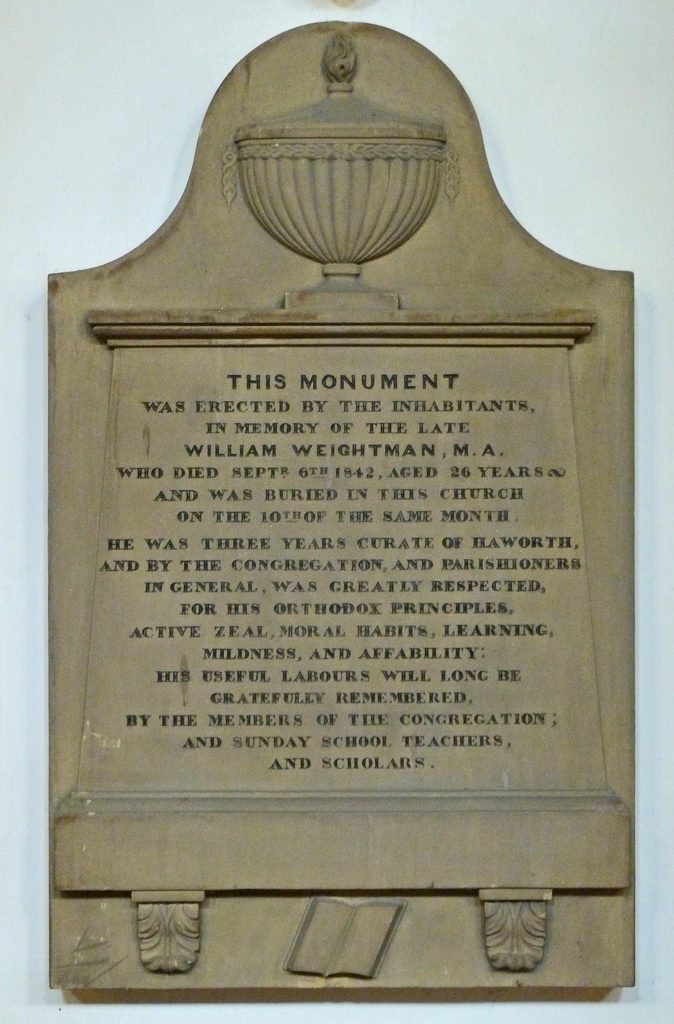 It's time to put aside any doubts about William Weightman for we see here glowing tributes to him from Patrick Brontë, Branwell Brontë, a Leeds newspaper and the people of Haworth, and perhaps the most beautiful tributes of all are contained in Anne Brontë's mourning poems and the character of the supremely kind assistant curate Weston in 'Agnes Grey'. He was a great man who brought happiness into Anne's life, if all too briefly, and for that we should be thankful.