The Brontës loved to write, we all know that and we're all thankful for it, but they also loved art and music too. Emily Brontë in particular was a highly gifted pianist, at one point teaching her fellow pupils at the Pensionnat Heger in Brussels, and Ellen Nussey stated that: 'Anne also played, but preferred soft melodies and vocal music. She sang a little; her voice was weak, but very sweet in tone.' We also know that Branwell could play the flute, as well as the church organ, so we can be sure that the parsonage was often full of sweet melodies and moving music – which is why I'm so pleased to be reviewing The Bluebell by Charlie Rauh in today's Brontë blog post.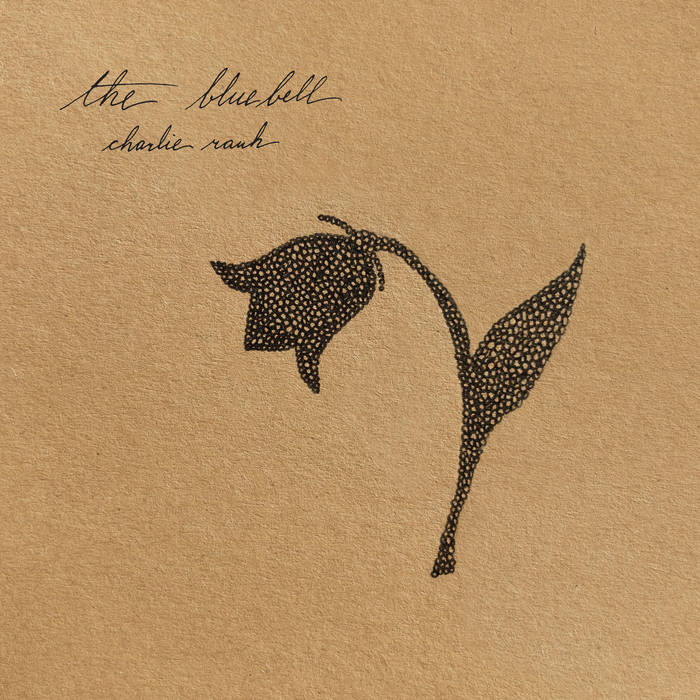 Charlie Rauh is an accomplished and acclaimed musician and composer who lives in New York city, and his previous album Hiraeth was well received on both sides of the Atlantic. As we shall see, his latest work is based upon the poetry of Anne and Emily Brontë, so I was delighted when I was sent a digital copy of the album to review. I must say here that whilst I received a free copy of The Bluebell I was not given any financial incentive nor am I connected to it in any way, so you can be sure that my review which follows will be my full and honest opinion.
Charlie is an excellent acoustic guitarist, and this album showcases his talents to the full. The nine tracks create a series of modern lullabies, full of gentle pleasures which are both relaxing and stirring. As in the Brontë poetry which inspired the album, these are vignettes which make you think, so that the pauses and silences are as important as the notes you hear played.
Charlie Rauh has long been a Brontë enthusiast, and his deep love and understanding of their work shines through in this album. Each of the nine tracks is based upon an individual poem by either Anne or Emily, and the album both closes and finishes with a track entitled The Bluebell – the first being based upon Anne's poem of that name, and the last based upon Emily Brontë's poem of that name.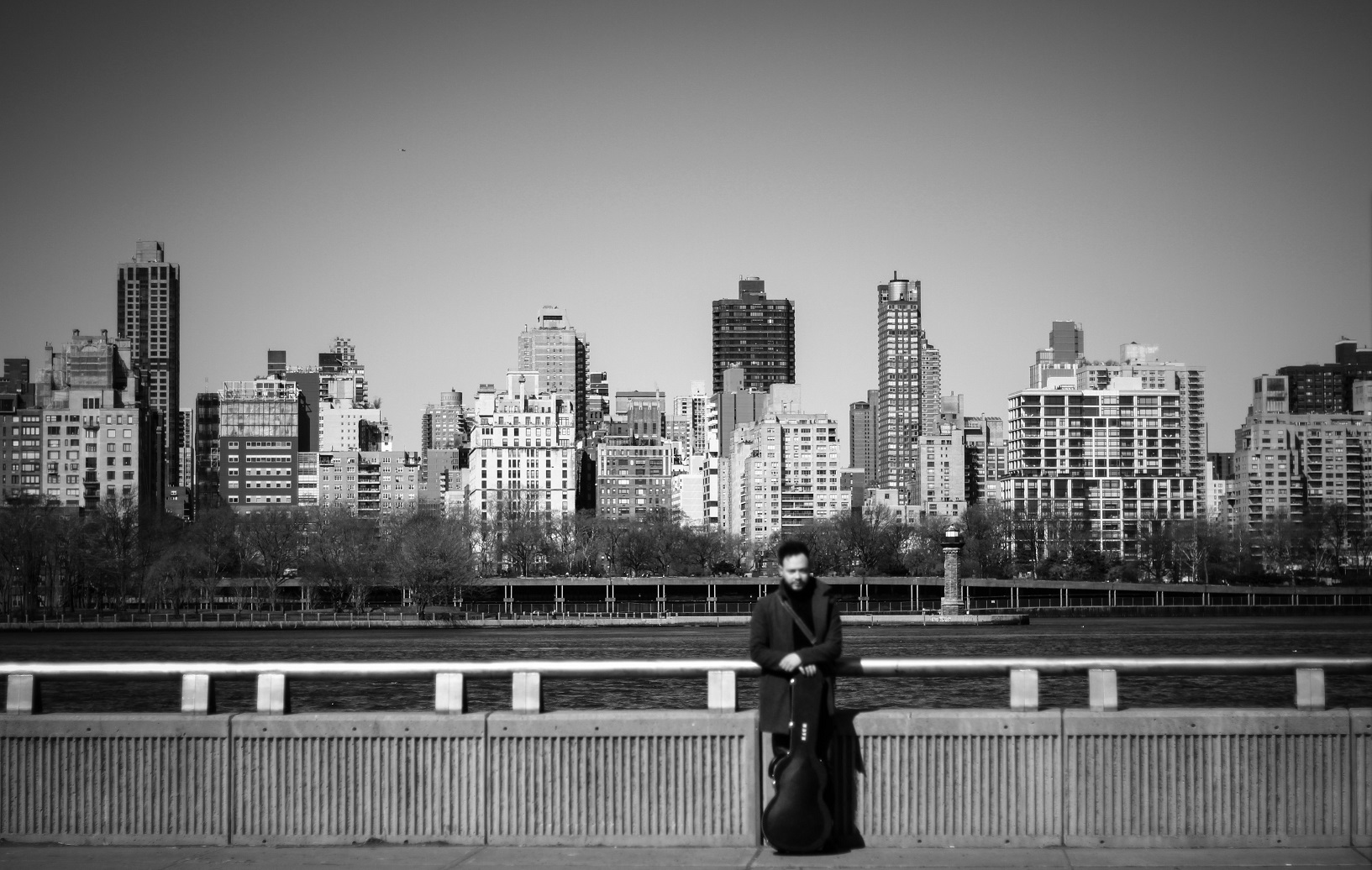 In his compositions, Charlie has not simply taken the words of the sisters and set them to music, but rather he has taken the feel and theme of the poems and created a short piece of acoustic guitar music that represents a musical representation of the work. In short, he has transformed words and stanzas into crochets and bars, and I found that this worked extremely well. The standout tracks for me were the two eponymous songs, and 'Faith Shines Equal Arming Me From Fear', inspired by Emily's brilliant 'No Coward Soul Is Mine'. This is a complex, thought provoking track, perfectly in keeping with Emily's treatise upon the power and nature of her personal faith and beliefs.
On one level, you could simply pour yourself your favourite drink, kick off your shoes, and listen indulgently to Charlie Rauh's sublime guitar playing – it often reminded me of classical guitar legend John Williams at his best, and I can't give it higher praise than that. I think this album works even better, however, if you play it alongside the Brontë poetry which has inspired it – by reading 'Last Lines' by Anne Brontë, for example, and then listening to 'With Purpose Pure And High' from The Bluebell you can't help but feel moved as its last note fades into silence.
The Blubell by Charlie Rauh is released by Destiny Records on August 28th, and will be available as a digital download from all the usual music download channels. There was also a special limited edition version available from Destiny Records themselves, and I plan on buying a copy myself if they release more copies of this limited edition because it really is something very special. Charlie Rauh has embraced the sibling power which was so important to the Brontës, and enlisted the help of his brother Christopher and sister Christina to create their own versions of Anne and Emily's diary papers. Christopher has written a series of poems which Christina has then embellished with exquisite watercolours along with pressed flowers including bluebells. These modern diary papers are then placed within a wooden box, and the end result is absolutely stunning.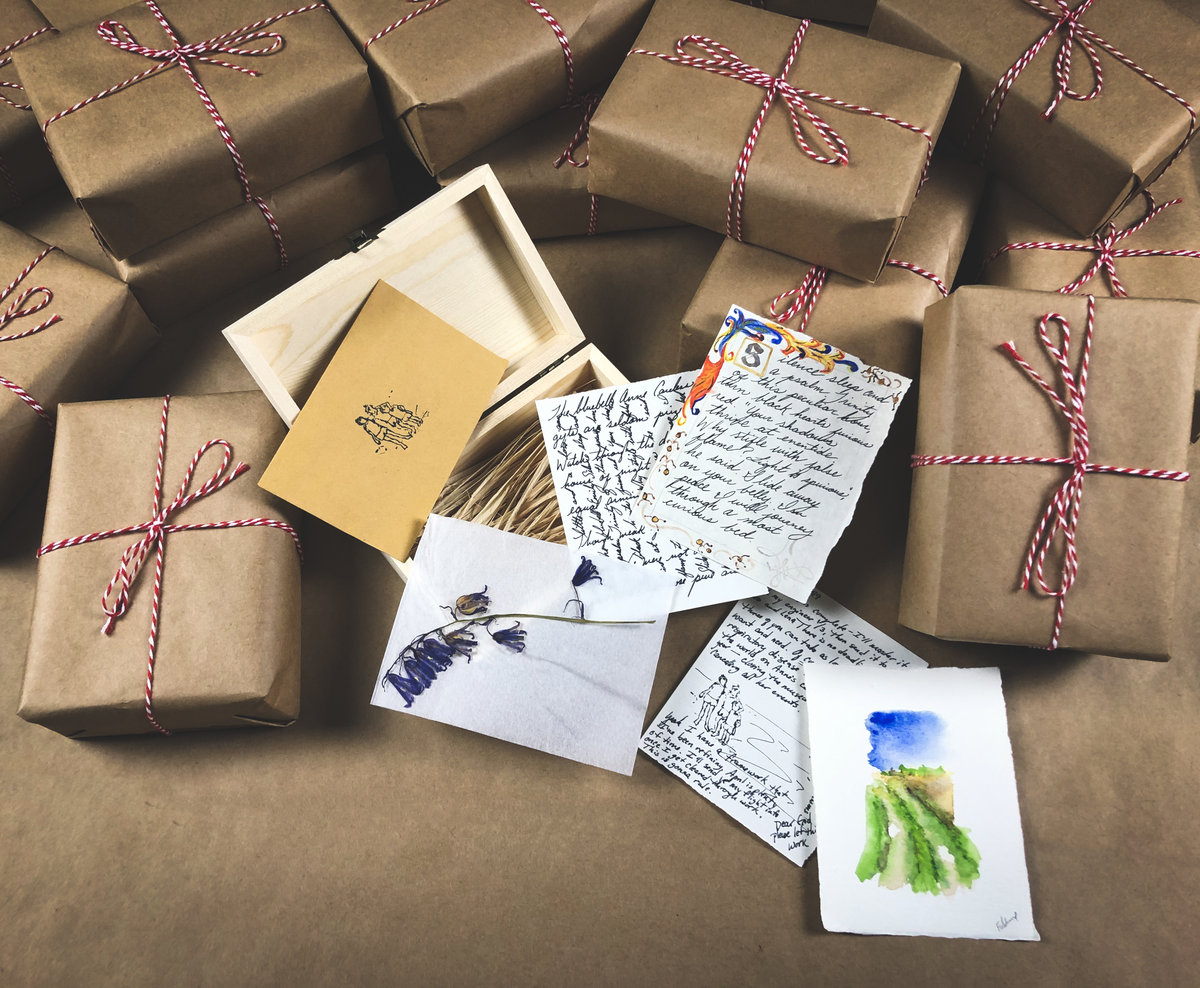 In summary then, this is a very fitting and very well executed tribute to the poetry of Anne and Emily and to the enduring power of the Brontës. It should make perfect listening as the dark nights of autumn draw in, and I think this is a great addition to any Brontë lover's collection. This isn't the first time that the Brontës have inspired music of course, as we have everything from Kate Bush's take on 'Wuthering Heights' to Bernard Herrmann's opera of the same name. Charlie Rauh's guitar driven, Brontë-inspired lullabies have a universal appeal, and are a welcome addition to this cannon. I think that Anne and Emily themselves would have enjoyed and approved of this album, and we can't ask for more than that. We know, after all, that Emily Brontë loved guitar music, as one of her poems is entitled 'The Lady To Her Guitar', as we see here in my book Emily Brontë: A Life In 20 Poems: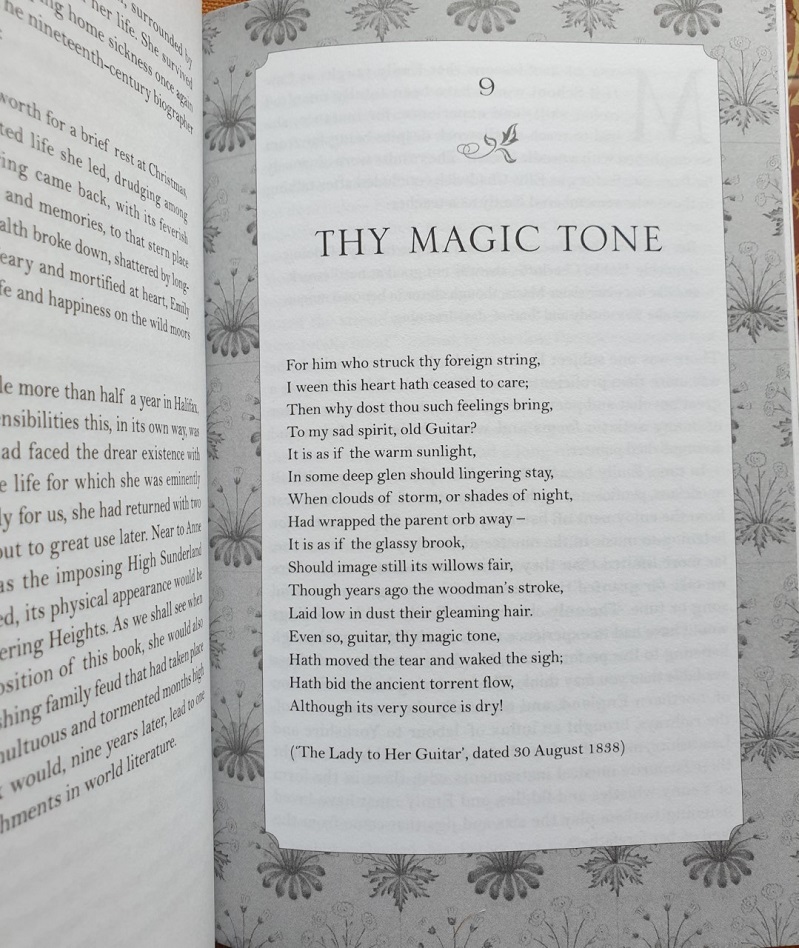 There's more than a hint of a magic tone in The Bluebell by Charlie Rauh, so I wish it every success as we enter its launch week. Whatever you're listening to or reading at the moment, enjoy it! I will see you again next Sunday for another new Brontë blog post.