The Brontës have always felt like part of my life, and this love and admiration for the brilliant siblings was first expressed publicly in my biography 'In Search Of Anne Brontë' released in 2016. I was thrilled at the reception it received, and the opportunity to talk about the Brontës to new people at new exciting locations. It's fair to say that the book changed my life in many brilliant ways, which is why I'm thrilled today to announce the publication of my new book looking at the life of an enigmatic genius: Emily Brontë.
'Emily Brontë: A Life In 20 Poems' is released by the History Press today and you can buy it at this link. It takes a fresh look at her life by examining twenty events, people and themes in her life, and linking each of them to one of her greatest poems. In that way you not only get a biography of Emily, but a collection of her verse as well.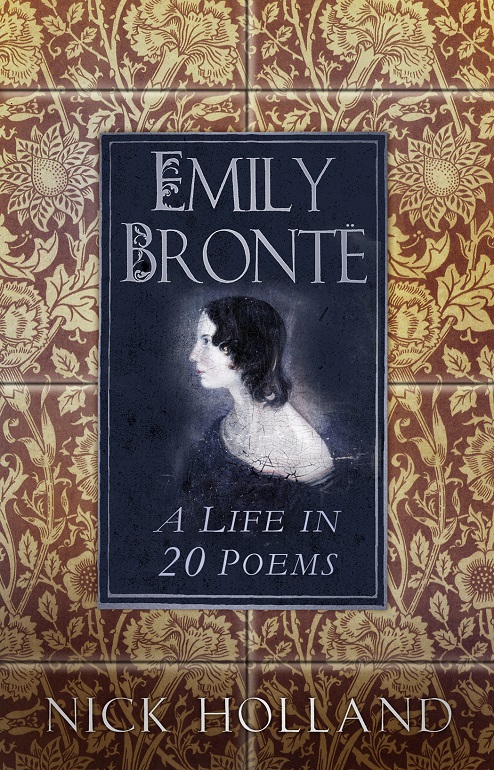 As we all know, Emily was a very reserved character, and we have little correspondence from her compared to Charlotte and Anne. Some of the book is therefore based upon the testimony of others who knew her and loved her – and to know Emily was to love her. Ellen Nussey, writing long after Emily's death, recalled the incredible power that was felt in Emily's presence, so that even in her seeming timidity you couldn't help but know that you were with someone very special indeed:
'I have at this time before me the history of a mighty and passionate soul, whom every adventure that makes for the sorrow or gladness of man would seem to have passed by with averted head. It is of Emily Brontë I speak, than whom the first 50 years of this century produced no woman of greater or more incontestable genius.'
Some of the book invariably is based upon my own theories as to Emily's motivation and actions, and your opinion may differ on some of these – but that's the joy of the Brontës, we can all approach them in our own way and have our own views on them. They are timeless and ever-evolving in the minds of those who think about their works and lives.

I loved writing every word of this book, and examining Emily's relationship with her family, her views on religion and her own mysticism, her attitude to love, and the literary influences that shaped her great novel 'Wuthering Heights', and finally how she faced illness, decline and death. I've also loved reading once more her great poems, such as this that heads up chapter six:
'When weary with the long day's care,
And earthly change from pain to pain,
And lost, and ready to despair,
Thy kind voice calls me back again:
Oh, my true friend! I am not lone,
While thou canst speak with such a tone!
So hopeless is the world without;
The world within I doubly prize;
Thy world, where guile, and hate, and doubt,
And cold suspicion never rise;
Where thou, and I, and Liberty,
Have undisputed sovereignty.
What matters it, that all around,
Danger, and guilt, and darkness lie,
If but within our bosom's bound,
We hold a bright, untroubled sky,
Warm with ten thousand mingled rays,
Of suns that know no winter days?
Reason, indeed, may oft complain,
For Nature's sad reality,
And tell the suffering heart how vain,
Its cherished dreams must always be;
And Truth may rudely trample down,
The flowers of Fancy, newly-blown:
But thou art ever there, to bring,
The hovering vision back, and breathe,
New glories o'er the blighted spring,
And call a lovelier Life from Death,
And whisper, with a voice divine,
Of real worlds, as bright as thine.
I trust not to thy phantom bliss,
Yet, still, in evening's quiet hour,
With never-failing thankfulness,
I welcome thee, Benignant Power;
Sure solacer of human cares,
And sweeter hope, when hope despairs!'
I hope you enjoy reading my book too – and to celebrate its launch I'm giving away a free signed copy of the book! All you have to do to be in with a chance of winning is email me at insearchofannebronte@hotmail.com.
Thank you to each and every one of you for reading my blog and supporting me in this work – and, if you're entering the competition, I wish you 'Good Luck!'
Related posts: