The joyous feast of Christmas is nearly upon us, and I'll be up with the elves producing a Christmas morning blog post on just that theme, but today we deal with more solemn emotions. Christmas can be a terrible time for those who are lonely, who are bereaved, who have lost the one they love. Celebrations, laughter and festivity are everywhere, but they feel excluded from it all because instead of light they live under a constant veil of darkened shadow. This was the cloak which enveloped Charlotte Brontë on this day 170 years ago, for on 23rd December 1848 she wrote to Ellen Nussey:
'Emily suffers no more either from pain or weakness now. She never will suffer more in this world – she is gone after a hard, short conflict. She died on Tuesday, the very day I wrote to you. I thought it very possible then she might be with us still for weeks and a few hours afterwards she was in Eternity. Yes – there is no Emily in Time or on Earth now – yesterday, we put her poor, wasted mortal frame quietly under the Church pavement. We are very calm at present, why should we be otherwise? The anguish of seeing her suffer is over, the spectacle of the pains of Death is gone by, the funeral day is past, we feel she is at peace. No need now to tremble for the hard frost and keen wind – Emily does not feel them. She has died in a time of promise – we saw her torn from life in its prime.'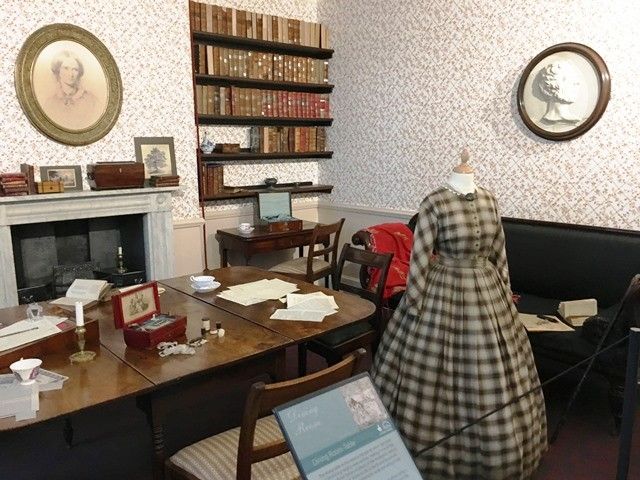 Charlotte was referring of course to the funeral of Emily Brontë, who was buried in the Brontë family vault in Haworth's St. Michael and All Angels' Church on 22nd December 1848 having died three days earlier. She joined her mother, her Aunt Elizabeth, her sisters Maria and Elizabeth and her brother Branwell in the vault, but there were two more spaces yet to be filled. After the church was rebuilt by Reverend Brontë's successor, John Wade, a pillar was placed above the Brontë vault, a strange echo of the pillar that Branwell had placed between his sisters in his youthful painting of them.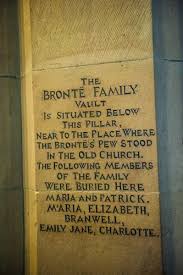 With Patrick acting as chief mourner, of course, the funeral service was conducted by his assistant, Arthur Bell Nicholls. Emily's beloved dog Keeper also had a place of honour in the church and led the funeral procession, as reported by Ellen Nussey:
'Keeper was a solemn mourner at Emily's funeral and never recovered his cheerfulness.'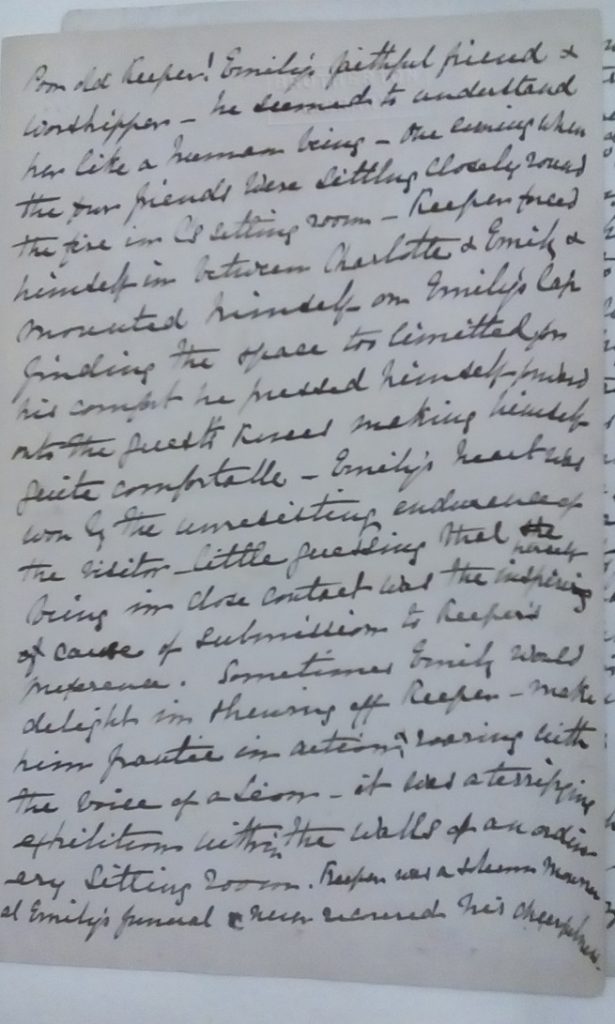 Ellen also wrote that Keeper 'seemed to understand her [Emily] like a human being' and even years later he would still long for the mistress he loved and missed. Writing after Anne Brontë's death, which followed just six months after Emily's, Charlotte wrote:
'The ecstasy of these poor animals [Flossy and Keeper] when I came in was something singular… I am certain they thought that, as I was returned, my sisters were not far behind – but here my sisters will come no more. Keeper may visit Emily's little bed-room, as he still does day by day, and Flossy may look wistfully round for Anne – they will never see them again – nor shall I.'
So, Christmas 1848 was a time of mourning. Charlotte had lost the sister she hero worshipped, Anne had lost her twin like sister and herself was now gravely ill, Patrick had lost the daughter he had called his right hand and the apple of his eye, and Keeper had lost the human who was the whole world to him.
For Charlotte life had to go on, but it was diminished, her sun had set. Perhaps as she walked the hills and moors the lines from one of Emily's poems came into her head:
'I dream of moor, and misty hill,
Where evening closes dark and chill;
For, lone, among the mountains cold,
Lie those that I have loved of old.'
Emily herself was not scared of death, and she wrote about it in many of her brilliant poems, perhaps recalling John Keats who wrote, 'Darkling I listen; and, for many a time, I have been half in love with easeful Death, Call'd him soft names in many a mused rhyme.' Nevertheless, Emily was not an invariably gloomy woman, for we have reports of her happy, cheerful voice and her love of practical jokes. No, to Emily death was simply a fact of life the same as any other.
It is perhaps fitting that Emily died and was buried around the time of the winter solstice. A time when death inevitably comes, when we reach the darkest point of the year, but that, as Emily knew, also heralds the beginning of a new light that will eventually bring new life, and the verdant beauty will return. Emily died, but the legend and legacy of Emily was just being born. I will leave you with 'At Castle Wood', a remarkable poem by Emily Brontë in which she looks ahead to her death and funeral. But this is the time of Yule, from the old Norse word for wheel; the wheel of the year and life turns and joy will come again, so on Christmas day I will have a much happier post for you all.