Happy new year! So we have made it through another year – and what a year it was! Three Prime Ministers, an Olympics and a World Cup, an Emily Brontë biopic which was rather not to my liking and the passing of the crown from mother to son. It was certainly a year of uncertainty, so thank goodness that we had the certainty of great books by the Brontës to turn to in times of need.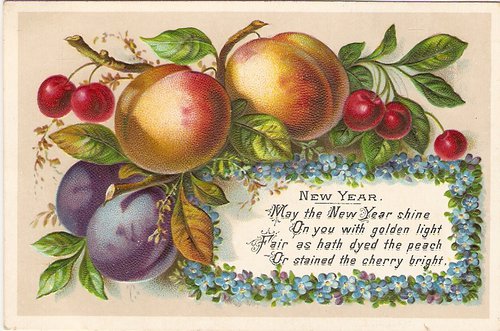 This very date also marked momentous changes for two members of the Brontë family. The 1st of January 1809 saw Patrick Brontë conduct his final service as an Assistant Curate in Wethersfield, Essex, before heading to a new parish in Shropshire. It was there he would meet William Morgan and the Fennels who would later persuade him to follow them north to Yorkshire. The rest is literary history.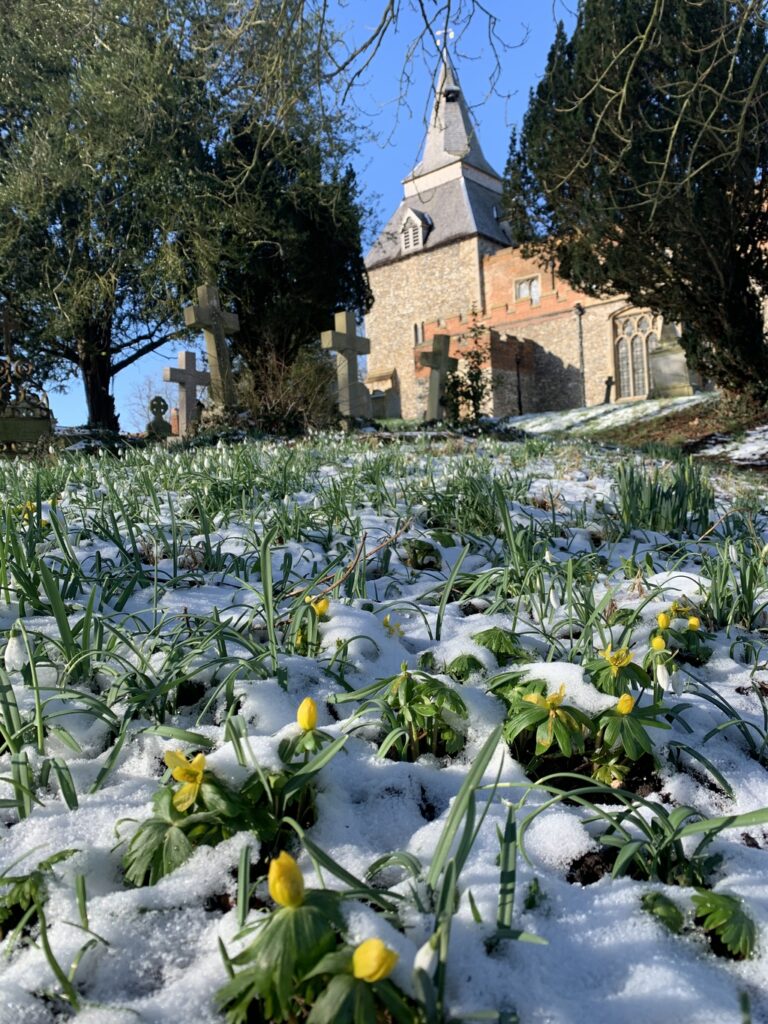 Patrick arrived at his parish of Dewsbury, in the West Riding of Yorkshire, in the summer of 1812. He supplemented his income by becoming an examiner at Woodhouse Grove school which had been newly founded by the Fennels he had known in Shropshire. Also arriving at the school at this time was a new assistant – their niece from Cornwall, Maria Branwell. Within five months of their first meeting Patrick and Maria were married – in fact this week marked the 210th anniversary of their wedding on 29th December 1812. At the same ceremony at St. Oswald's church, Guiseley near Leeds, Maria's cousin Jane Fennel married Patrick's best friend William Morgan, whilst at the same time in Penzance, Cornwall, Maria's younger sister Charlotte married her (and Maria and Jane's) cousin Joseph Branwell. At Guiseley, Patrick officiated at William's wedding and William at Patrick's, and the two brides were also bridesmaids. Phew! Thankfully, Charlotte Branwell's daughter, another Charlotte, later recalled the event to a local newspaper to clarify this triple celebration!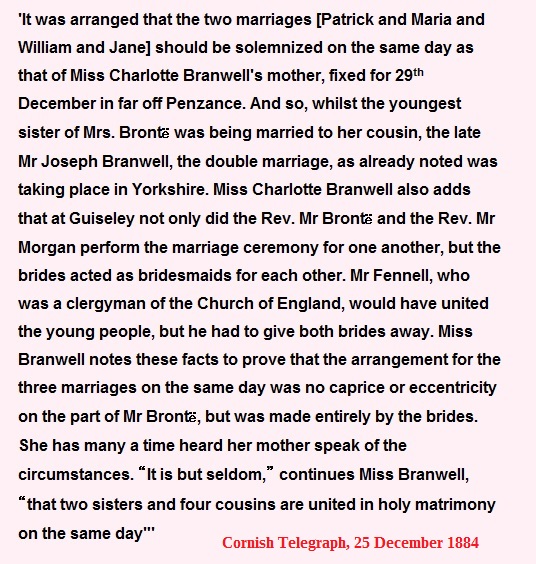 Within seven years and a month of this wedding, Patrick and Maria had a family of six children: Maria, Elizabeth, Charlotte, Patrick Branwell, Emily Jane and baby Anne.
Fast forward 32 years and third child Charlotte Brontë was making a big change of her own. On 1st January 1844 Charlotte left the Pensionnat Heger school in Brussels and started her journey back to her Haworth home – she would never leave England again.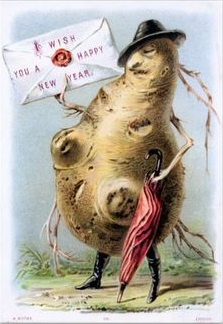 Charlotte had arrived nearly two years earlier with Emily Brontë by her side. After a year as a pupil she then spent a year as a teacher and her experiences in Belgium would greatly influence her novels The Professor and Villette. Held in her hand as she left Brussels was a diploma from Monsieur Constantin Heger that she intended to use to set up her own school alongside her sisters; held in her heart, however, was something far more enduring: the unrequited love for the self same Constantin Heger – it would dominate her thoughts and feelings for years to come, and eventually influence her great literary protagonists from Edward Rochester to Paul Emanuel.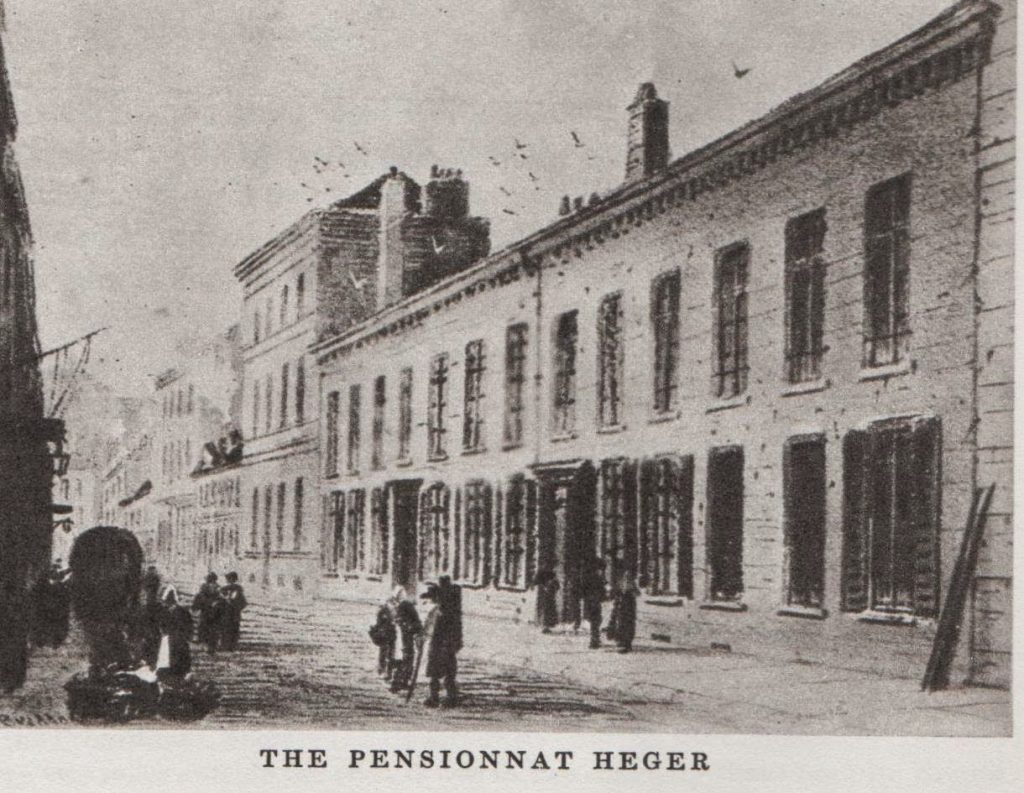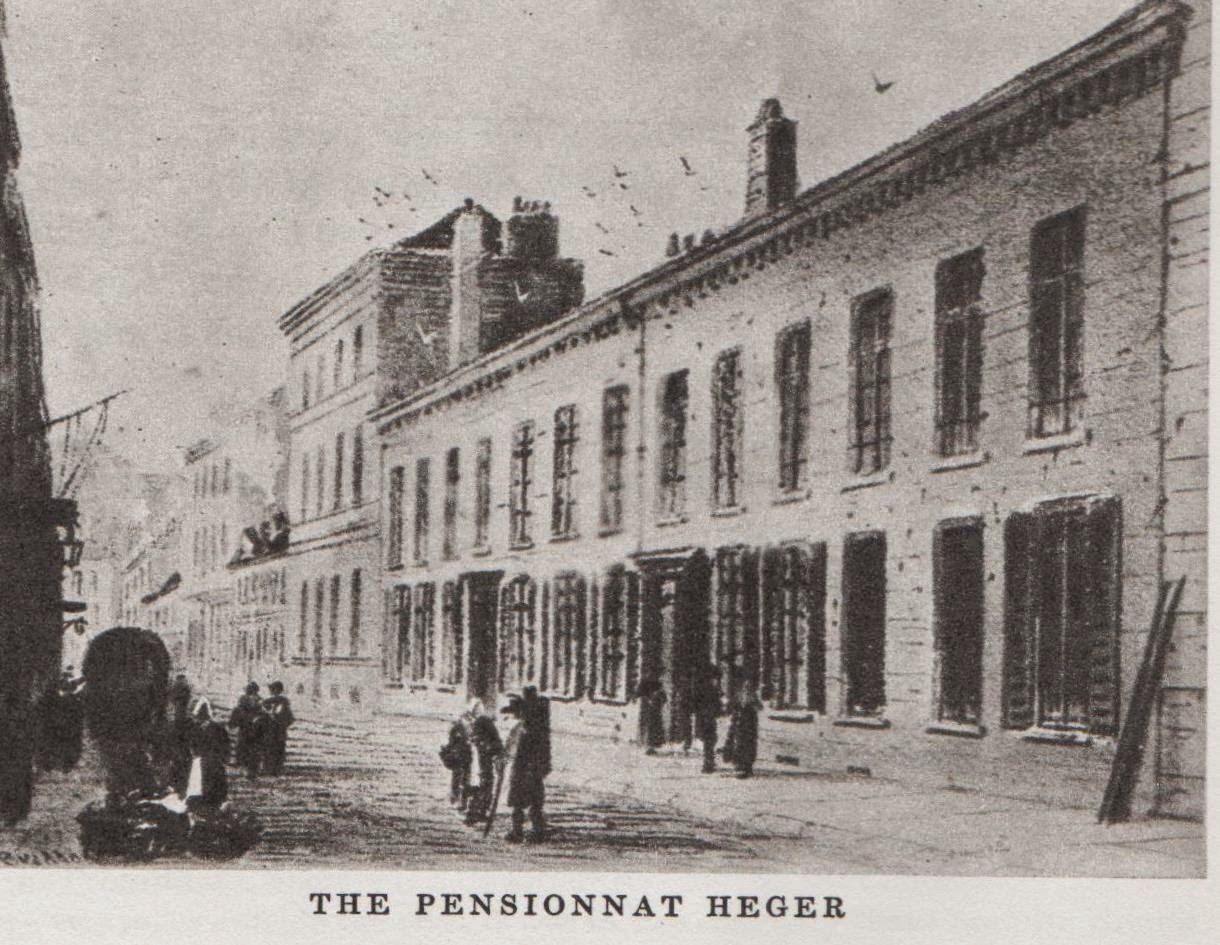 The start of a new year was a time for major change for the Brontës and it can be for us too. After the unpredictability of recent times, who knows what this new year will bring? All we can do is carpe diem until we can carpe diem no more! Seize the day and take actions today to do that thing you've always wanted to do. As a great philosopher said, enjoy yourself – it's later than you think. And I hope you will continue to enjoy my Brontë blogs – I'll have another one for you right here next Sunday. Thank you so much for all your support, kindness and encouragement throughout 2022, it meant the world to me. Let me finish by wishing you and your loved ones a very happy new year, and by leaving this image of Auld Lang Syne, a musical score copied by hand by Anne Brontë herself and surely the subject of communal sing-alongs in Haworth Parsonage on new year's long ago.