Time flies, as the Brontës knew only too well, and can you believe that we are just one week away from Christmas Day 2022? I hope that you have everything well in hand for the big day, and that you'll find time to relax with a good book in the week ahead. Whatever your beliefs, Christmas is surely a time for love, family and friendship – and it's friendship which is at the heart of today's third Anne-vent candle.
Roe Head school at Mirfield saw Charlotte, Emily (briefly) and Anne pass through its doors as pupils, and Charlotte also took up teaching duties there. Charlotte and Anne both excelled as pupils at the school, which was far removed from the deadly Cowan Bridge school which Charlotte and Emily had earlier attended, and which would be immortalised as the 'Lowood' of Jane Eyre. Both Charlotte and Anne received medals for their good conduct and performance whilst at Roe Head: here's the medal presented to Charlotte Brontë, on the front it says 'emulation' and on the reverse it says 'rewarded':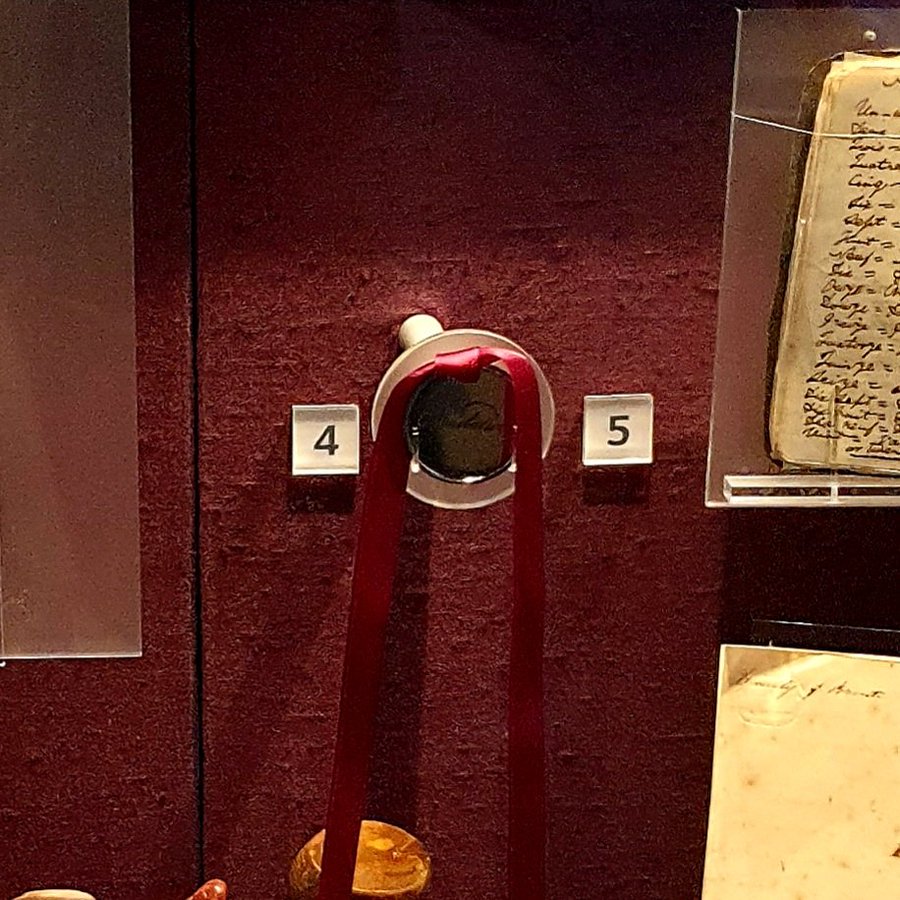 It is not this medal, however, which represents today's Anne Brontë-related Advent candle. It is this prayer book which belonged to Charlotte at Roe Head school, and which made what I think were rather misleading headlines recently when a faint pencil written inscription was discovered inside it: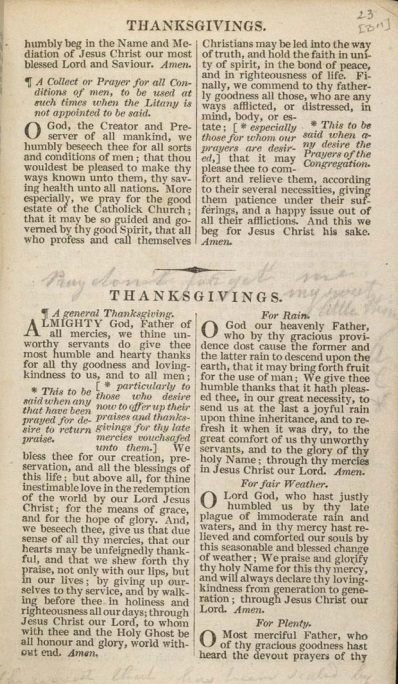 The inscription reads 'Pray don't forget my my sweet little thing, A.C.' and the speculation at the time was that it was from a pupil of Charlotte's named Ann Cook – which in turn brought speculation as to the propriety of their relationship. When we look just a little closer, however, it seems clear to me that this is a touching token of friendship intended for someone else who was a Roe Head pupil at the time: Anne Brontë.
The key to unlocking this mystery comes in a letter Ellen Nussey sent to Elizabeth Gaskell at the time she was writing her brilliant biography of Charlotte Brontë. Ellen writes:
"I enclose also a notice which dear C. made in a letter on the death of a young lady who was a pupil at the time Anne Brontë was at school, a pupil who attached herself to Anne B. and Anne bestowed upon her a great deal of quiet affection and genial notice. I think the young ladies friends would most probably be gratified if dear C.'s comments on the deceased were inserted. They are monied and influential people in the neighbourhood, some of them not very friendly to Currer Bell's emanations. Would they not be won by her kindly thought of one of their own?"
This wealthy young lady who died tragically young was Ann Cook, daughter of wealthy and influential Dewsbury industrialist Thomas Cook, and so it seems to me that the message in the prayerbook was not for Charlotte but another who young Ann Cook knew would use and see it – her beloved school friend Anne Brontë.
We have evidence that Charlotte Brontë made a friend whilst a teacher at the Pensionnat Heger in Brussels years later, although you might not think so from Charlotte's Belgium-based novels The Professor and Villette which hardly paint a glowing picture of Belgian schools and society. It is from a teacher known to us as Mademoiselle Sophie, and here it is translated from its original French – written 179 years ago yesterday: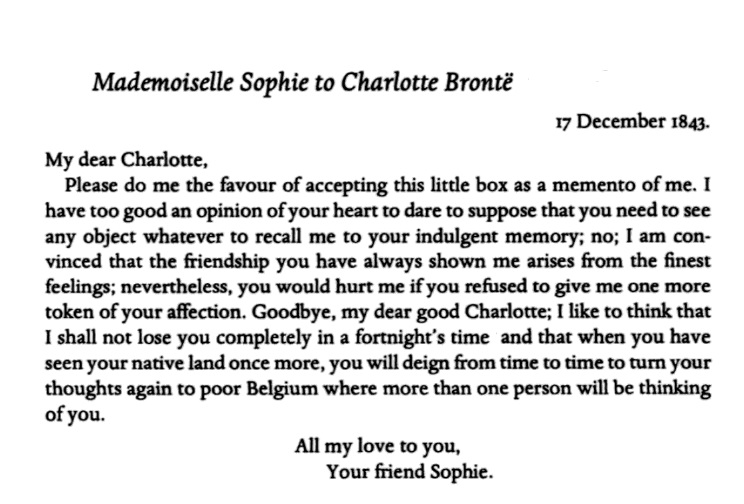 A pencilled inscription and a letter sent at Christmas-time, both testaments to friends that the Brontës made and therefore perfect representations of today's Advent candle. I have been closing these Advent posts with Anne Brontë poetry, but I choose instead today a poem inspired by Anne Brontë. Written by Emily Brontë it uses imagery especially prevalent at this time of year to look at the supremacy, in Emily's eyes, of friendship over love. Emily loved one person more than any other, her closest friend and younger sister Anne Brontë. I leave you with 'Love And Friendship' and hope to see you next Sunday, on Christmas Day itself, for another new Brontë blog post and the 'lighting' of our final Advent candle.