On this day we remember those who lost their lives in conflicts throughout history, and the loved ones they left behind. We remember recent conflicts and think of ongoing conflicts, such as the one scarring Ukraine at the moment as they fight for their very existence with far too little assistance from those in the west. We also remember the two great wars which dominated the twentieth century, and in today's post we'll take another look at a Brontë relative who served in the battlefields of France in World War One, and at a fascinating series of miniature portraits he possessed.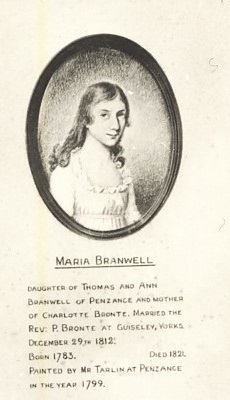 It may seem astonishing that a Brontë relative was amidst the hellish spectacle of the first world war, but that's exactly what Captain Arthur Branwell was. He was in fact just one generation away from Anne Brontë and her siblings, in other words he was a first cousin once removed. His father Thomas Brontë Branwell was the son of Charlotte Branwell (who had kept her surname by marrying her cousin Joseph Branwell). Thomas was given his middle name in tribute to his mother's elder sister who had married and taken the Brontë name. This sister was, of course, Maria Branwell who married Patrick Brontë on exactly the same 1812 day as Charlotte married Joseph.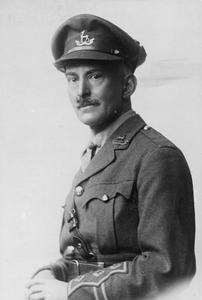 Marrying cousins was obviously a popular choice among the Branwells of Penzance, for Thomas Brontë Branwell travelled 400 miles from Cornwall to Haworth to propose to Charlotte Brontë in 1851. After being rebuffed he married a Sarah Hannah Jones. Their son kept up this family tradition by marrying a cousin – named Charlotte Brontë Jones! So we can see that whilst the father failed to marry a Charlotte Brontë the son succeeded in doing so, and it was this very son who found himself in the French theatre of World War One.
Born in 1862, Arthur had served in the Boer War and had actually retired from service by the time war was declared in 1914. Like many in this situation, however, Arthur Branwell was called out of retirement and at first took up a role as an officer in charge of training new recruits. Before long he was in France itself, where he was captured forever in this photograph of the officers of a group of the Royal Warwickshire Regiment. The photograph shows Captain Branwell with his supporting officers, two First and two Second Lieutenants.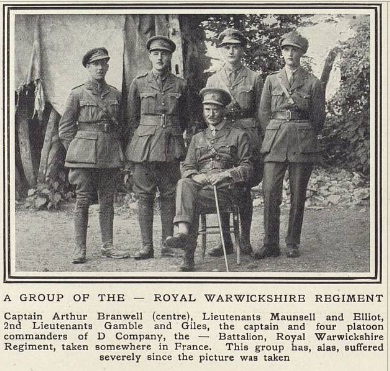 As the caption notes: 'This group has, alas, suffered severely since the picture was taken. In fact, Lieutenant Maunsell was killed in France, 2nd Lieutenant Gamble was killed in Palestine, Lieutenant Elliott and 2nd Lieutenant Gamble were killed at the Battle of the Somme. Only the seated figure, our Captain Branwell, survived the war and returned to England.
Back in a genteel, and well deserved, retirement, Arthur Branwell attracted the interest of Brontë fans and scholars, not only because he was the closest living relative of the Brontës but because he also possessed Brontë related items and memorabilia.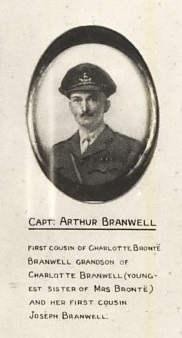 Brontë scholar C. Mabel Egerley visited Arthur Branwell in 1937; whilst Europe, as yet unwitting, moved ever closer to a new war, there was one item in particular that she wanted to see – and she detailed it in the following extract from her essay: 'Elizabeth Branwell: The "Small, Antiquated Lady"':
'Captain Arthur Branwell, the grandson of Joseph and Charlotte Branwell, possesses fourteen miniatures of members of his family. He has most kindly permitted me to see them.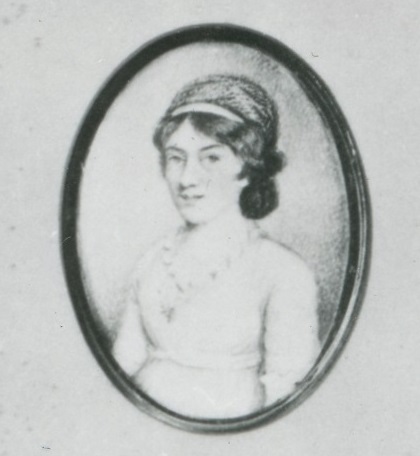 Six of these were painted in 1799 by J. Tonkin at Penzance. They are portraits of Mr. Thomas Branwell and his wife, and of his daughters, Jane, Elizabeth, Maria and Charlotte. In 1799, Elizabeth was 23 years of age. Her miniature shows a girl with soft brown hair, pale brown eyes, and a serious expression. She wears a pretty white dress with a posy of blue flowers at her breast. She resembles her father and sister Maria rather than her mother. In later life, a portrait of her shows still her likeness to Mrs. Brontë, and also to her sister Charlotte, and her cousin Joseph.
On the back of the miniature are the lines I have quoted at the beginning of this paper. They are in her niece's writing, namely Charlotte, the daughter of J. and C. Branwell, who had carefully preserved these miniatures.
Another of the miniatures is that of Lieutenant Thomas Branwell, R.N., an elder brother of Joseph. He looks a merry, bright, young fellow, with his fresh complexion, brown eyes, powdered hair, and his cocked hat and coat with gilt buttons. There is a strong resemblance between Branwell Brontë and him. Was there any romance associated with him when Elizabeth was one of the belles? Was that the reason of his aunt's special affection for Branwell, and for her bequest of the Japan Dressing Case with the initials" E. B." on it, a gift surely from an admirer of her youth? Young Thomas was born in 1778, and went down with his ship, H.M.S. St. George, when she foundered in the Baltic Sea on 24th December, 1811.'
We see then that there was an earlier military hero in the Branwell family too, and this tragic man may just have been the love of Aunt Branwell's life. Some of the miniatures seen by C. Mabel Egerley adorn this post, and here is the whole which was kept proudly by Captain Arthur Branwell. He was proud of his Brontë links, and we should all be proud that he, and so many others, served our country at its great times of need. Many of them paid the ultimate sacrifice; at the going down of the sun, and in the morning we will remember them.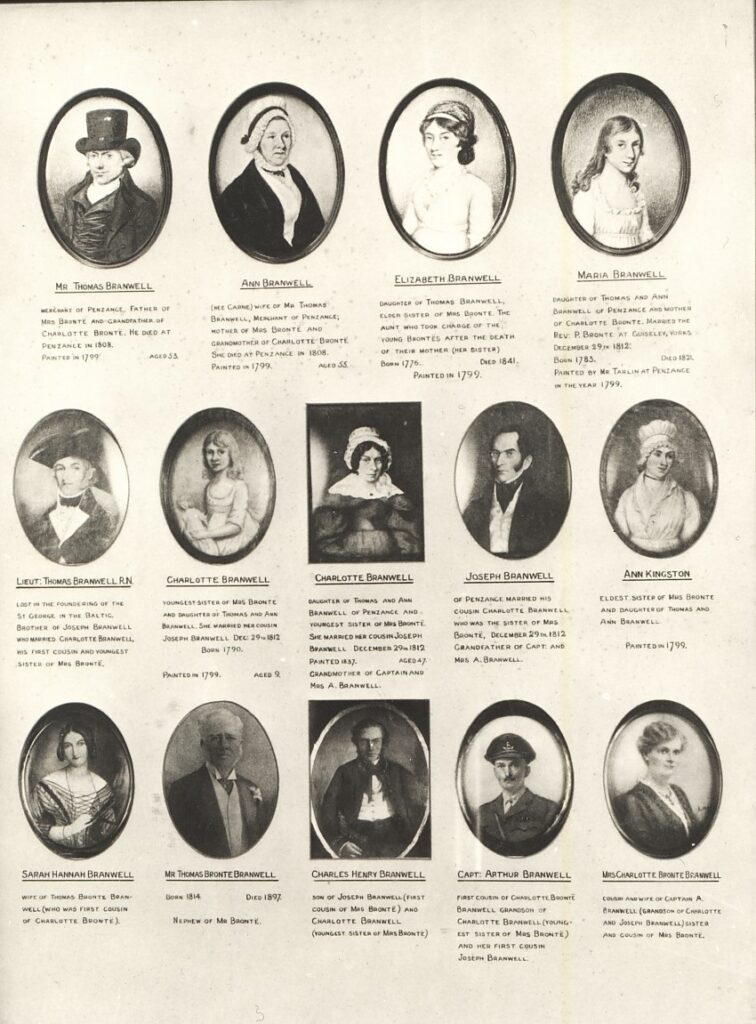 I hope to see you again next week for another new Brontë blog post.