This week in 1855 saw the passing of Charlotte Brontë and her burial within the Brontë family vault, beneath the stone floor of Haworth's St. Michael's and All Angels Church. A sad week, and of course our world today is full of sad news too, so let's not mourn Charlotte Brontë but instead celebrate all she did for us, and all she will continue to do for endless generations to come.
Charlotte was a witty and insightful letter writer, a fine poet and, of course, a novelist of the very highest calibre. She was also, although like the Yorkshirewoman she was she could be straight talking at times, a very kind hearted person, always caring for her friends, family and the downtrodden in society. She was also a fine artist, and we could all do with some colour in our lives at the moment. The sun is shining, spring is bursting into glorious life, and yet we are more or less confined to quarters. Today's post, then, is going to showcase some of Charlotte's beautiful artwork, along with some fitting words from her.
Anne Brontë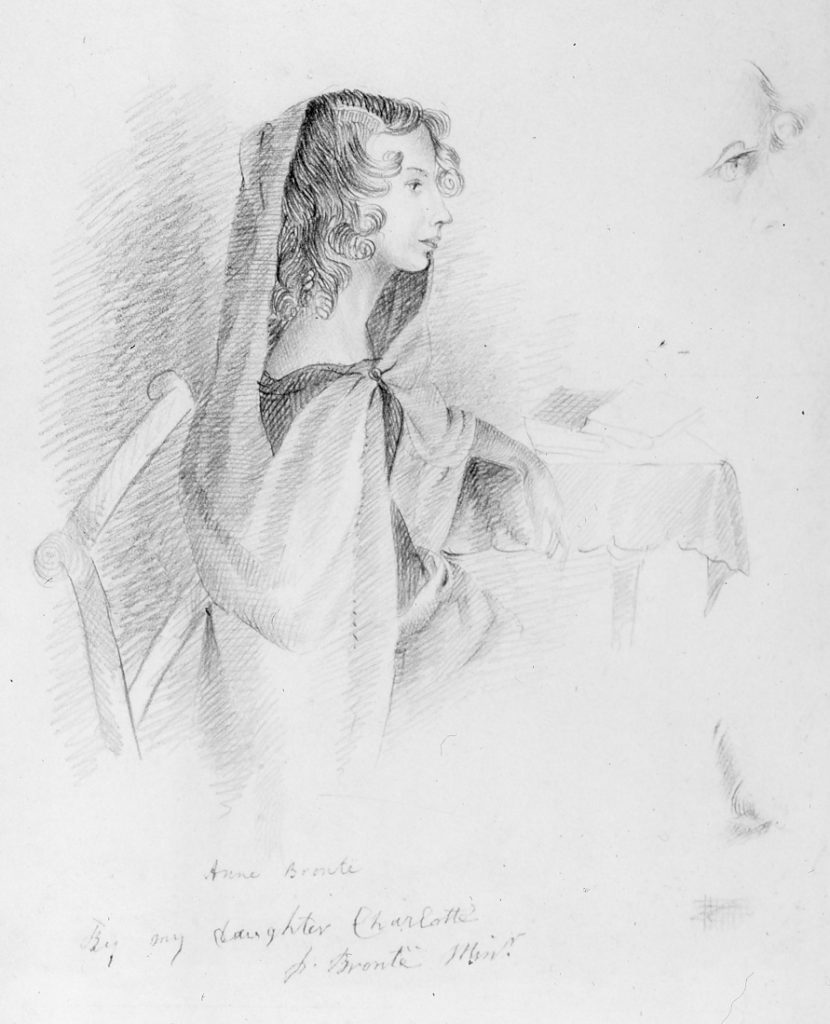 We of course start with one of the three (at least, as we shall see next) extant drawings that Charlotte made of her youngest sister.
"To her had not been denied the gift of beauty. It was not absolutely necessary to know her in order to like her; she was fair enough to please, even at the first view. Her shape suited her age: it was girlish, light, and pliant; every curve was neat, every limb proportionate; her face was expressive and gentle; her eyes were handsome, and gifted at times with a winning beam that stole into the heart, with a language that spoke softly to the affections. Her mouth was very pretty; she had a delicate skin, and a fine flow of brown hair, which she knew how to arrange with taste; curls became her, and she possessed them in picturesque profusion" (Shirley)
Drawing Of A Young Woman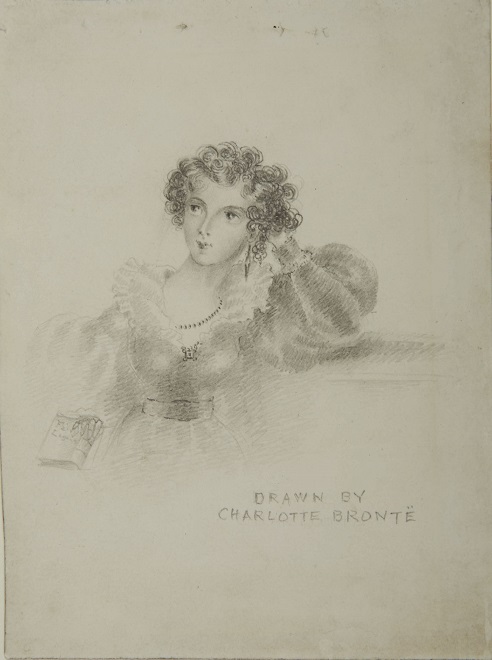 Teenage Charlotte drew this unnamed young woman, possibly a character from her invented world of Angria – but it also has similarities to the picture Charlotte drew of Anne wearing a Carnelian necklace.
"Rosamond Oliver kept her word in coming to visit me. Her call at the school was generally made in the course of her morning ride. She would canter up to the door on her pony, followed by a mounted livery servant. Anything more exquisite than her appearance, in her purple habit, with her Amazon's cap of black velvet placed gracefully above the long curls that kissed her cheek and floated to her shoulders, can scarcely be imagined: and it was thus she would enter the rustic building, and glide through the dazzled ranks of the village children. She generally came at the hour when Mr. Rivers was engaged in giving his daily catechising lesson. Keenly, I fear, did the eye of the visitress pierce the young pastor's heart." (Jane Eyre)
Ellen Nussey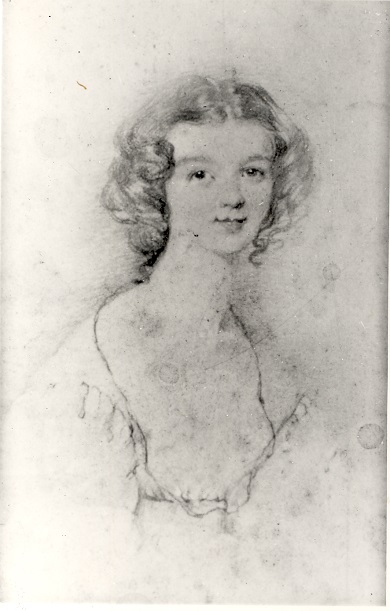 We have lots of photographs, and a painting, of Ellen in later years, but it's thanks to Charlotte that we have a picture of Ellen in her youth, a time when she was said to possess great beauty.
"If I like people it is my nature to tell them so and I am not afraid of offering incense to your vanity. It is from religion that you derive your chief charm and may its influence always preserve you as pure, as unassuming and as benevolent in thought and deed as you are now. What am I compared to you? I feel my own utter worthlessness when I make the comparison. I'm a very coarse common-place wretch!" (Letter from Charlotte Brontë to Ellen Nussey)
Woman In Leopard Fur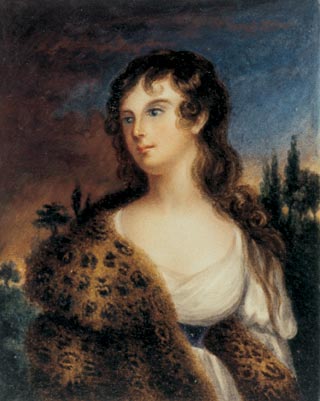 We return to Angria for Charlotte's painting of a woman in leopard fur. Take a close look, is it just me, or can we see faces in the fur? At the time Charlotte painted this she was writing her Angrian novella 'Caroline Vernon', so could this be her portrait of Northangerland's teenage daughter?
"This sweet blossom, this little fluttering, fickle, felicitous, fairy, this dear, delicious, delirious morsel, comes into my arms and announces her intention of marrying me straight away off-hand, whether I will or no!" (Caroline Vernon)
Cormorant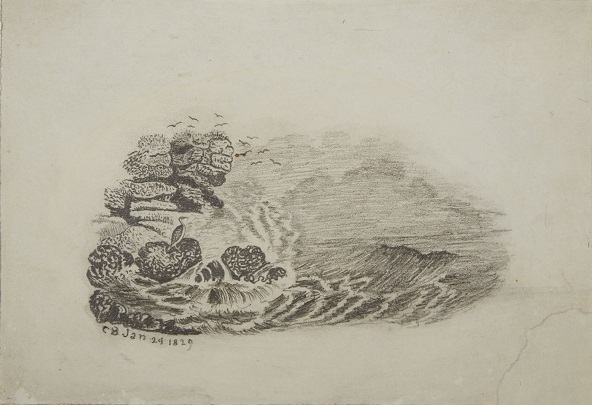 Charlotte's artistic talent showed itself from an early age. She and her sisters, and brother Branwell, were given art lessons, and were encouraged at first to copy the work of others – learning the draughtsmanship that is so essential to art. Aged just 12 Charlotte produced this fine copy of an illustration of a cormorant from Thomas Bewick's History Of British Birds. Both Charlotte and Anne loved this book (and we can imagine Emily did too) as it features in both The Tenant Of Wildfell Hall and here in Charlotte's first published novel:
"I returned to my book – Bewick's History of British Birds: the letterpress thereof I cared little for, generally speaking; and yet there were certain introductory pages that, child as I was, I could not pass quite as a blank. They were those which treat of the haunts of sea-fowl; of "the solitary rocks and promontories" by them only inhabited; of the coast of Norway, studded with isles from its southern extremity, the Lindeness, or Naze, to the North Cape… With Bewick on my knee, I was then happy: happy at least in my way." (Jane Eyre)
Wild Roses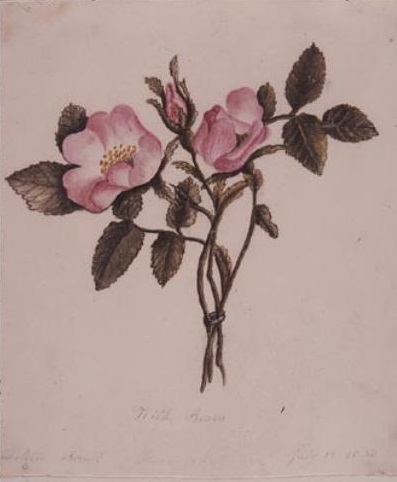 Perhaps Charlotte's greatest talent as an artist was drawing nature, particularly her carefully crafted and exquisitely coloured drawings of flowers – like these wild roses drawn in her youth.
"The day succeeding this remarkable Midsummer night, proved no common day. I do not mean that it brought signs in heaven above, or portents on the earth beneath; nor do I allude to meteorological phenomena, to storm, flood, or whirlwind. On the contrary: the sun rose jocund, with a July face. Morning decked her beauty with rubies, and so filled her lap with roses, that they fell from her in showers, making her path blush: the Hours woke fresh as nymphs, and emptying on the early hills their dew-vials, they stepped out dismantled of vapour: shadowless, azure, and glorious, they led the sun's steeds on a burning and unclouded course." (Villette)
Convolvulus, Crocus And Aster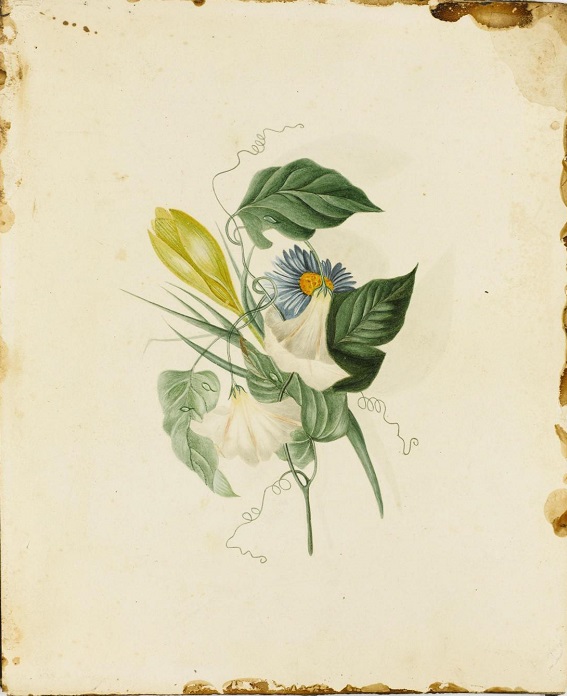 This watercolour is believed to have been painted while Charlotte was governess for the Sidgwick family at Stonegappe in 1839. Charlotte loved the flowers and grounds here, but as this letter points out she was not at liberty to enjoy them as much as she would have liked.
"The country, the house, and the grounds are, as I have said, divine. But, alack-a-day! there is such a thing as seeing all beautiful around you – pleasant woods, winding white paths, green lawns, and blue sunshiny sky – and not having a free moment or a free thought left to enjoy them in." (Letter from Charlotte Brontë to Emily Brontë)
Conwy Castle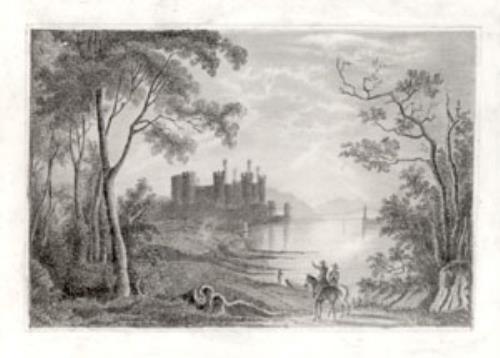 One of Charlotte's final artworks is her drawing of Conwy Castle, as she created it whilst on her 1854 honeymoon tour of Wales and Ireland with Arthur Bell Nicholls.
"I scribble one hasty line just to say that after a pleasant enough journey we have got safely to Conway. The evening is wet and wild – though the day was fair chiefly with some gleams of sunshine. However we are sheltered in a comfortable inn… On Monday I think we cross the channel, no more at present, yours faithfully and lovingly, C.B.N." (Letter from Charlotte Brontë to Ellen Nussey)
At last Charlotte Brontë had found love and happiness, just as she had found success and approbation as a writer. In many ways, Charlotte Brontë had a triumphant life, so let's remember that and say 'thank you Charlotte' for the beauty, adventure and wisdom she continues to gift to us. Stay happy and healthy, and I will see you here for another new Brontë post next week.