Today is Father's Day where we remember the men who did so much to smooth our path through life, whether they're still with us or not. The Telegraph and Argus newspaper of Bradford, the home city of the Brontë siblings of course, published an interesting and apt pre-Father's Day post yesterday about Patrick Brontë; unfortunately it repeated the base accusation in Elizabeth Gaskell's biography of Charlotte Brontë that he only fed his children potatoes. This is plainly untrue, and has been disproved by many people who knew the Brontës and by Emily and Anne Brontë themselves who in their diary papers write of a varied and nutritious diet.
Patrick Brontë was in many ways a unique individual and a unique and enlightened father, but there can be no doubt that without his influence we wouldn't have the Brontë books we love today. He allowed his daughters free reign to read what they would, including works by the likes of Shelley and Byron that would have been considered scandalous by many nineteenth century fathers. He also allowed them to develop their own characters and follow their own paths, and for that we can all be grateful.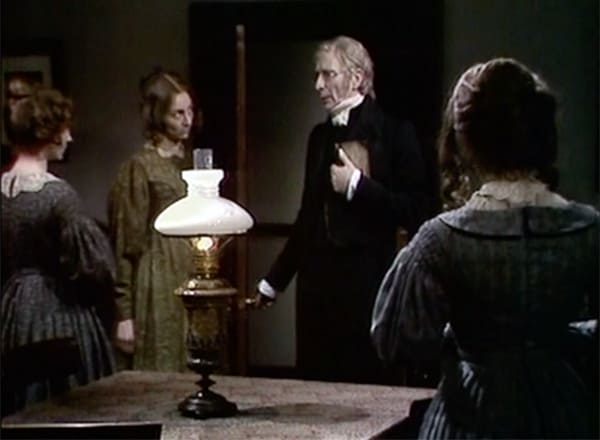 It seems strange then that fathers don't figure at all in the Brontë novels, except as a plot device to cause a dramatic change at their passing. Take a look at all seven Brontë novels (Agnes Grey, The Tenant of Wildfell Hall, Wuthering Heights, Jane Eyre, Shirley, Villette, The Professor) and in every single one the heroine is either fatherless or loses her father at an early stage of the book. This isn't any slight on Patrick, the sisters, great writers that they were of course, realised how effective this was as a plot device, meaning that their protagonists could go out into the world without any encumbrance, and without the familial chains that Victorian society would have expected to bind young women.
In Anne's poems too, the father is absent, explicitly so in two of them. I leave you with one of them now, and say Happy Father's Day to all fathers out there, and yet another Happy Sunday to every one of you! Here is Anne Brontë's poem accredited to her Gondal heroine Alexandrina Zenobia, 'Verses To A Child':
"O raise those eyes to me again
And smile again so joyously,
And fear not, love; it was not pain
Nor grief that drew these tears from me;
Beloved child, thou canst not tell
The thoughts that in my bosom dwell
Whene'er I look on thee!
Thou knowest not that a glance of thine
Can bring back long departed years
And that thy blue eyes' magic shine
Can overflow my own with tears,
And that each feature soft and fair
And every curl of golden hair,
Some sweet remembrance bears.
Just then thou didst recall to me
A distant long forgotten scene,
One smile, and one sweet word from thee
Dispelled the years that rolled between;
I was a little child again,
And every after joy and pain
Seemed never to have been.
Tall forest trees waved over me,
To hide me from the heat of day,
And by my side a child like thee
Among the summer flowerets lay.
He was thy sire, thou merry child.
Like thee he spoke, like thee he smiled,
Like thee he used to play.
O those were calm and happy days,
We loved each other fondly then;
But human love too soon decays,
And ours can never bloom again.
I never thought to see the day
When Florian's friendship would decay
Like those of colder men.
Now, Flora, thou hast but begun
To sail on life's deceitful sea,
O do not err as I have done,
For I have trusted foolishly;
The faith of every friend I loved
I never doubted till I proved
Their heart's inconstancy.
'Tis mournful to look back upon
Those long departed joys and cares,
But I will weep since thou alone
Art witness to my streaming tears.
This lingering love will not depart,
I cannot banish from my heart
The friend of childish years.
But though thy father loves me not,
Yet I shall still be loved by thee,
And though I am by him forgot,
Say wilt thou not remember me!
I will not cause thy heart to ache;
For thy regretted father's sake
I'll love and cherish thee."