Anne Brontë's masterpiece 'The Tenant Of Wildfell Hall' is perfectly suited to the little or big screen, with its dramatic scenes, characters you can't help but care for, romantic intrigue, and a classic villain on the fast road to self-destruction. And as I found out when I watched a 1996 version over the last week, the BBC have really done it proud.
The first thing to say is that it is an immaculate production: the cinematography and lighting are superb, and the theme music is really haunting as well. Thankfully, unlike some modern shows we can all think, there is also a complete absence of the mumbling that has blighted many recent dramas. It's a very fresh looking production, and it's hard to think that it is actually now twenty years old.
The casting is perfect too. In the title role of Helen is Tara Fitzgerald, probably known to many viewers now for her recent runs in Game Of Thrones and Silent Witness, but an actress I've loved ever since her early film appearances in Hear My Song and the great Brassed Off. She has the perfect combination of frailty and hardness, naivety and experience, and it's easy to see why both Huntingdon and Markham fall in love with her.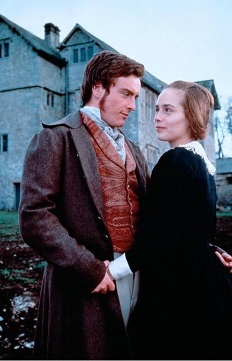 Toby Stephens plays Gilbert Markham, which can make Brontë fans do a double take as he was later to be a superb Rochester in an excellent BBC adaptation of Jane Eyre. I was particularly impressed by his Yorkshire accent, although it was noticeable that this television adaptation played down the bumbling fool aspect of his character that was emphasised by Anne.
The villain of the piece is of course Arthur Huntingdon, played by Rupert Graves. Once again, I think he is an excellent choice. He oozes menace and selfishness throughout, and this adaptation doesn't shy away from showing his violent, abusive nature.
All in all, this is pleasingly faithful to Anne Brontë's wonderful storyline, with one major difference. Towards the end of the novel, Markham comes to the misunderstanding that Helen is marrying someone else, and he rushes to see her but finding her at a wedding feels that he has arrived too late. In this adaptation, however, the roles are reversed. Helen returns to Wildfell and sees Markham at a wedding, becoming distraught at the thought that she has missed out on a chance of true love. The ending is the same, however, as the misunderstanding is revealed.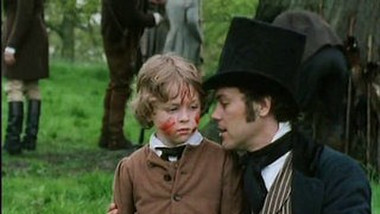 It also misses two of my favourite scenes from a novel that is full of them: Helen's admission that 'It is not enough to say that I no longer love my husband – I HATE him! I hate him – I hate him! But God have mercy on his miserable soul.' Also absent is the beautifully tender scene near the end when Markham and Helen finally declare their love for one another. She reaches out of the window and plucks a snow covered rose: 'This rose is not so fragrant as a summer flower, but it has stood through hardships none of them could bear: the cold rain of winter has sufficed to nourish it, and its faint sun to warm it; the bleak winds have not blanched it, or broken its stem, and the keen frost has not blighted it. Look, Gilbert, it is still fresh and blooming as a flower can be, with the cold snow even now on its petals – will you have it?'
I will certainly have this BBC adaptation as an annual viewing treat from now on, it was a thoroughly enjoyable serial that I think Anne Brontë would have approved of and been proud of. It even transposes a scene from Agnes Grey into the story, with young Arthur maltreating a bird. I bought it at the Brontë Parsonage Museum in Haworth, but you can also pick up a copy on Amazon. I do wish the BBC would also make an Agnes Grey adaptation, but I am looking forward to seeing their new Brontë drama coming later this year. They're building a complete replica of the Brontë Parsonage and the parish church on the moors beyond Haworth. Here's a picture of how it's coming along, and I await its progress with interest.