Anne Brontë was a brilliant writer and a kind, caring woman – and she was also a deeply contemplative person. Charlotte Brontë alluded to this in her biographical notice of her youngest sister, when she wrote: "Hers was naturally a sensitive, reserved, and dejected nature; what she saw sank very deeply into her mind; it did her harm. She brooded over it."
Whether Anne's contemplative nature really did her harm is open to question, of course, but in today's post we look at a poem written by Anne Brontë almost exactly 178 years ago that demonstrates her powerful thinking – featured in the début Brontë book Poems by Currer, Ellis and Acton Bell it is entitled 'If This Be All.'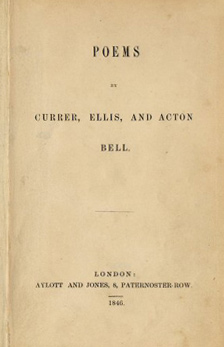 "O GOD! if this indeed be all
That Life can show to me;
If on my aching brow may fall
No freshening dew from Thee, –
If with no brighter light than this
The lamp of hope may glow,
And I may only dream of bliss,
And wake to weary woe;
If friendship's solace must decay,
When other joys are gone,
And love must keep so far away,
While I go wandering on, –
Wandering and toiling without gain,
The slave of others' will,
With constant care, and frequent pain,
Despised, forgotten still;
Grieving to look on vice and sin,
Yet powerless to quell
The silent current from within,
The outward torrent's swell:
While all the good I would impart,
The feelings I would share,
Are driven backward to my heart,
And turned to wormwood, there;
If clouds must ever keep from sight
The glories of the Sun,
And I must suffer Winter's blight,
Ere Summer is begun;
If Life must be so full of care,
Then call me soon to Thee;
Or give me strength enough to bear
My load of misery."
This poem was written by Anne Brontë on the 20th of May 1845, so what was causing her gloomy state of mind at this time? Just three weeks later, on June 11th, Anne resigned from her position as governess to the Robinsons of Thorp Green Hall (that's it at the top of this post, it has since been demolished). Less than two months later, without Anne to watch over him, Branwell Brontë was dismissed from his position as tutor there. It's not difficult to perceive that it was the events Anne was witnessing at Thorp Green, where Branwell was conducting a liaison with mistress of the house Lydia Robinson, that forced her resignation and which forced her to seek refuge in poetry.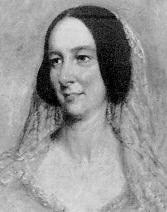 This indeed is all for my blog post for this week. Sorry for its late nature – I've been working all weekend long at events to raise money for the cats in need at The Sheffield Cats Shelter. It's a cause close to my heart and one I think Anne and the Brontës would have approved of. If you'd like to help these beautiful kitties find better lives and new homes, you can donate to the charity at this link: https://thesheffieldcatsshelter.enthuse.com/donateonce#!/
I hope to see you next week, at the usual earlier time, for another new Brontë blog post.