This week I finally paid my first visit of 2022 to the Brontë Parsonage Museum in Haworth. Their latest exhibition is entitled 'Defying Expectations' and it takes a particular look at clothing and accessories used by the Brontë sisters, as well as showcasing some old favourite items from the museum's extensive collections, and some items which are less frequently seen. Despite it's title this exhibition very much lived up to my high expectations, so in today's post I bring you five treasures from this year's parsonage collection!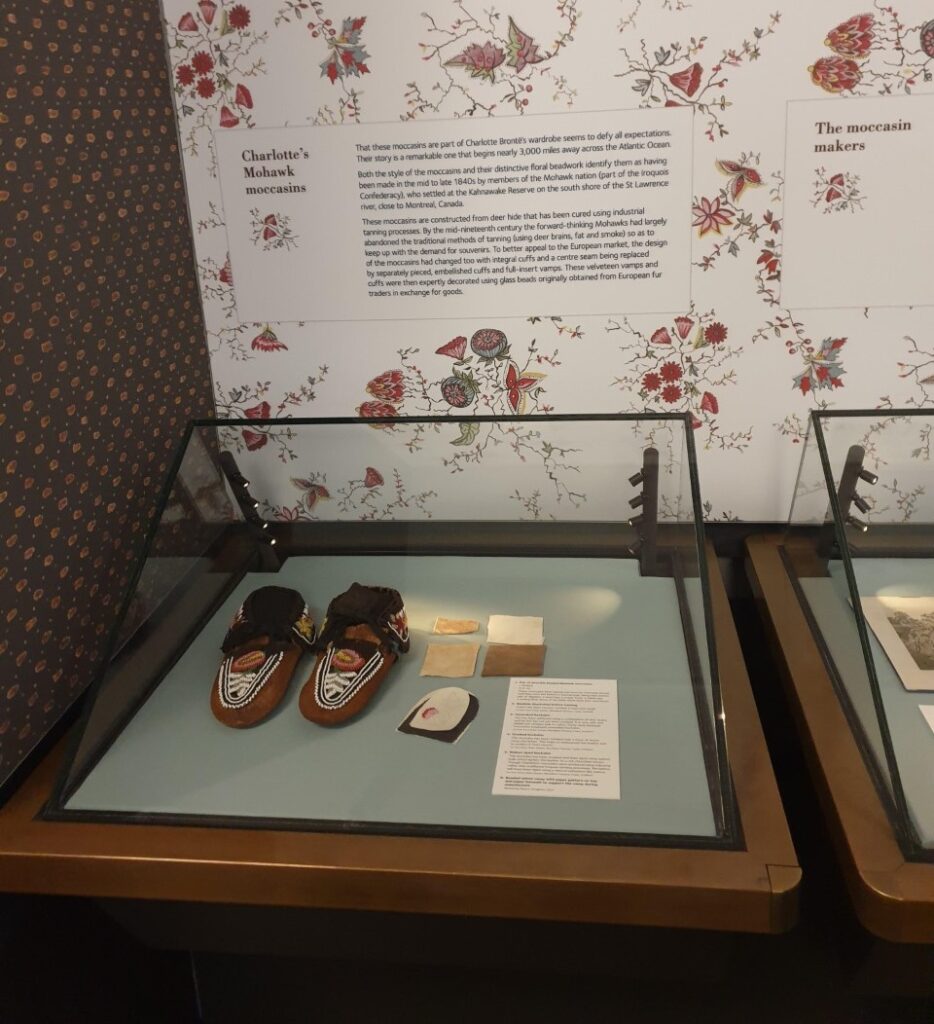 Mohawk Moccasin Slippers
Do you like putting on a favourite pair of slippers and settling down beside the fire with a good book? I do, and I'm sure that Charlotte Brontë did too – and what a spectacular pair of slippers she wore!
Expert analysis has been able to pinpoint the precise location that these moccasin slippers came from. They were made by members of the Mohawk tribe to the south of St. Lawrence River in Canada. From on early age, the Brontës loved to hear news of exploration and discovery, and the tales of adventure these lands formed in their minds inspired much of their youthful writing. It's easy to imagine, then, how excited Charlotte would have been to receive a pair of genuine moccasins all the way from North America!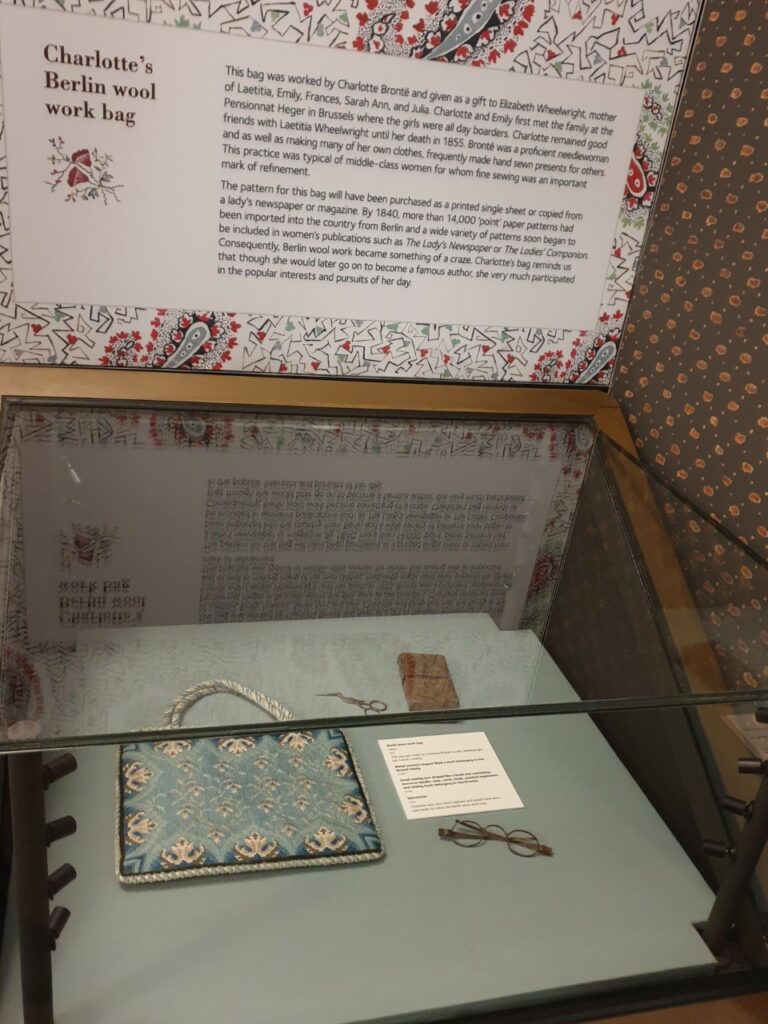 Berlin Work Bag
The Mohawk moccasin slippers were undoubtedly a gift to Charlotte Brontë from a well wisher, but she was also capable of making her own clothing and accessories – as we see from this rather fine Berlin work bag that she made from a pattern contained in a magazine.
The most popular patterns came from the city of Berlin, and so this style came to be known as a Berlin bag. It would have been used to hold the needlework and sewing equipment which was so important to all but the wealthiest of families at this time, and Charlotte obviously knew how to put them to good use. Even so, it must have taken some time to perfect the pattern and stitching on show here (especially when we consider Charlotte's myopia which was so severe that she was advised to give up playing piano because of the strain it placed on her eyes). It's testimony to the strength of her feelings for her friend Laetitia Wheelwright, then, that Charlotte gifted it to the Wheelwright family. Laetitia, who first met Charlotte at the Pensionnat Heger in Brussels, lived until 1911.
Also on show in this cabinet are a pair of Charlotte's glasses and a lovely pair of work (needlework) scissors with handles shaped like a stork.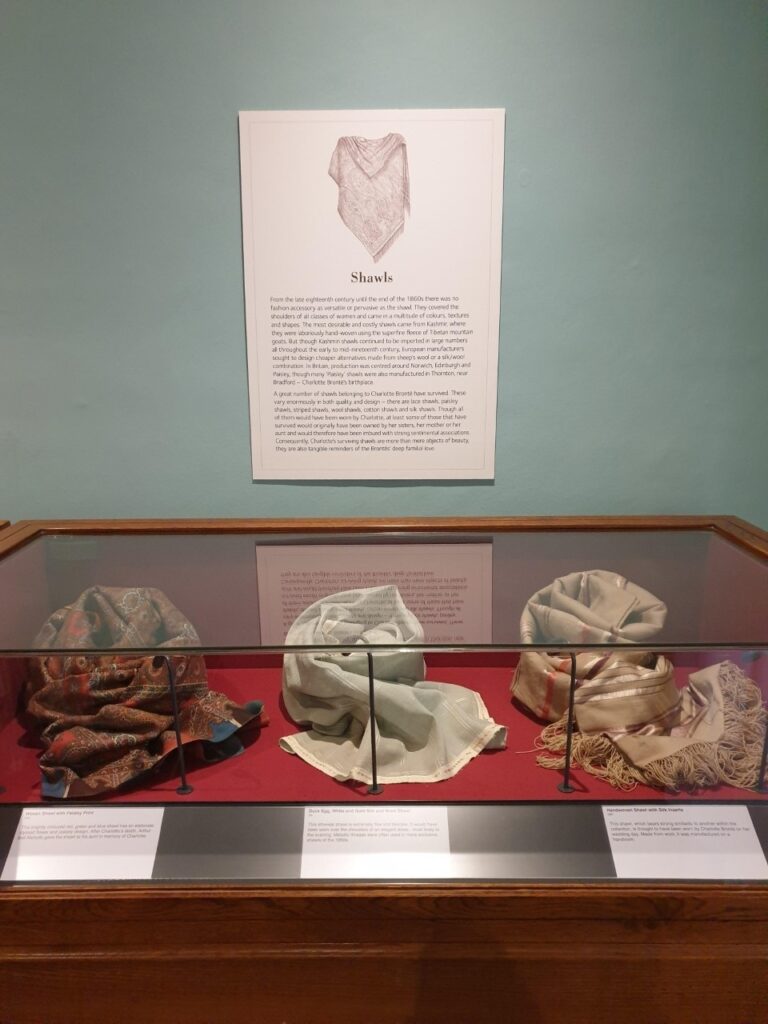 Shawls
When we think of fashion from the time of the Brontës two items immediately spring to mind: bonnets and shawls (the ultra restrictive corsets came later in the century, although corsetry was starting to take hold even at this time). Once again there's a display of Brontë bonnets on show in the museum, but there's also this lovely display of shawls which are seen rather less often.
Shawls were an essential, not to say sensible, item of clothing in the moorside village of Haworth, where the weather could often be cold and windy: wuthering, you might say. There are three splendid shawls here, but my very favourite is the one on the right with the shiny silk inserts. Why? This is the very shawl that Charlotte Brontë wore on her wedding day in 1854.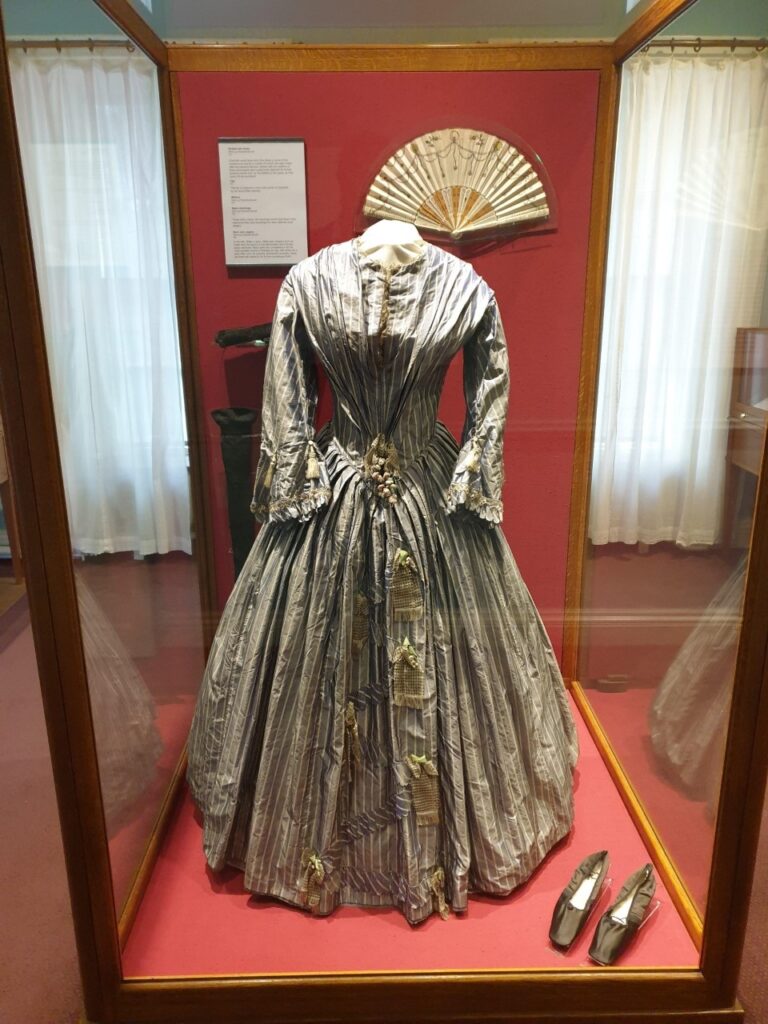 Luxurious Dress
Perhaps the greatest item of all, among many great items, in this year's exhibition is this dress. Charlotte's Room, as the museum hails it, always contains a Brontë dress within a carefully sealed glass case. They are always very moving, but this year the dress is particularly spectacular – and it really does defy general expectations around Charlotte Brontë's apparel.
We often think of Charlotte Brontë as rather dowdy, and she may have been so by necessity throughout much of her life. The Brontës were not wealthy, and had to repair, improvise and recycle much of their clothing. By the end of Charlotte's life, however, things had changed dramatically for her. The royalties she earned from her writing were far greater than anything she could have hoped to earn from careers as a teacher or governess, and the legacy she left in 1855 was worth more than a million pounds in today's money.
This dress dates from this period of Charlotte's life. It was one where she often had to mix in high society, difficult as that must have been for someone as shy as she was, and she dressed accordingly. This striped silk dress was one of three found holed up behind a wall during renovations at the parsonage in 1936. It has been a cause of speculation for some time, but the museum has finally proven that it did belong to Charlotte meaning that it can finally go on display. With floral adornments it's an item of real beauty, and evidence of the elevation in status and wealth that Charlotte's literary genius finally brought her. Also displayed her are an ornate fan, and a pair of black stockings worn by Charlotte Brontë.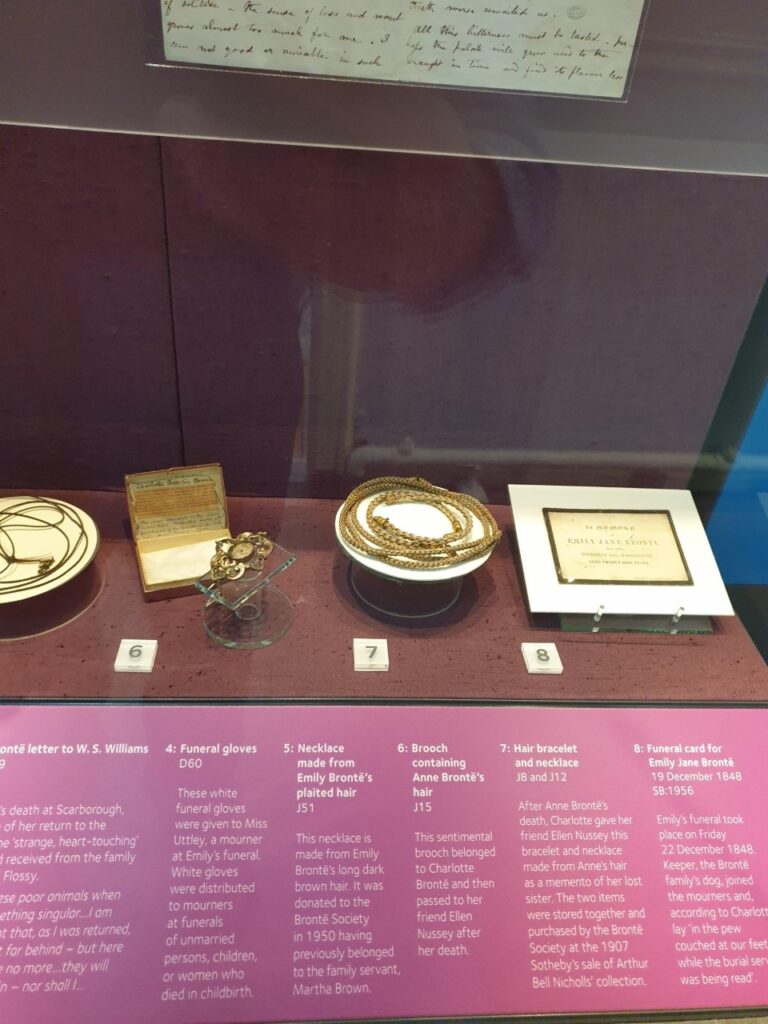 Hair Brooch and Bracelet
From triumph to tragedy, this exhibition has it all. After witnessing the fruits of Charlotte Brontë's success we now come to one of the great tragedies of her life. In this week in 1849 Charlotte was still travelling along the east coast of Yorkshire, looking for 'lonely places' as she said in a letter to W. S. Williams, in the aftermath of the death of her sister Anne.
One of the tasks that awaited Charlotte, and which may seem rather macabre to our modern world, was to turn Anne's hair into jewellery. In the days before photography was widely available, these keepsakes were often the only tangible thing which people had to remember their lost loved ones by. Here we see a beautiful brooch containing a lock of Anne's hair; it was obviously of special value to Charlotte because she left it to her best friend Ellen Nussey in her will. Alongside the ring we find a necklace made from braided strands of Anne's hair taken after her passing.
Once again, the Brontë Parsonage Museum has curated a wonderful exhibition, where items both large and small can take your breath away and make you feel closer to the Brontës themselves. If you can get to Haworth at some point this year I highly recommend that you visit the Defying Expectations exhibition – the items shown here are just a small portion of the treasures on display. If you've already been, please do let me know your thoughts. I look forward to seeing you next week for another new Brontë blog post.