We have now entered September, although much of August has felt like December here in chilly Yorkshire. September 1845 was a pivotal month in the Brontë story for it marked a chance, or possibly not so chance, discovery that changed the course of the Brontë's lives, and the world of literature forever. We'll let Charlotte tell the story, in her 1850 biographical notice of Ellis and Acton Bell:
'One day, in the autumn of 1845, I accidentally lighted on a manuscript volume of verse in my sister Emily's handwriting. Of course, I was not surprised, knowing that she could and did write verse: I looked it over, and something more than surprise seized me, – a deep conviction that these were not common effusions, nor at all like the poetry women generally write. I thought them condensed and terse, vigorous and genuine. To my ear, they also had a peculiar music – wild, melancholy, and elevating.
My sister Emily was not a person of demonstrative character, nor one, on the recesses of whose mind and feelings, even those nearest and dearest to her could, with impunity, intrude, unlicensed; it took hours to reconcile her to the discovery I had made, and days to persuade her that such poems merited publication. I knew, however, that a mind like hers could not be without some latent spark of honourable ambition, and refused to be discouraged in my attempts to fan that spark to flame.'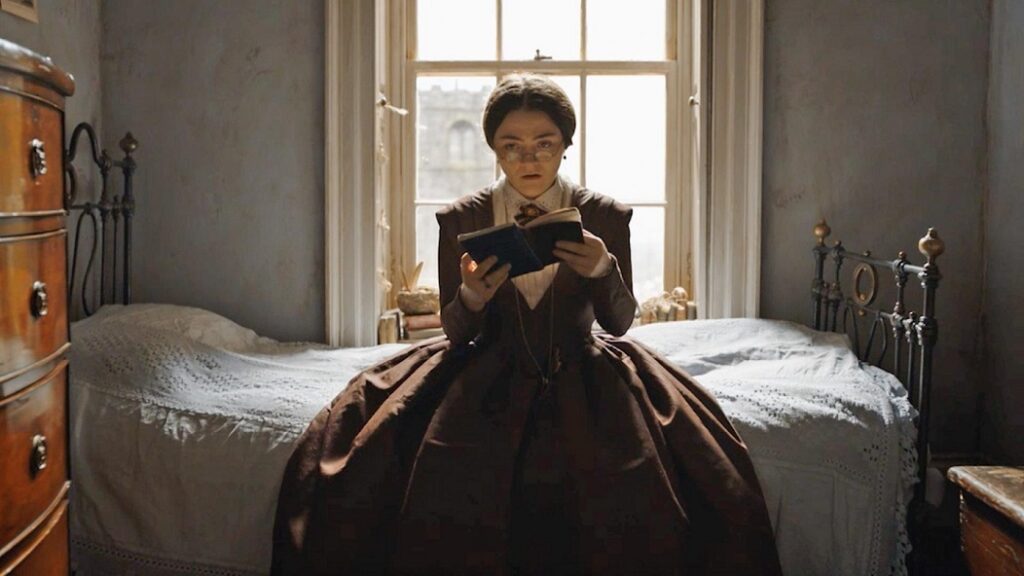 Charlotte had found not Emily's usual poetry collection but her secret poetry manuscript, the one which contained her most powerful verse, the poems dearest to her. Reading between the lines we can see that Emily was furious at the discovery, at her innermost feelings being laid bare. Anyone who has watched 'To Walk Invisible' will remember the portrayal of that scene.
Eventually however, and with the help of Anne who produced her own poetry, Emily was persuaded to let the three sisters embark on a new adventure: they would approach publishers with their own jointly penned volume of verse. The result was the very first Brontë book: Poems by Currer, Ellis and Acton Bell. Whilst that was far from a success it did receive positive reviews, and the encouraged sisters then turned their hands to prose – the rest is history!
We can imagine Charlotte's feelings of wonderment as she encountered that first page and then carried on reading, and now we can see exactly what those first words were and, thanks to Sotheby's, see them ourselves:
'Loud without the wind was roaring
Through the waned autumnal sky,
Drenching wet, the cold rain pouring
Spoke of stormy winters nigh.'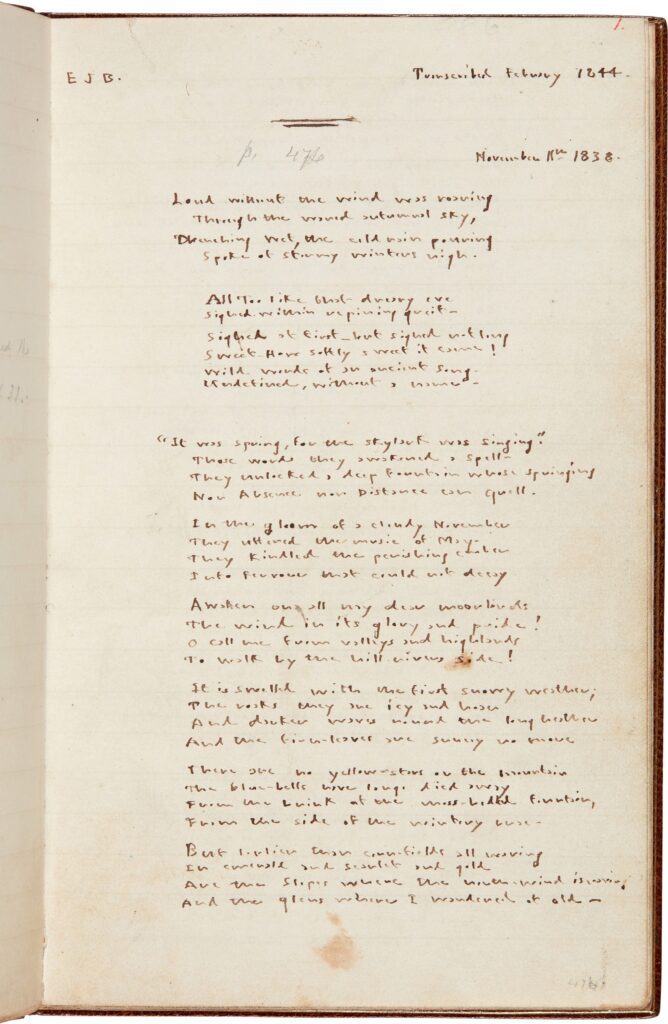 Here we have, in Emily Brontë's own hand, the very words Charlotte Brontë looked upon on that September day 166 years ago. We also know exactly when they date from, for Emily has kindly dated them for us; many of the poems in this book come with a date of composition, in this case November 11th 1838 when Emily was 20 years old, but we also see at the head of this first page that Emily transcribed this and other poems into it in February 1844 – Emily had kept this book and its contents a secret from Charlotte for around a year and a half.
This first poem is 17 stanzas long, ending:
'Well, well the sad minutes are moving
Though loaded with trouble and pain –
And sometimes the loved and the loving
Shall meet on the mountains again -'
A powerful start, but it was followed by many of the poems that have earned Emily Brontë her rightful place as one of the greatest poets of the nineteenth century. This history-making manuscript is part of the Honresfield Library collection that was initially due to be auctioned by Sotheby's in July; thankfully, although the process is still ongoing, it seems certain now that they, and other treasures by the likes of Jane Austen and Sir Walter Scott, will be saved for the nation.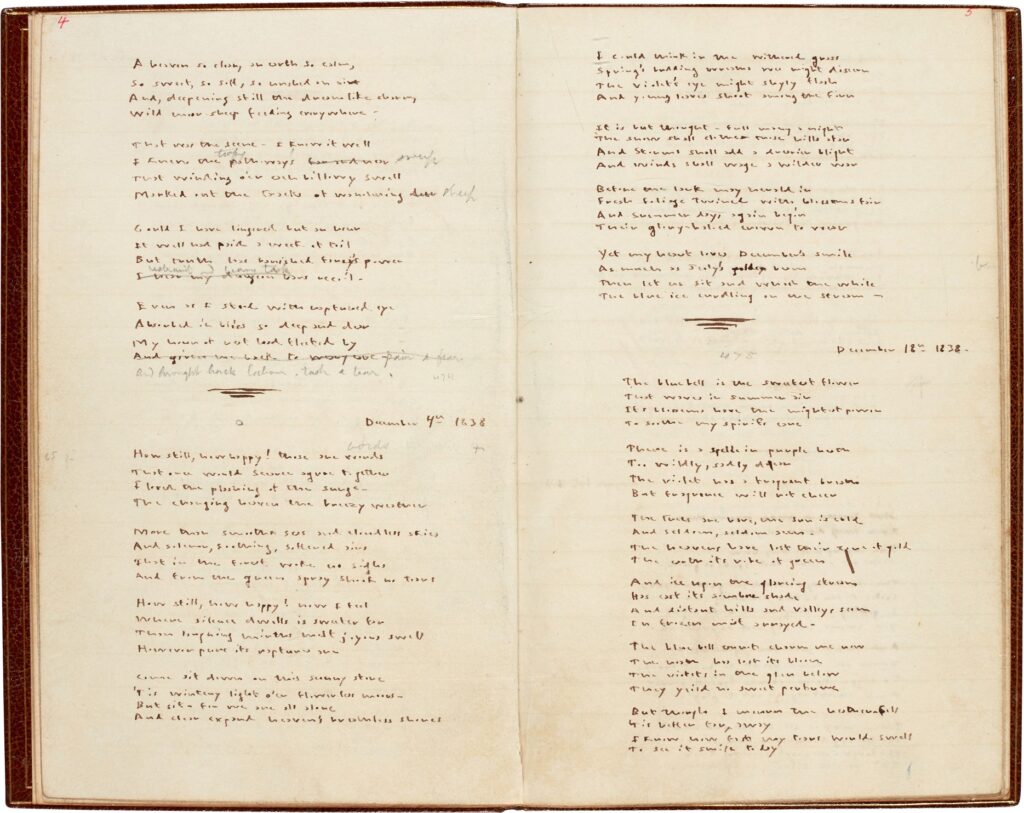 Many of Emily's verses, as Charlotte stated earlier, are powerful, terse and vigorous, but one of my favourites is a rather sweet, gentle moving poem. On page 13 of Emily's secret poetry manuscript was the untitled verse later called 'Love and Friendship', and which always makes me think of the close friendship that she and Anne Brontë enjoyed.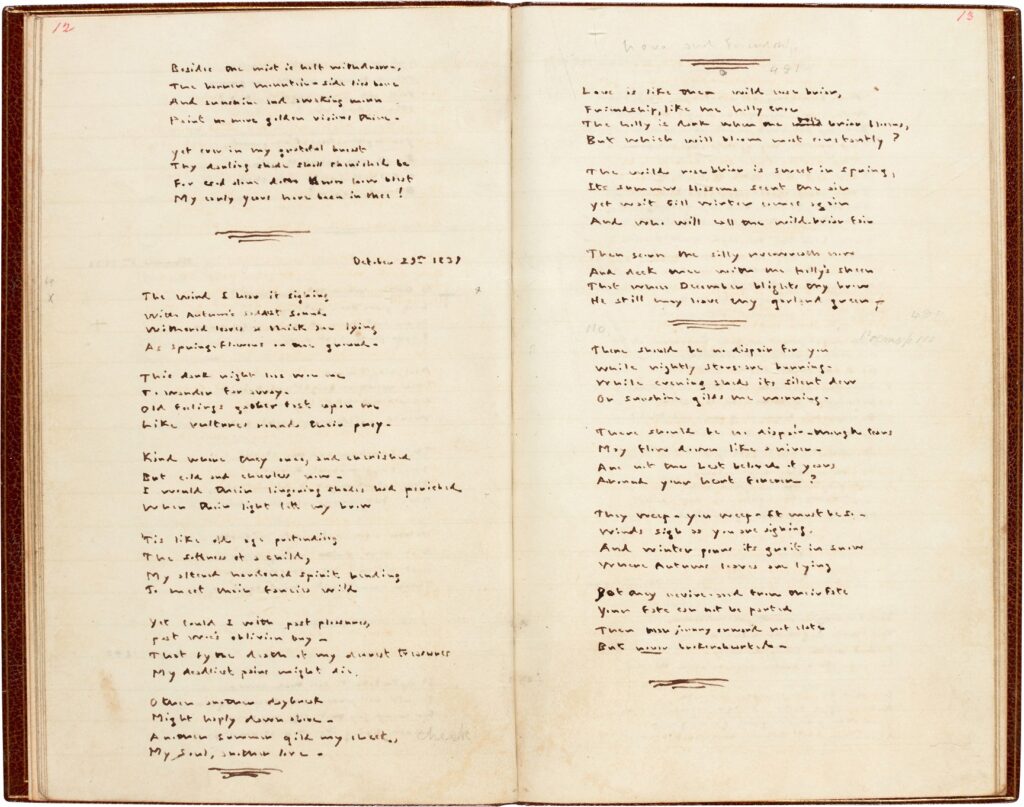 Poetry was one of Emily's great loves, and she was supremely talented at its composition. The discovery of her secret manuscript was deeply hurtful to this intensely private woman, but we get evidence that the trauma caused by the discovery was a long lasting one.
At the time of Charlotte's discovery of the manuscript the final poem within it was 'How beautiful the earth is still', composed in June 1845. After the discovery just one more poem was added, composed at the start of January 1846, presumably to be added in time for their Currer, Ellis and Acton Bell collection to be sent to prospective publishers.
It did make that book, but after that in the final two and a half years of Emily's life she wrote only one further poem, 'Why ask to know the date – the clime?', although she also reworked this slightly as 'Why ask to know what date what clime'. It seems that the discovery of Emily's secret poetry manuscript had at a stroke destroyed her ability to compose verse and obtain pleasure from it, especially after the publication of the book had laid her innermost thoughts before the world at large. The final poem in the manuscript, however, is not a bad way to end a collection: 'No Coward Soul Is Mine':
Poetry will always have the power to raise the spirits and make the world seem a better place, especially when written by a masterful poet such as Emily Brontë. I hope you can join me next Sunday, for another new Brontë blog post.