Today is a very special day in the Brontë calendar, for Anne Brontë was born on the 17th January 1820; that make Anne 201 years old today – Happy Birthday Anne!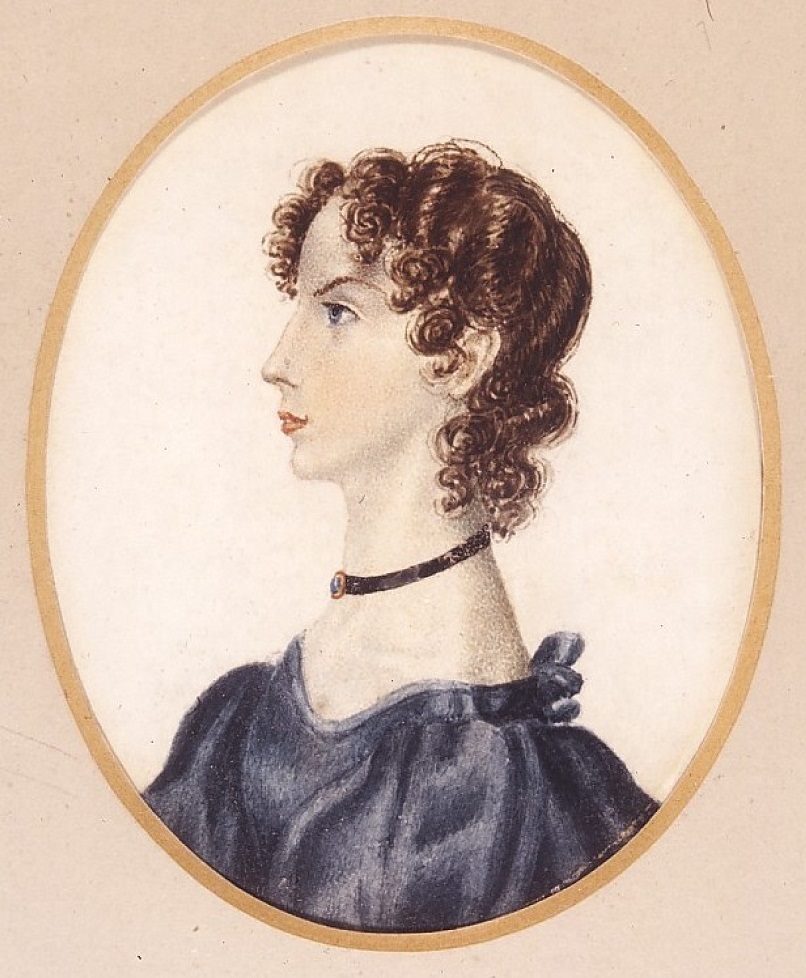 It's fair to say that Anne's big 200th birthday celebration year didn't go as anyone expected or wanted, but hopefully we will still get the chance to celebrate Anne in a proper and fitting way once we have finally defeated this pandemic. We surely live in a very different world to just a year ago, so how different is it from the one that Anne was born into by the fireside of Thornton Parsonage near Bradford?
Some people like to buy newspapers from the day they were born, or receive cards bearing news from that natal date. In that spirit I've delved into the archives to find newspapers published on that exact date, 17th January 1820, and curated stories from them. Before we take a look at them, let's turn to a news source a little closer to the Brontë home. Elizabeth Firth lived in Kipping House in Thornton; she became a firm friend of the Brontës, and was eventually made godmother to Anne. It is in her diary that we get our very first glimpse of Anne Brontë, and confirmation of the day she was born. Elizabeth's diary entry for 17th January 1820 reads: 'Anne Brontë born, the other children spent the day here.'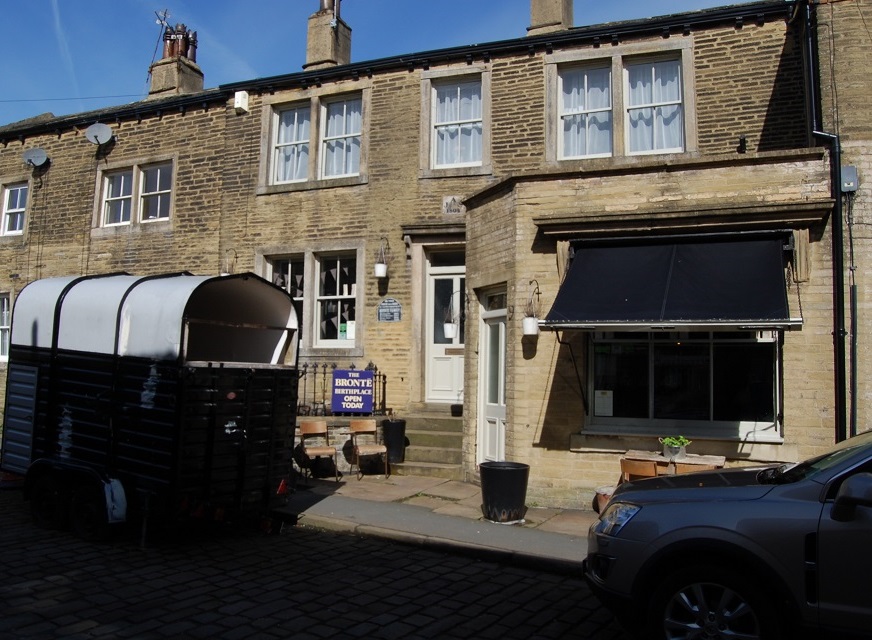 We can picture the five young Brontës making their way to Kipping House through the snow on this momentous day. How do we know it was snowing? It's in the papers, of course, and in fact the country as a whole had been suffering from unusually cold weather: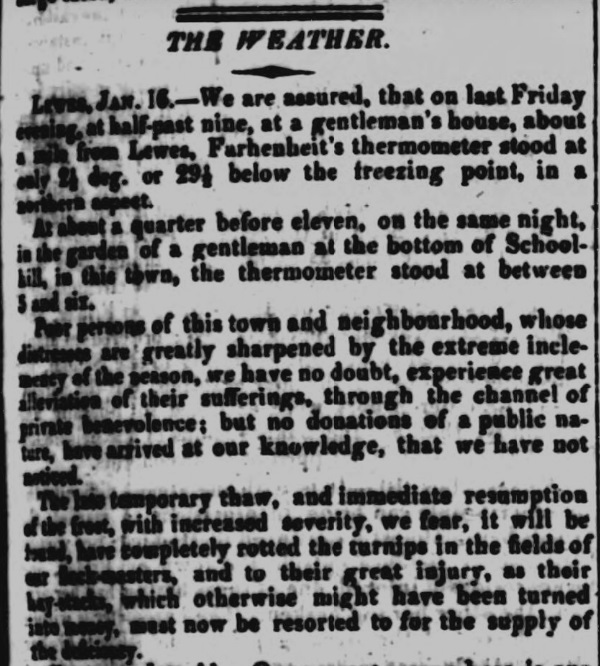 The temperature has been recorded at two and a half degrees, that's Fahrenheit of course, which equates to -16 degrees Celsius or Centigrade (why does it have two names?). It had been like that since the start of the year, and rivers and canals had frozen, causing great disruption to trade. In those days before central heating and modern clothing, it can't have been pleasant.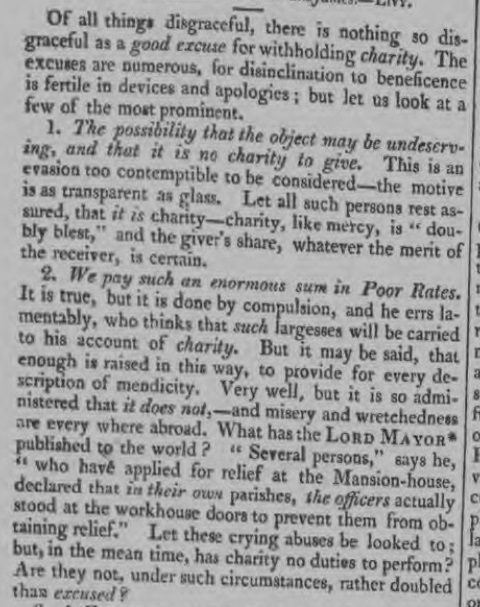 The weather report in The Statesman noted especial concern for the poor of the nation at this ferociously cold time, and this was picked up by many papers. There was a large demand for food and relief to be given to the poor, but the government, and some of the richer people of the country, seemed less than willing to help. This correspondent who signed his name "Homo Sum" (meaning "I am a man") declared that 'there is nothing so disgraceful as a good excuse to withhold charity'. He also takes direct aim at those in positions of authority who say that some of the claimants may be fraudulent or undeserving, or that they should be covered by the Poor Rate.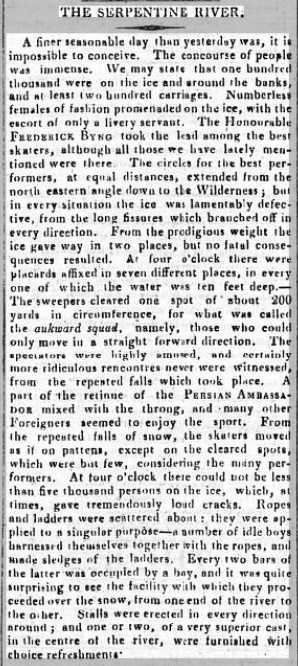 For the poor, this harsh winter was a thing of terror, but the upper classes were having a grand old time, skating on the frozen Serpentine lake within London's Hyde Park. It's reported that a hundred thousand people were on the ice, led by the dashing Frederick Byng.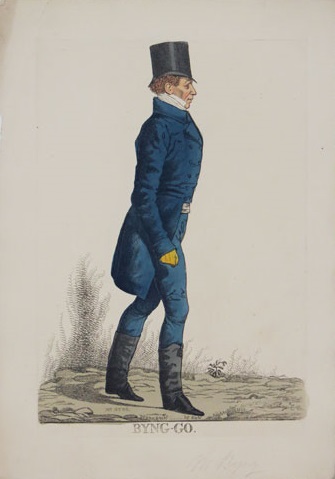 Byng was the fifth son of Viscount Torrington and had become a favourite of the scandal sheets of the time. He was nicknamed 'Poodle' and was said to have had many conquests, mainly by himself. I wonder what Lady Whistledown of 'Bridgerton' would have made of him? With so many people on the Serpentine ice it's little wonder that the ice gave way in two places, but thankfully it's reported that no fatalities took place, and the skating carried on uninterrupted.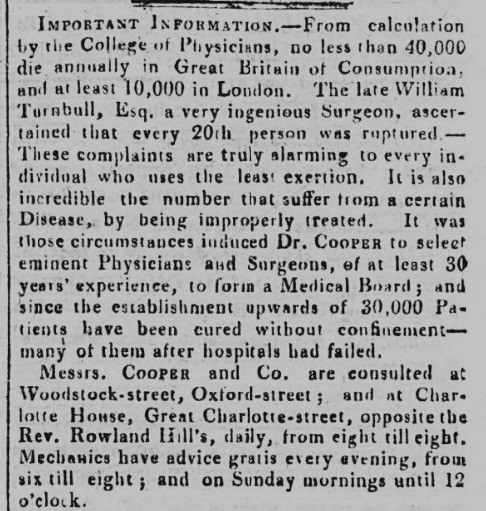 Falling through ice was far from the only threat in January 1820, as this advert shows. Poignantly for an ad published on the day of Anne Brontë's birth it reveals that 40,000 die annually of consumption (tuberculosis), with a quarter of the fatalities coming in London. The figures for both are likely to have been much higher in reality, and it's also likely that Anne's visit to London in the summer of 1848 at least partially influenced her own death from consumption less than a year later.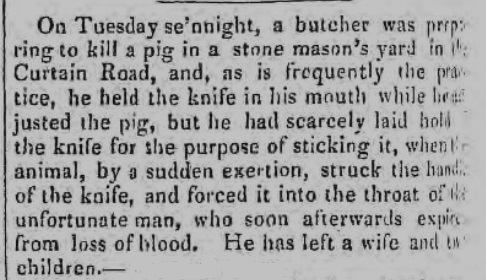 Reading newspapers from the early decades of the nineteenth century provides a never ending supply of strange ways in which people met their end. This man was particularly unlucky, the pig rather less so.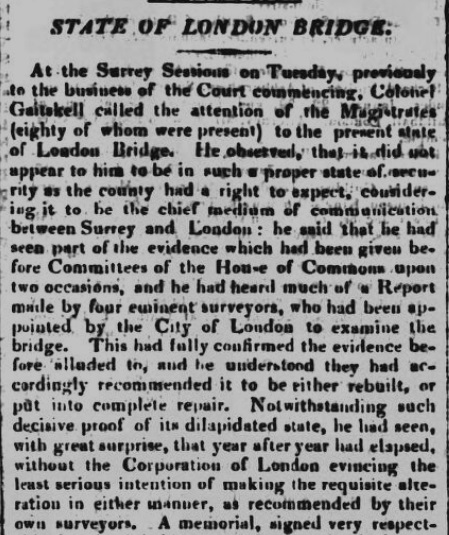 The time of Anne's birth and life was one that saw huge change and technological advances throughout the country, but Londoners were left disheartened by the failure to repair the main Thames crossing at London Bridge. Plus ça change, as last year London Bridge was again closed for six months, and Hammersmith Bridge is in such a state of disrepair that it has remained closed to traffic and pedestrians since August of last year.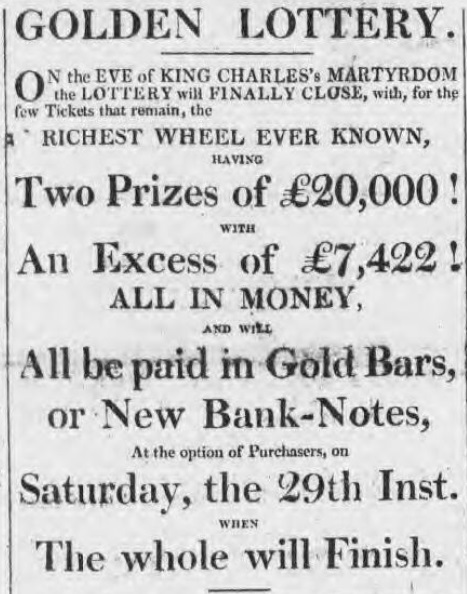 The birth of a sixth child brought joy and hope to the Brontë family of Thornton, but where could others find hope? If they could afford a ticket they could enter the 'Golden Lottery' and dream of changing their life. The eventual winner, if indeed there was one, has not been recorded.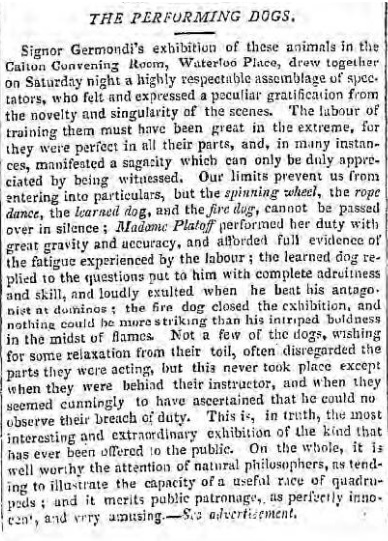 Another distraction could be found in that most timeless form of entertainment, performing dogs! The Caledonian Mercury makes this sound like a delightful treat which would surely take our 'Britain's Got Talent' by storm, and who in any era could fail to be astounded by a fire dog and a rope dancing dog? I particularly like the sound of the 'learned dog' who defeats human opposition at dominos – beat that, Simon Cowell!
Finally, we turn to a newspaper from Anne's birth county, the West Riding of Yorkshire. We find a poem in praise of the winter and 'the gloomy genius of the storm and flood'. Perhaps fittingly for a poem published on the day that the future author of Agnes Grey was born, the poet gives their name simply as 'Agnes'.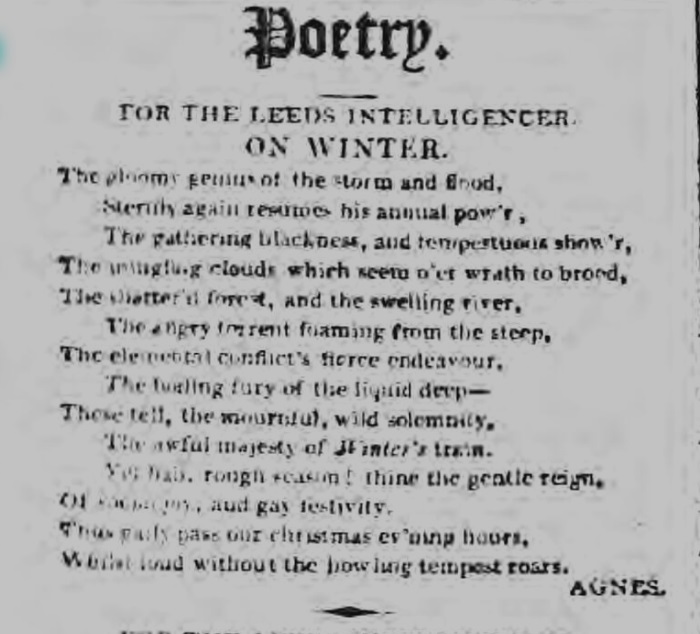 All of these pieces were published on that special day, 17th January 2020. We find performing dogs as popular entertainment, the threat of infectious disease, London bridges closed, a government that won't feed the poor, a lottery that's impossible to win, and dancing on ice drawing large audiences. Perhaps things aren't that different 201 years later after all?
One thing that will never change is the brilliance of Anne Brontë's writing. It's there whenever we need it, so let's raise a glass of something pleasant and say 'Happy birthday Anne Brontë!'