Happy New Year! May I wish all of my readers a very happy 2020, your support really does mean everything, so I hope you've enjoyed my blog in the year that's gone and continue to enjoy it in the year that's come along!
Whether you like to call them 'resolutions' or not, I hope that you achieve your dreams and goals in the year ahead. It's a year that will see me have two more Brontë books published – probably my last ever Brontë books, so I hope I've done their subjects justice. 'Charlotte and Ellen' will be out in autumn, and 'Crave The Rose: Anne Brontë At 200' will be out later this month! It's worth pointing out that whilst Amazon seems to say that it's out on the 2nd, tomorrow, it will be a little later than this as the festive period have slowed down the usual typesetting, printing and distribution service with Valley Press. Fear not, however, it will be out later in January, hopefully in time for Anne's 200th birthday, so you can pre-order now – I hope you will think it worth the wait; it has some things in it that have never been seen in book form before, and I'm really excited about making them available to the public.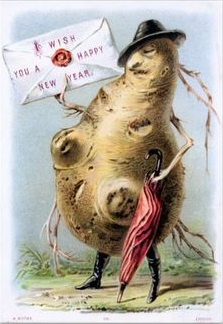 Did you spend New Year's Eve linking arms, and singing Auld Lang Syne? Wouldn't it be nice to think of the Brontës doing just that – with Anne leading the chorus in that voice described by Ellen Nussey: "She sang a little; her voice was weak, but very sweet in tone."
Ellen also described how Anne and Ellen loved to play the piano which can still be seen by visitors to Haworth's Brontë Parsonage Museum. How lovely to think of Anne at the piano, maybe Emily alongside her as she so often was, as they all sang the words written by Robbie Burns in 1788 and which have now become forever associated with Hogmanay celebrations.
Only a dream? Actually, it's almost certain that this is what took place in the Brontë's parsonage over the new year period. How do we know this? Because we still have Anne Brontë's music books. She loved to copy pieces of music by hand onto blank music paper that she would then play on the piano – and we still have Anne's own handwritten and annotated copy of 'Auld Lang Syne' – here it is!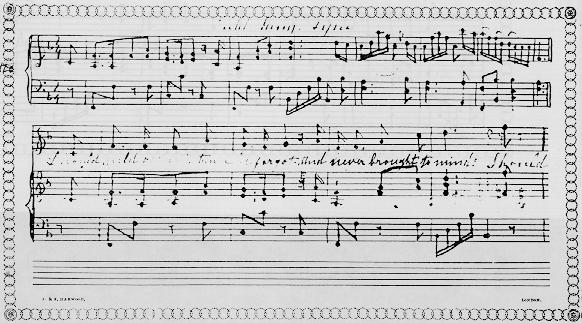 The Brontës were fans of anything Scottish, and especially of Walter Scott, James Hogg, the Ettrick Shepherd, and Burns, the Bard of Ayrshire. Whilst Burns' name will forever be associated with these New Year words he himself said it was an ancient song which had been passed on to him by an old man, and he had merely set it in print.
Wherever the song originates it resonates powerfully today – should old acquaintances be forget, because they date from long since ('lang syne' in the Ayrshire idiom)? No, says Burns, these old acquaintances will meet again and share a cup of friendship again. It's a simple message – we move on to the future, but we should always remember and cherish the past. So we move on to 2020, and are now just over two weeks from Anne Brontë's 200th birthday – I wish you all a very happy new year and hope you had a joyous Hootenanny, and as I thank you for your acquaintance I leave you with this timeless song that Anne played on the parsonage piano:
"Should auld acquaintance be forgot,
And never brought to mind?
Should auld acquaintance be forgot,
And auld lang syne!
[Chorus:] For auld lang syne, my dear,
For auld lang syne.
We'll tak a cup o' kindness yet,
For auld lang syne.
And surely ye'll be your pint stowp!
And surely I'll be mine!
And we'll tak a cup o'kindness yet,
For auld lang syne.
[Chorus]
We twa hae run about the braes,
And pou'd the gowans fine;
But we've wander'd mony a weary fit,
Sin' auld lang syne.
[Chorus]
We twa hae paidl'd in the burn,
Frae morning sun till dine;
But seas between us braid hae roar'd
Sin' auld lang syne.
[Chorus]
And there's a hand, my trusty fere!
And gie's a hand o' thine!
And we'll tak a right gude-willie waught,
For auld lang syne.
[Chorus]