Happy New Year (a day late, but the sentiment is still there) to you all. I've loved sharing my Brontë blog posts with you over the last year, and I've really appreciated all your support, kind words, suggestions, comments and emails. There's a lot of Brontë love out there, and I know that's going to continue into 2022, whatever the world throws at us.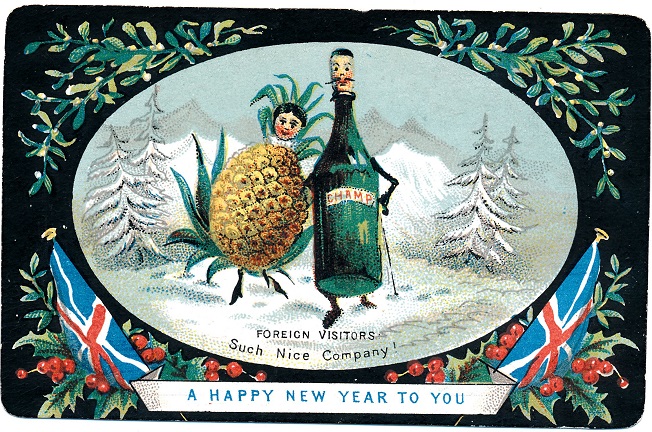 In today's new post we're going to look at the Bronte's and New Year, and you'll see a smattering of typically idiosyncratic Victorian new year cards, like the one above. Just what was the new year celebration like in Haworth Parsonage? Well we know that Anne Brontë enjoyed playing Auld Lang Syne on the parsonage piano as we have here her hand written score and words to the song, copied out by her into her music book. We can easily imagine Anne playing it and singing along as the new year approached (Ellen Nussey testified how Anne loved to sing and that she had a quiet yet sweet voice); perhaps the Brontë family would have joined in, just as we still do nearly two hundred years later?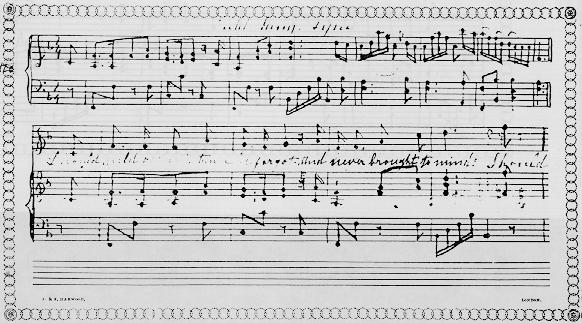 We can get another possible glimpse into what the coming of a new year in the Brontë novels, for it features in three of them. In Jane Eyre we see how New Year, along with Christmas, was a time for celebration, yet young Jane was excluded from the celebrations. Even so, Jane is happy in her own company as long as she had something to love – in this case her beloved doll.
Jane Eyre
'November, December, and half of January passed away. Christmas and the New Year had been celebrated at Gateshead with the usual festive cheer; presents had been interchanged, dinners and evening parties given. From every enjoyment I was, of course, excluded: my share of the gaiety consisted in witnessing the daily apparelling of Eliza and Georgiana, and seeing them descend to the drawing-room, dressed out in thin muslin frocks and scarlet sashes, with hair elaborately ringletted; and afterwards, in listening to the sound of the piano or the harp played below, to the passing to and fro of the butler and footman, to the jingling of glass and china as refreshments were handed, to the broken hum of conversation as the drawing-room door opened and closed. When tired of this occupation, I would retire from the stairhead to the solitary and silent nursery: there, though somewhat sad, I was not miserable. To speak truth, I had not the least wish to go into company, for in company I was very rarely noticed; and if Bessie had but been kind and companionable, I should have deemed it a treat to spend the evenings quietly with her, instead of passing them under the formidable eye of Mrs. Reed, in a room full of ladies and gentlemen. But Bessie, as soon as she had dressed her young ladies, used to take herself off to the lively regions of the kitchen and housekeeper's room, generally bearing the candle along with her. I then sat with my doll on my knee till the fire got low, glancing round occasionally to make sure that nothing worse than myself haunted the shadowy room; and when the embers sank to a dull red, I undressed hastily, tugging at knots and strings as I best might, and sought shelter from cold and darkness in my crib. To this crib I always took my doll; human beings must love something, and, in the dearth of worthier objects of affection, I contrived to find a pleasure in loving and cherishing a faded graven image, shabby as a miniature scarecrow. It puzzles me now to remember with what absurd sincerity I doated on this little toy, half fancying it alive and capable of sensation. I could not sleep unless it was folded in my night-gown; and when it lay there safe and warm, I was comparatively happy, believing it to be happy likewise.'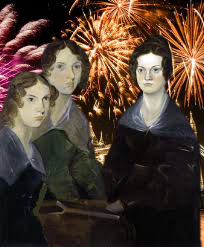 In Wuthering Heights we see the new year mark two very different events. It falls at the very conclusion of the novel, with new beginnings springing from the close of this epic story. Heathcliff is buried and Hareton and Cathy are to be married on New Year's Day:
Wuthering Heights
'We buried him, to the scandal of the whole neighbourhood, as he wished. Earnshaw and I, the sexton, and six men to carry the coffin, comprehended the whole attendance. The six men departed when they had let it down into the grave: we stayed to see it covered. Hareton, with a streaming face, dug green sods, and laid them over the brown mould himself: at present it is as smooth and verdant as its companion mounds—and I hope its tenant sleeps as soundly. But the country folks, if you ask them, would swear on the Bible that he walks: there are those who speak to having met him near the church, and on the moor, and even within this house. Idle tales, you'll say, and so say I. Yet that old man by the kitchen fire affirms he has seen two on 'em looking out of his chamber window on every rainy night since his death:—and an odd thing happened to me about a month ago. I was going to the Grange one evening—a dark evening, threatening thunder—and, just at the turn of the Heights, I encountered a little boy with a sheep and two lambs before him; he was crying terribly; and I supposed the lambs were skittish, and would not be guided.
"What is the matter, my little man?" I asked.
"There's Heathcliff and a woman yonder, under t' nab," he blubbered, "un' I darnut pass 'em."
I saw nothing; but neither the sheep nor he would go on so I bid him take the road lower down. He probably raised the phantoms from thinking, as he traversed the moors alone, on the nonsense he had heard his parents and companions repeat. Yet, still, I don't like being out in the dark now; and I don't like being left by myself in this grim house: I cannot help it; I shall be glad when they leave it, and shift to the Grange.
"They are going to the Grange, then?" I said.
"Yes," answered Mrs. Dean, "as soon as they are married, and that will be on New Year's Day."
"And who will live here then?"
"Why, Joseph will take care of the house, and, perhaps, a lad to keep him company. They will live in the kitchen, and the rest will be shut up."
"For the use of such ghosts as choose to inhabit it?" I observed.
"No, Mr. Lockwood," said Nelly, shaking her head. "I believe the dead are at peace: but it is not right to speak of them with levity."'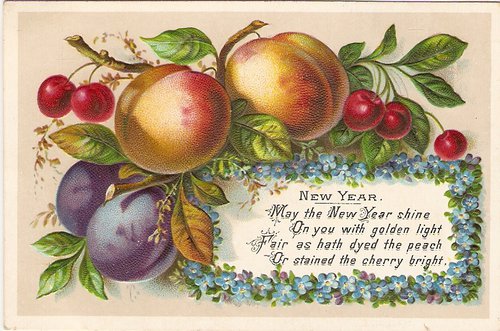 Another new year wedding is taking place in Charlotte Brontë's first-written novel The Professor. Again it follows swiftly on the heels of a burial, with the circle of life replacing death with new hope and a new beginning, just as we see in the end of one year leading to the start of the next one. Frances seems strangely distraught at her wedding but I won't give away how married life turns out for her!
The Professor
'In two months more Frances had fulfilled the time of mourning for her aunt. One January morning – the first of the new year holidays – I went in a fiacre, accompanied only by M. Vandenhuten, to the Rue Notre Dame aux Neiges, and haying alighted alone and walked upstairs, I found Frances apparently waiting for me, dressed in a style scarcely appropriate to that cold, bright, frosty day. Never till now had I seen her attired in any other than black or sad-coloured stuff; and there she stood by the window, clad all in white, and white of a most diaphanous texture ; her array was very simple to be sure, but it looked imposing and festal because it was so clear, full, and floating; a veil shadowed her head, and hung below her knee; a little wreath of pink flowers fastened it to her thickly tressed Grecian plat, and thence it fell softly on each side of her face. Singular to state, she was, or had been crying; when I asked her if she were ready she said "Yes, monsieur," with something very like a checked sob, and when I took a shawl, which lay on the table, and folded it round her, not only did tear after tear course unbidden down her cheek, but she shook to my ministration like a reed. I said I was sorry to see her in such low spirits, and requested to be allowed an insight into the origin thereof. She only said, "It was impossible to help it," and then voluntarily though hurriedly putting her hand into mine, accompanied me out of the room, and ran downstairs with a quick, uncertain step, like one who was eager to get some formidable piece of business over. I put her into the fiacre. M. Vandenhuten received her, and seated her beside himself; we drove all together to the Protestant chapel, went through a certain service in the Common Prayer Book, and she and I came out married. M. Vandenhuten had given the bride away.'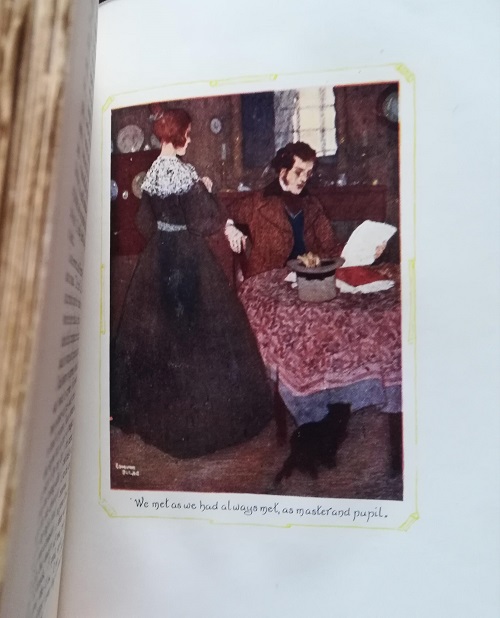 We also see more direct evidence of Brontë attitudes to the new year in two letters of Charlotte Brontë. The first is one of the earliest still known to exist, dated 1st January 1833 it was sent from Charlotte Brontë to her school friend Ellen Nussey. In it Charlotte reveals her thoughts at the start of every new year: how has she improved over the previous twelve months, and what can she do to improve herself in the next twelve?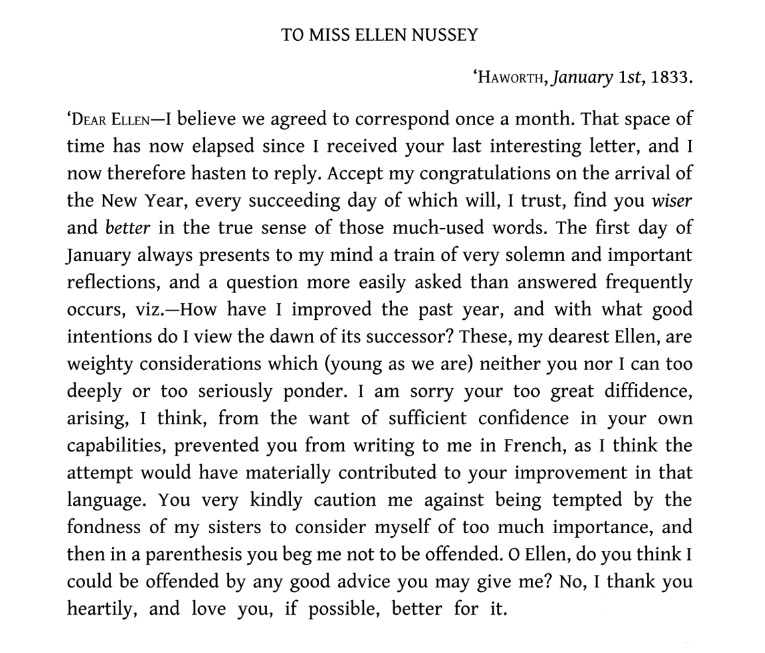 Fast forward twenty years and we see Charlotte once again writing to her Nell. They are both now fully embarked upon adult life, but Charlotte still thinks of Ellen on new year's night. Ellen has been at home at Brookroyd, Birstall charged with tea making duties – obviously an onerous task. A very different task has been occupying Charlotte as she sets about correcting the proofs of Villette whilst at the same time concerning herself with the fate of Arthur Bell Nicholls – she has rejected his recent proposal and now everyone has turned against him. Martha is bitter against him and her father John wants to shoot him!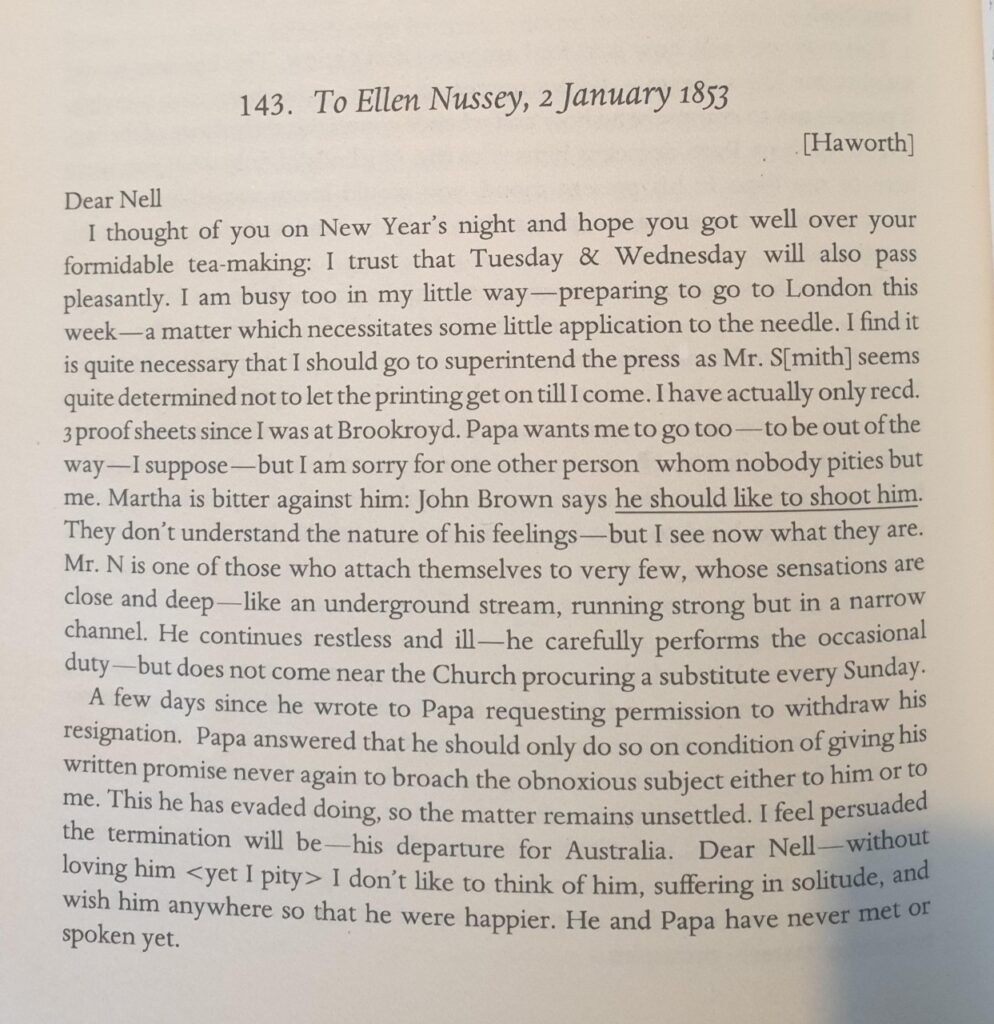 Nevertheless, Charlotte married Arthur, and Martha became best friends with him, eventually living with Arthur and his second wife in Ireland. It goes to show that we never know what the year will bring when we embark upon it. My resolution for this year? Read even more books, and finally finish my Charlotte and Ellen book, I know that a lot of you have been waiting for it. Sorry, it won't be long now.
Have a great 2022, and I hope to see you again next week for another new Brontë blog post. Happy new year to you and all you love!