We can tell that winter draws near as last night here in the UK a new series of 'Strictly Come Dancing' made its debut. I love the show, not only because I used to do a little ballroom dancing myself in my younger days; I was hampered by having two left feet, neither of which possessed any rhythm. Anyway, I received a tweet (you can find me on Twitter via @Nick_Holland_ where I post something Brontë related every day) asking what dances, if any, the Brontë sisters would have engaged in. It's a great question, so today we're going to look at dancing in the Brontë lives and books.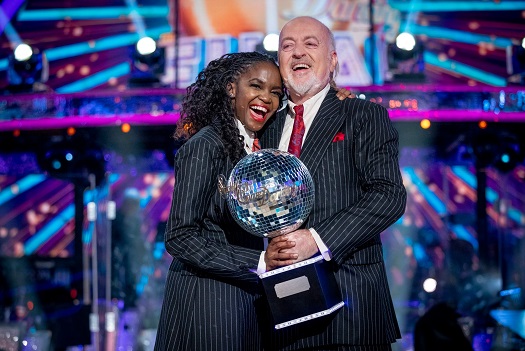 As we know, the Brontës were taught largely at home until their mid teens, partly due to the tragic deaths of Maria and Elizabeth Brontë after attending the Cowan Bridge school which became immortalised as Lowood. Nevertheless from an early age, the Brontë girls would have been educated with a view to a future career as a governess. That would have involved being proficient in art, needlework, ideally in music, as well as having some knowledge of broader subjects such as mathematics, history, geography and scripture.
Would a governess have been expected to know how to dance, and how to teach dancing to her young charges? Let's turn to two novels which detail the life of a governess: Jane Eyre and Agnes Grey. There is no reference to Jane teaching Adèle to dance, but then she wouldn't have had to as the girl already knows how to as she explained to Jane:
'"I lived long ago with mama; but she is gone to the Holy Virgin. Mama used to teach me to dance and sing, and to say verses. A great many gentlemen and ladies came to see mama, and I used to dance before them, or to sit on their knees and sing to them: I liked it. Shall I let you hear me sing now?"'
We later learn that Adèle is the daughter of a French ballet dancer and an unknown father. We may, of course, think that Rochester is the father, but it seems that the professional dancer was a woman of 'loose morals', a popular opinion at the time, and one that became more ingrained in the public conscience as the century progressed.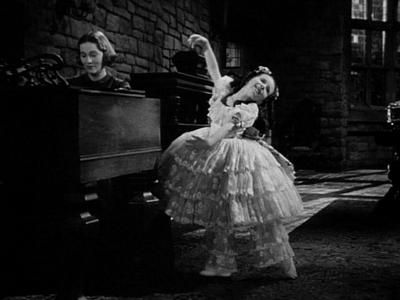 In Agnes Grey however, Anne Brontë directly addresses the issue of governesses and dance lessons. Agnes becomes governess to the Murray family of Horton Lodge (which bears great similarity to Thorp Green Hall near York where Anne worked as a governess). The Murrays are a wealthy family, and their daughters are being trained for their big entrance into society and for the society balls in which they will be expected to dance with eligible young gentlemen, and maybe find a future husband.
Agnes sums up the attainments of Rosalie Murray thus:
'Her mind had never been cultivated: her intellect, at best, was somewhat shallow; she possessed considerable vivacity, some quickness of perception, and some talent for music and the acquisition of languages, but till fifteen she had troubled herself to acquire nothing; – then the love of display had roused her faculties, and induced her to apply herself, but only to the more showy accomplishments. And when I came it was the same: everything was neglected but French, German, music, singing, dancing, fancy-work, and a little drawing – such drawing as might produce the greatest show with the smallest labour, and the principal parts of which were generally done by me. For music and singing, besides my occasional instructions, she had the attendance of the best master the country afforded; and in these accomplishments, as well as in dancing, she certainly attained great proficiency.'
Rosalie gains great proficiency in music, singing and dancing; she had a visiting teacher for music and singing, although it's clear that Agnes also provided lessons in these subjects. There is no mention of a dance tutor however. We know that the spoilt yet essentially kind hearted Rosalie Murray was based at least partly on one of Anne's real life pupils: Lydia Robinson. Did Anne then teach Lydia and the other Robinson girls to dance?
It seems likely to me that the Brontës did indeed learn to dance as part of their home-based education, and if so their tutor is likely to have been their aunt Elizabeth Branwell. Aunt Branwell is often thought of as an austere woman, but this is quite unfair. Indeed, Ellen Nussey described her thus:
'She talked a great deal of her younger days; the gaieties of her dear native town Penzance, in Cornwall, the soft, warm climate, etc.'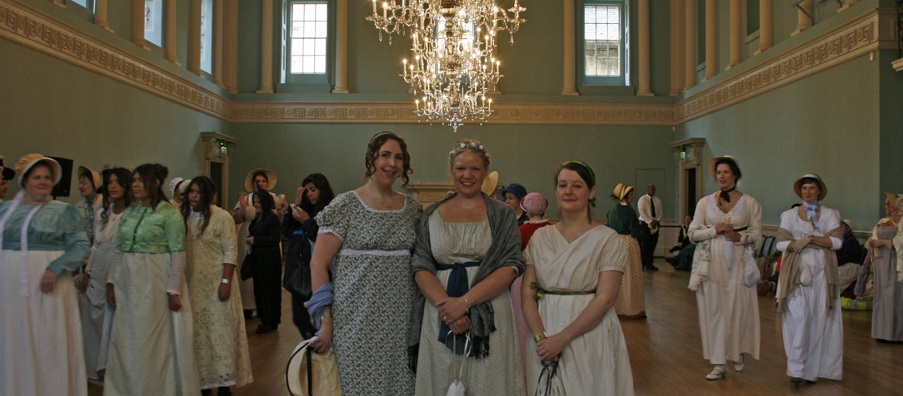 One thing Aunt Branwell would have enjoyed would surely have been dancing, at the Penzance Assembly Rooms opened in 1791 when she was a teenager. These assembly rooms were similar in appearance and purpose to the ones in Bath which have become so associated with Jane Austen, and of course Elizabeth Branwell was a contemporary of Austen. The Branwells were a wealthy and well connected family in Penzance, so there seems little doubt that their daughter Elizabeth (and her younger sister Maria the mother of the Brontës) would have been expected to dance in the Assembly Rooms. This is one of the gaieties that Aunt Branwell remembered so fondly, and it gave her the skills and inclination to teach dancing to her nieces.
The introduction of a piano into the parsonage in 1833 allowed the musical accompaniment for dance lessons, and we know that Emily and Anne loved to play it. So, what kind of dancing would the Brontës have learnt?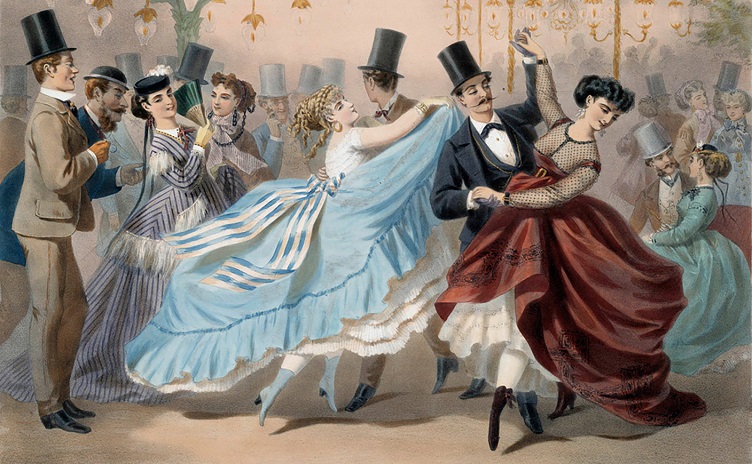 The waltz originated in 1786; initially deemed scandalous because of the proximity between male and female dancers, it quickly became popular, especially after it featured in an opera by Vicente Soler called 'Una Cosa Rara' or 'A Rare Thing'. Its success spread across Europe and by the early nineteenth century it had become the dance to have in your repertoire.
By the 1830s a faster version of the dance had emerged – what we now know as the Viennese Waltz, ideal for frantic yet elegant turning and spinning in the voluminous dresses of the day. Another dance popular in the Brontës' youth was the galoppade or galop.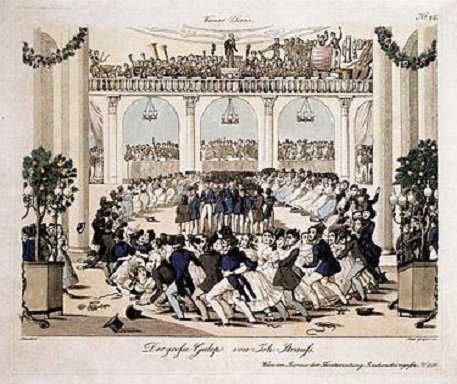 By 1840 it had taken a new variant which became the most popular dance of the time: the polka. The fashionable Robinson girls of Thorp Green Hall would doubtless have been keen to learn this new dance, so would it have been their governess Anne's job to teach them?
Thanks to the 1946 Brontë biopic 'Devotion' we have this clip of Charlotte Brontë engaged in a galoppade; like all of that film it may have taken a liberty or three with the truth, but it is charming and amusing:
We will never know how good the Brontës were at dancing, whether they would have earned a ten from Len or a scowl from Craig; I like to think, however, that it was one of the pleasures they had in their lives, and I like to think that they would have enjoyed 'Strictly' like all discerning viewers.
I hope to see you again next week for another new Brontë blog post. Now where was I? Slow, slow, quick, quick, slow. I will leave you with another quote from Jane Eyre:
'Existence for you must be a scene of continual change and excitement, or else the world is a dungeon: you must be admired, you must be courted, you must be flattered – you must have music, dancing, and society – or you languish, you die away.'
Related posts: