In life and in this blog I try to be positive whenever possible, but on very rare occasions I find myself in sympathy with Charlotte Brontë when she wrote after a confrontation with Miss Wooler that set her employer crying for two days: 'I was in a regular passion, my "warm temper" quite got the better of me – of which I don't boast for it was a weakness, nor am I ashamed of it.'
Charlotte was renowned for her fiery temper, so we can only imagine how angry she would have been with the Brontë Society's plans for Emily Brontë's celebrations in 2018, announced this week.
July 2018 marks the 200th anniversary of the birth of Emily Jane Brontë, author of, in my opinion, the greatest novel ever written – Wuthering Heights. She was a reclusive woman who increasingly retreated into her fantasy world of Gondal – and yet you couldn't meet Emily without feeling in awe of her, and knowing you were in the presence of someone very special. Ellen Nussey, for example, was Charlotte Brontë's best friend and yet she felt that even Charlotte could not match Emily's achievements, as she wrote in a letter to Meta Gaskell, Elizabeth's daughter:
'I have at this time before me the history of a mighty and passionate soul, whom every adventure that makes for the sorrow or gladness of man would seem to have passed by with averted head. It is of Emily Brontë I speak, than whom the first 50 years of this century produced no women of greater or more incontestable genius.'
I have Emily to thank for my love of the Brontës. Wuthering Heights was the first book on my list when I commenced my English degree in 1989 – I was instantly hooked, and made my first visit to the Brontë Parsonage museum that weekend. From that moment also I was counting down the days to my 21st birthday so that I could take life membership of the Brontë Society. Alas, the actions of the Brontë Society now mean that I can longer continue being a member.
This week the Brontë Society announced some of their plans for their year of celebrations for Emily Brontë. At first I was dismayed, now I am angry – what should have been a joyous year with genius at its centre has instead become a rank farce with the news that their Creative Partner for 2018 is Lily Cole.
If you don't know Lily Cole, and you'd be in the majority, she is described as 'a model and social entrepreneur' (whatever that is). I am unfortunate enough to have encountered Lily before as a few years ago I had a front row seat of a new play about Helen of Troy at Manchester's Royal Exchange Theatre. Lily had the title role, and the play was so bad that it is the only one I have ever walked out of at the interval. If the acting was bad, and believe me it was, the dialogue was even worse – one line in particular was of such clunking ineptitude that it has remained with me forever: 'women smell my power, men smell like sex'. It was when Lily delivered this line with all the passion of the announcer at Piccadilly station that I began longing for the train home.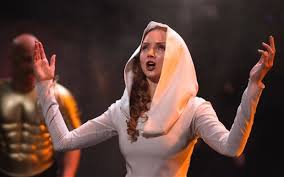 This was, quite simply, the worst play I have ever seen, and the writer of it? Simon Armitage, the incumbent creative partner at the Brontë Parsonage Museum. So here we see one of the many problems with Lily's appointment – nepotism. Nepotism is a disease particularly rampant in literature, so that the best way to get a book deal is to be a journalist, a celebrity, or a friend or relative of one. This is particularly evident at this time of year, when newspaper's lists of the 'books of the year' feature writers bigging up those who share the same agent or publisher – an act known as 'log rolling'. We now have a Brontë log roll, as Simon Armitage passes on the baton to his friend Lily Cole.
Lily's acting career has since encompassed Marks & Spencer adverts, a role in the St. Trinian's movie, and a risible star turn in a documentary about Elizabeth I this year. How can anyone have thought that this made her a suitable choice to be in charge of Emily Brontë's celebration year? I have nothing against Lily herself, other than her terrible acting, but against the people who selected her.
Over the last few years it has become increasingly apparent that something is rotten in the state of Haworth's Brontë Society. Annual General Meetings have descended into open warfare between modernisers and traditionalists, but it seems now that the council is being run along the lines of BBC farce W1A. For the last two years or so, a consultancy has been advising the Brontë Society on what to do – with pathetic results.
The drive now is for one thing – attracting a young audience. Being trendy is the ultimate aim, with the Brontës themselves relegated to the sidelines. The museum has a wealth of Brontë treasures, but they are now favouring the display of artificial items they feel will appeal to a modern audience. For this reason rather than seeing Branwell's items in his anniversary year, we see a mock up, TV style, guess of what his studio would have looked like. In 2016, Charlotte's year, a large display area was given up to a modern artwork of miniature pieces that had been fabricated in some sort of bizarre tributes – including a miniscule pair of shoes with a sign underneath saying that Charlotte had sewn them together using hair from her sisters. From what I heard at the time, and what I've seen shared on social media, many people believed these ridiculous items were authentic, when the fact was the authentic items were locked away in storage. The rot had set in.
The drive to attract younger members to the Brontë Society is a pointless one. We hear people say, echoing the consultants, that the membership is too old – 'look at the events, look at the meetings, everyone is old!' In today's society it has become a crime to be old.
Where is the problem in the majority of members being middle aged or older? Yes they will eventually wither and fade from this world, but they will then be succeeded by another generation if middle aged and old society members. It is the way it always has been and always will be, unless they drive loyal members away, as they have done with me.
There is talk of increasing multimedia presentations at the parsonage – this is complete anathema to me. The Brontë's works and belongings should be at the very centre of the museum. Why watch a film about the Brontë items when you could be looking at the items themselves? Museums should be places of quiet and contemplation, awe inspiring places where the imagination is aloud to take flight free of bombardment from artificial sights and sounds.
This idea would make the consultants, and board of the Brontë Society, choke – how could I have such silly, outmoded ideas? Whoever appointed Lily Cole as creative director, no doubt at the nudging of Simon Armitage, needs to look in the mirror and step aside. The central question should be, what would Emily Brontë think if she found that the role of chief 'artist' and organiser in her celebratory year was a supermodel? We all know the answer to that, and anyone who doesn't isn't fit to make the decision or have any role in the governance of the Brontë Society. The very basic rule should have been that the person chosen for such an important role as creative partner is a writer.
This is in no way a denigration of many of the brilliant staff at the Brontë Parsonage Museum, and their wonderful volunteers who give up their time not to attract a certain demographic but because of their passion for the Brontës. They are heroes, but it brings to mind the fate of our World War One soldiers who were lions led by donkeys.
There are other long standing problems with the actions of the society – not least in their failure to interact with many of the brilliant businesses and shops in Haworth – the shops who often invite representatives of the Society to their meetings, but are left waiting in vain. Equally dismaying is their downplaying of Thornton in the Brontë story when they should be creating stronger ties with the fabulous village where the Brontë story began.
I am obviously completely out of kilter with the Brontë Society and it's aims, but I am afraid I shall stay in my old fashioned world where I can continue to gain immense pleasure from the words of Anne, Emily and Charlotte Brontë – and it is their words above all else that are their true museum and testimonial. I will certainly still continue to visit the Brontë Parsonage Museum, it is a place I love more than any other, but I can no longer continue to be a member of the Brontë Society whose leaders' views are so opposed to my own. It's best that I leave the society now, before they announce James Corden as the creative partner for 2019, a year in which Patrick Brontë is being remembered, and Rita Ora as organiser for Anne Brontë's celebrations in 2020.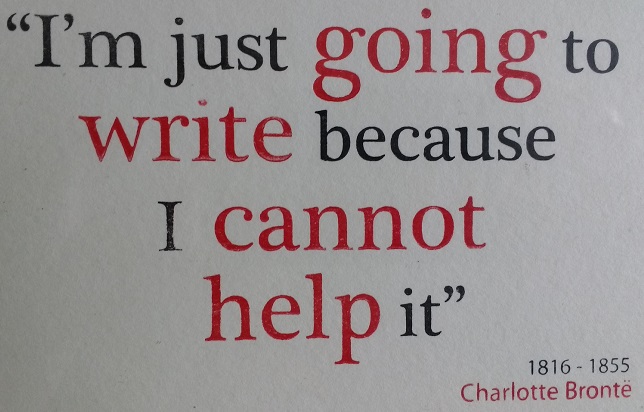 My rant is over, normal service will be resumed next week – but as Charlotte Brontë knew all too well, sometimes you just have to write because you can't help it.
Related posts: